The xx live at the Bodega Social, Nottingham 7/10/09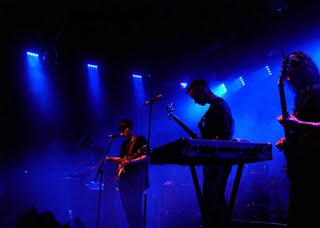 I'm what you might call a very occasional journalist. I go to gigs most weeks but rarely review them. Two of my closest friends, however, write for regional newspapers. Through them, I often get plus ones (ie freebies) to shows in Nottingham or Sheffield. Last night, my Nottingham friend was indisposed. Rather than miss the sold out show by The xx, which I'd been looking forward to more and more as I grew to love their debut album, I agreed to review it myself.
Here's the review, as it appears in the Nottingham Evening Post.
The xx emerged fully formed this year, with festival appearances, support slots and a self titled album that debuted in the top 40. A four-piece, they line up at the front of the Social's tiny stage presenting a tight team. Their album is a seductive grower, with shades of Air, Kraftwerk and Hot Chip, to which they add a quirky, indy spirit. There are also R'n'B tones, emphasised in their spirited version of the Womack and Womack classic, 'Teardrops', where a real cymbal makes an appearance.
Baria Qureshi plays keyboards and guitar, while Jamie Smith plays the sampler (and cymbal). At the centre of both the stage and their sound are breathy duets between enigmatic guitarist Romy Madley Croft and perkier bassist Oliver Sim. Their manner and their subject matter (relationships) are wryly reminiscent of Serge Gainsbourg's work with Jane Birkin.
The sell-out Social crowd is respectful and increasingly enthusiastic. The 45 minute set (no encore) whizzes by. We get the album, more or less in order. Highlight: 'Night Time', with its haunting electric guitar. 'This is our first headline tour and it's been more than you could imagine', Oliver says. I imagine they'll play a much bigger venue next time.