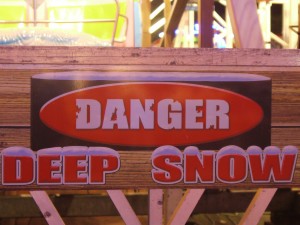 Every year since 1988, we've given out twenty-odd best of year CDs (formerly cassettes, but a Spotify playlist wouldn't cut it) to our music loving friends and, for the last few years, I've put all the songs on this blog, together with sleeve notes for each song. So if you're here to find out about my books, scroll down or check out the Beat novels currently coming out as eBooks, with all new afterwords. If you're an unhappy copyright holder, just contact me, but the point of these downloads and the cds is to persuade people to investigate the new music that I love. And if you're a recipient of these CDs, you might like to look away until yours arrives (the first ones went out to Canada and Sheffield on Saturday). It's always nice to not know what's coming the first time you listen. Alright, here we go: one song a day until New Year's Eve.
1. Calexico – Splitter Calexico are one of those bands who creep up on you. I've seen them live, up close at the Rescue Rooms a few years back, and have most of their albums but it was only this summer I realised how much I loved them. We were having the holiday from hell and needed music that took us elsewhere. I put on a playlist comprising every Calexico track on my iPod and the dusty, dangerous, often uplifting tex-mex soundtrack did the job. When we got home, they had a new album out, Algiers, one of their best, and this exhilarating track shows Calexico at their best.
2. Solange – Some Things Never Seem To Fucking Work I do like a good sweary song (see also track 17, when it's up). This track and the equally spendid 'Losing You' (live video here) are from an EP that doesn't get a physical release until next year (so maybe I'll put 'Losing You' on next year's CD) but this is too good not to use, and very apt, given the number of things around us that have broken this year, from cars to chimneys. Yes, Solange is Beyonce's kid sister, and you can see the resemblance in the video, but the music reminds me more of Janet Jackson (the ever perspicacious Marcello Carlin also hears the Human League, but I don't get that).
Solange – Some Things Never Seem to Fucking Work
3. Saint Etienne – I've Got Your Music Saw the first leg of Saint Etienne's 2012 tour at the Leadmill. No Scritti Politti support on that bit of the tour but that's OK because I saw the Scrits headline the Rescue Rooms and we got a 'secret' support by Rumer side project Stereo Venus, who were splendid.  New album Words And Music is their best this century and despite Sarah having a cold, they were in fine form live, too. There are a couple of tracks with better lyrics than the track that follows but this is the groove that fits.
Saint Etienne – I've Got Your Music
4. Aimee Mann – Charmer After midnight and full of cold, so no long note, just good to find Aimee on top form, investigating human nature, or lack thereof, with a catchy tune.
5. The Dirty Projectors – Gun Has No Trigger Been listening to the DPs for years because there was obviously something there, but this is the first time they've really grabbed me. For some, the voice will grate, but you still may find that this tortured track becomes an ear worm.
The Dirty Projectors – Gun Has No Trigger
6. Jake Bugg – Two Fingers I teach at the university on the edge of the Clifton estate, where Jake Bugg hails from, so naturally I've been following his progress over the last year, which culminated in him being the first ever Nottingham artist to have a number one album – his debut – at just 18. Liked the music, but felt like it wasn't for me. I'm nearly old enough to remember skiffle the first time round, and the hints of Roy Orbison and Eddie Cochran tend to send me back to the originals. Then I got to see his homecoming gig after the number one, in a long sold-out Rescue Rooms (ably reviewed here by my old friend Mike Atkinson) from the front and it was… really good. I'm a convert. Songs about getting stoned, getting out of Clifton and living it up: what's not to like?
7. Father John Misty – Oh I Long To Feel Your Arms Around Me Tempting, of course, to put the jaunty, self-mocking 'I'm Writing A Novel' on the CD, even if its tune is nicked from 'The Ballad Of John & Yoko', but impossible, in the end, not to choose, this gorgeous, ethereal ballad from Joshua Tillman, who is also a member of the Fleet Foxes. Think David Crosby's classic If I Could Only Remember My Name. Or just have a listen.
Father John Misty – O I Long To Feel Your Arms Around Me
8. Leonard Cohen – Going Home I've written here previously about how I've been a huge Cohen fan since I was 17 and seeing him live at the beginning of his comeback tour, which has now been going on for four years. Looking forward to reading Sylvie Simmons' new biography, if I get it for christmas. Great to find, then, that his comeback studio album, Old Ideas, is exactly what you'd want from a Cohen album: witty, wise, laconic, self-deprecating and utterly compelling. I like the new Dylan album a lot, but don't see myself playing it all that often. This short album slips down easily, but gives you a big kick, and this opening track introduces it perfectly.
9. Beth Orton – Something More Beautiful This morning, echoing track 2,  the plumber is downstairs yet again, so not in the mood to rhapsodize about Beth Orton and her husky, John Martyn meets Sandy Denny voice. Luckily, I've already done that this month, here. This is my favourite track from her excellent new album, Sugaring Season.
Beth Orton – Something More Beautiful
10. Simone Felice – New York Times Never a huge fan of the Felice Brothers or Simone's previous band, The Duke & The King, but as soon as I heard this song on an Uncut sampler, I knew that Simone solo was a stronger proposition. Live at Glee this May, he was fantastic, and I wrote about it here.
Simone Felice – New York Times
11. The Alabama Shakes – Hold On Brittany Howard has a great soul voice and she fronts a band who remind me of another of my favourites, the Drive-By Truckers (who they've toured with).Yes, we're into the cd's one sustained soul section, this one having a rock backing to lure in the non-believers…
12. Bobby Womack – Stupid How much do I love Bobby Womack? Probably my favourite male soul singer, since the fantastic Poet trilogy of albums in the 80's. Kudos to Damon Albarn for bringing him back via the Gorillaz and now producing the excellent Bravest Man In The Universe album, an even bigger comeback than Leonard Cohen's. This track (introduced on the album, aptly, by some words from the late Gil Scott Heron) shows him at his deep soul, soul searching best.
13. Frank Ocean – Thinkin About You Ocean's Channel Orange has been ubiquitous on the best of year lists, and deservedly so, the soul album of the year, following the fantastic free download mixtape that was 2011's Nostalgia Ultra. More Stevie Wonder than Womack, with three different vocal registers, from falsetto to a spoken style that sounds like a grown-up Kanye, it's a magnificent modern soul album. Hard to pick between Sweet Life and this gorgeous ballad, but the groove here fitted better between Bobby and the song that follows.
Frank Ocean – Thinkin Bout You
14. The xx – Reunion Strange to think that three years have passed since I went to see The xx at a tiny Nottingham venue and wrote my first review for the Nottingham Post. Their debut album has proved to be a keeper and the second is just as good. They're a bit like a more chilled out Everything But The Girl, if Ben sang more (and check out Tracy Thorn's terrific xmas album, which arrived too late to be considered for the cd). I have Coexist  on vinyl, where this haunting earworm merges into the equally sublime 'Sunset' at the end of side one. Intimate, late night music, and the beginning of a mini-theme about relationships that will keep going until the day after boxing day.
15. Band of Horses – Heartbroken on the 101 It's Christmas Eve, so things are allowed to get a little cheesy. Since their ethereal, excellent second album, Cease To Begin, BoH have moved closer to the mainstream and several track on Mirage Rock are reminiscent of The Eagles (who, up to Hotel California, I have a soft spot for). This is the closing track, partially spoken word, a wracked end of relationship ballad that I know will irritate some of my listeners (as will the track that will make an appearance late on Boxing Day). But hell, it's my compilation (except for tracks 19 and 20) and I'll put what I want on it. This track hooked me in.
Band of Horses – Heartbreak on the 101
16. Mary Chapin Carpenter – What To Keep And What To Give Away MCC's divorce album, Ashes & Roses, is her best in donkeys' years. Heartbreak often brings out the sharpest lyrics and strongest tunes. Saw her play a great acoustic show with Shawn Colvin (who also had a good album out this year) in Derby, where she talked a lot about writing this song, which, with its typically languid Carpenter melody & John Stewartesque guitar, is the key to the album.
Mary Chapin Carpenter – What To Keep And What To Throw Away
17. Sinead O'Connor – Queen of Denmark John Grant's Queen Of Denmark was one of my albums of the year two years ago but I got it too late to include a track on the best of year CD. This cover may alienate some listeners. It shows that O'Connor's voice and interpretive genius (first heard, notably, on Prince's Nothing Compares To You) are as strong as ever. And the song, could have been written for her. Bonkers, but in a good way.
Sinead O'Connor – Queen of Denmark
18. Alicia Keys – Not Even The King To balance all that derision, here's an unashamedly romantic new classic.
Alicia Keys – Not Even the King
19. Seckou Keita – Miro Sue here (a very rare guest appearance!) as I chose the next two tracks. Heard Nottingham-based Seckou and his excellent 7 piece band playing tracks from their new CD 'Miro' back in October. Great Kora playing from Seckou and haunting vocals from Mariama Kouyate.
20. The Pet Shop Boys – Winner Sue here (for a now less rare guest appearance!). Yes I know some will think this was a cheesy choice but for me this song will always recall a glorious summer of sport.

So farewell, then, 2012, a year that promised much and for a number of reasons that I don't intend to elaborate on here, turned out to be one of the worst I can remember. But it's all relative: I'm not the guy who's been sleeping rough in the damp shed on our allotment over christmas. Tomorrow, I'll be posting my forty or so albums of 2012 list. Before I post the last track from the CD, it's worth mentioning the ones that didn't make it (rejected by Sue), which were by Bob Dylan, Bob Mould, Graham Parker & The Rumour and Neil Young – yep, all the grumpy old gits – though Neil nearly made it on, his new album's excellent & I'm seeing him with Crazy Horse again in June. Since September, though, I've known what song would close this year's CD.
21. The Beach Boys – Summer's Gone Through a miracle of timing, Mike and I had the best seats in the house, front row of the raised stalls at the Royal Albert Hall, for the penultimate show of the Beach Boys 50th anniversary tour. We'd seen Brian Wilson three times before, and the Beach Boys without him (Mike more than once), but that's like seeing the Beatles without John. The Beach Boys with Brian was a holy grail of a gig, and they didn't disappoint, playing the longest show of their career, with many great moments in its forty-four songs. They finished, as always, with Fun, Fun, Fun. The show was over and we were turning to leave when Brian returned to the stage, followed by the other Beach Boys, who were clearly as surprised as we were to find them there, nearly four hours after they'd begun the show. He began to sing this, the final song from, and best thing on their surprisingly strong reunion album: a song never played live before – a sublime song that, if it turns out to have closed their career as it closed this show, couldn't be more appropriate. Happy new year, all.
The Beach Boys – Summer's Gone