Simone Felice Band, Nottingham Glee, May 2nd 2012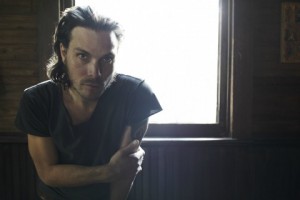 This review first appeared in the Nottingham Post
SINCE leaving family band The Felice Brothers, Simone Felice has recorded with The Duke and the King, undergone a heart bypass and become a father. Life-changing stuff, and tonight's triumphant show was both as dark and as affirmative as they come.
Kicking off with new album highlight New York Times, Felice took us on an intense journey that included a song for his daughter, classics from his old bands and a mighty trio of cover versions, the best of which was a delicate version of Pink Floyd's Wish You Were Here (with a few added lyrics).
The loudest applause of recognition came for a sublime Union Street and the lovely If You Ever Get Famous. Other highlights were a rousing version of new album opener Hey Bobby Ray, on which he played drums, and a terrific You and I Belong, one of three songs tonight dedicated to The Band's legendary drummer, Levon Helm, who died last week. Simone grew up round the corner from The Band's home, The Big Pink, and played with Helm several times, the last time just seven weeks ago. He spoke movingly about Levon's influence, and passing the torch.
Washboard thin, hair slicked back, in a denim shirt, Felice is a charismatic frontman with a very classy band. Imposing, too. At one point, there was some talking in the far corner. Simone stopped speaking himself and stared the talkers down. The main set closed with an exuberant Radio Song, but he came back to play no less than four encores, including two more dedicated to Levon Helm,  Dylan's Knockin' On Heaven's Door and, aided by The Duke & The King's Simi Stone on violin and vocals, a version of Neil Young's Helpless in which he included a verse of Amazing Grace.
Tremendous.
The Duke & The King – Union Street