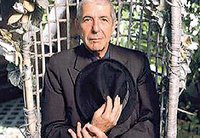 I saw Leonard Cohen twice in the 70's, once on my own in Liverpool and four years later with my then girlfriend in Birmingham. Both times, hearing about the tour, I posted off a cheque after the tickets went on sale. A few days later, great stalls tickets arrived. That was how it worked last century. Unless an act was absolutely huge, like Led Zeppelin, you could always get tickets. The only time I missed out was when i sent off for a Joni Mitchell ticket at a theatre in London, for a gig that was, anyway, subsequently cancelled. Never did see Joni. I'm going to see Melanie for the first time, next month. She was huge in the 70's, probably bigger than Leonard Cohen in the first half, but I rang up the Leicester Y theatre (capacity, 250) a few days after tickets went on sale and got a pair in the middle of the third row. There are still plenty left.
Melanie's star might have fallen but Leonard's stature has soared into legend. Before I get to the ticket saga, another story. After the first time I saw Cohen, in '75, I tried to get his autograph after the show. Leonard was already on the tour bus, waving to us as he left. A guy I met at the stage door said to me 'you know that bit in the show, before 'Bird on a Wire', where he said about how he could see the Liver Birds from his hotel window, and they're chained down? Well, there's only one hotel near there. Do you wanna…? So this guy and I ran down to the Liver building, and a hotel whose name I never knew, and walked into the lobby. As we looked around, Leonard got out of the lift, accompanied by his manager and band. He greeted us graciously and signed both my programme and autograph book. 'What should I put?' he asked, and the other guy suggested that line from 'Famous Blue Raincoat', sincerely, L. Cohen so that's what he wrote. He even made a little conversation before his manager guided him away to eat. We shook hands goodbye. I hurried to get my train and Leonard's manager, thinking I was following them, asked me not to. I explained where I was going and fell back a little, ending up alongside one of the backing singers, who I had a long conversation with. That was Jennifer Warnes, who later had a number one with Joe Cocker and recorded a fine album of Leonard's songs.
I've still got that autograph somewhere. It's the last one in the book (I've not grown out of autograph collecting, only now I go for signed first editions). Last summer, I took a look at his home on Hydra, but I never expected to see him play again, especially since his most recent album and the tribute film about him seemed to indicate that he didn't have much voice left. But circumstances conspired to make him tour again, at 73 (see below and do watch the video). A friend said he'd get the tickets but called me half an hour after they'd gone on sale to say he'd given up. Only three of the four nights in a theatre were on sale and the website kept crashing. At one point, he'd had gallery seats (the worst ones) then the site crashed. I tried and failed, then logged on to eBay where the seats were already going for in excess of £200 (I don't buy from touts, on principle, never have, but I was curious).
There was one more chance to get tickets. All of the seats for the Thursday show were being sold through an offer in today's Guardian newspaper. So, at a minute before they went on sale, I rang the number and logged onto the website. My journalist friend Mike (who hates Cohen) kindly went on the website at the same time, precisely as tickets went on sale. And this is what happened. The phone number was 'temporarily unavailable' but the website worked without crashing. After filling in a couple of codes and waiting about a minute, I was offered three tickets in row D of the gallery (ie the worst area, although the tickets were still at the top price). Mike, at the same time, was offered three in row J of the same area, which, since we didn't need them, he let go. There's already a pair of better seats on eBay. I expect the seller bought the extras to sell on and effectively make his own tickets free. Loads of people do it, but I say, if so, shame on him (the comments box is open if he wants to respond).
In a way, it's good that live music is at such a premium that you have to be on the ball and still enter a lottery if you want to see your favourite acts. Maybe it's a partial consequence of the way that anyone with a little technological know-how can get all of their recorded music for free these days. People want and expect to pay. And the irony is that Leonard probably won't be all that good. But he's welcome to my £75 plus booking fee. And according to the Leonard Cohen forum, all seats were gone by 10.02AM, so we did well to get some. I'll be watching L.Cohen from on high, hoping that he's laughing all the way to the bank, and lives a long time to enjoy the proceeds.