Fond Farewells: Alan Sillitoe and Peter Porter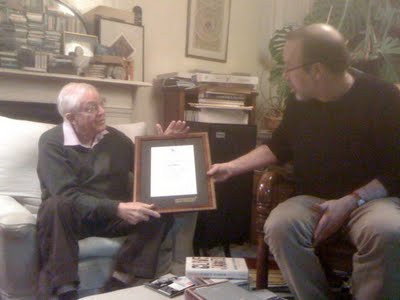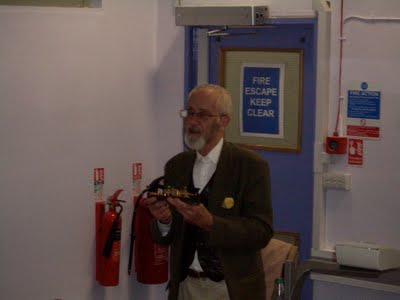 This will be the last post on this blog in the old format. Next month, it will return with a new look, at the same address. I wasn't planning to write any more entries, wanting to keep the Stanley Middleton event as the top item until it was over. But the Stanley celebration is now fully booked (see below) so there's no need. And this weekend, my thoughts have been dominated by the deaths, after long illnesses, of two other writers who I was lucky enough to know: Peter Porter, who died on Friday, and Alan Sillitoe, who died last night.
I first met Alan in 1996. I got to meet him for the same reason that I got to know Stanley. I persuaded both authors to contribute to a book of Nottingham short stories that I edited, 'City Of Crime'. We met a handful of times over the next fourteen years, including the celebration that marked his being made a free man of the city of Nottingham. That was when I asked him whether he'd come and speak to my MA students at Nottingham Trent, which he duly did, last May. I took the photo above during Alan's excellent, wide ranging talk. It shows him demonstrating morse code with a machine like the one he had used as a radio operator during the war.
We exchanged novels. Soon afterwards, he wrote me a lovely note about 'The Pretender' and sent three poems for my students to use in their annual anthology (they will appear this year). We went for dinner afterwards at the Larwood and Voce, where we had a long chat about the writing life. If anyone had told me, 24 years earlier, when I was an English teacher at the comp up the road, reading Alan's 'The Ragman's Daughter' to my lower band Fifths, that I'd one day have a conversation like that, I'd have been bowled over, and pleased as punch. I still was. I won't talk yet about Alan's writing, which meant a lot to me, because I want to gather my thoughts first. I'm working on an obituary for a journal and I'll link to that when it's published.
My partner is a poet and our first date, twenty-six and a half years ago, was a reading by Peter Porter at Beeston Library. We saw Peter read many more times and got to know him through our mutual friend, John Lucas. Then, when I took over running the writing MA at NTU in 2004, I inherited Peter as a visiting professor and this gave me the opportunity to get to spend a lot more time with him, often over a drink or several drinks and an Italian meal.
Peter was a great poet and one of the most learned people it's been my pleasure to know. The company of some immensely clever people can be intimidating. Peter was anything but. Self taught, he was a great and generous teacher. His conversation was incredibly entertaining and never one sided. He could talk all night and you always wanted him to, but he wanted to be inclusive, to learn what he could from you. I remember the frustration, one night when he was staying with us, of having to leave him in full flow while I got some sleep for a speaking engagement early the next day. Over breakfast, Sue told me, he was still in full flow. And even when we last saw him, in his London flat last December, when he knew that he had weeks, at most a few months, to live, his conversation remained lively, his memory sharp, the references (and gossip) as up to the minute as ever. The photo above is from that afternoon. It shows me presenting him with an honorary doctorate from NTU that I accepted on his behalf when he was too ill to attend the ceremony.
When you spent time with Peter, you felt like you were in the company of the entirety of literary history. This country was very lucky to have him and it was our great luck to know him. We'll miss him more than I can say.