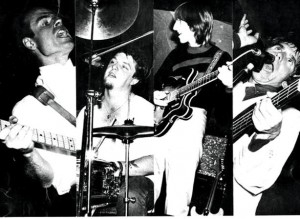 1978 was my first full year in Nottingham, the city where I've lived ever since. Most Tuesday nights, I'd head down to The Imperial, on St James St, to see Nottingham band, Gaffa. The place was always packed, even before they had a record out. Gaffa were a Nottingham band for Nottingham people. Listen to the download of 'O.A.P. Sightings' below to find the most authentic example of a Nottingham accent on record. In lyricist and vocalist Wayne Evans, they had a real original, perfectly complemented by guitarist John Maslen who wrote the music. Clive ("Myph") Smith on second guitar and Mick Barratt on drums completed the picture (occasionally with Brendan Kidulis on keyboards). Their handful of records never really represented how good they were live but the John Peel sessions (which you can listen to here) give a more accurate picture. These were witty, adventurous songs with wry, down to earth lyrics about working class life in a run down city.
Gaffa's first EP was an NME single of the week. Their first single, the extremely catchy 'I Know I Love You (but I don't know how I know)' garnered great reviews. Had it been produced by Nick Lowe and released on Stiff, it couldn't have failed to be a hit. But it wasn't. They recorded their only album, named after the Nottingham phrase 'Neither Use Nor Ornament' at Berwick  St. Studios in Soho. It had the songs, but lacked a strong producer. I well remember the night it went on sale, when they played the whole album, in order, at The Imperial, Wayne miming turning over the record halfway through. My copy  is number 15. I was editor of the Nottingham University student newspaper in '78, and wrote about the band whenever I could, chatting with them most weeks. Their second single, 'Attitude Dancing' was reminiscent of XTC, then starting out, while its double A side, 'Long Weekend' was always one of my favourite live songs. I hope they'll play it in a week's time, when three of the original four perform together for the first time in over 30 years. For free, at Nottingham Contemporary.
By 1980, the band had imploded. I only just realised that one of my oldest friends (I've known him for thirty years), cartoonist John Clark, was a roadie for Gaffa years before we met. Must have come across him, as I saw them live more often than any other band since, sometimes twice in the same week. We'll both be there next Saturday night, reliving our youth. Even if (maybe especially if) you missed them the first time, you might care to join us.