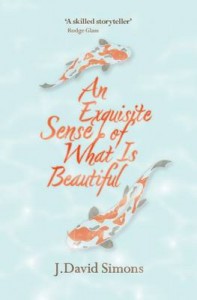 This Easter, we managed to get away for a week in Lanzarote, a beautiful island in danger of being over-run by hotels offering inclusive food and drink deals. We stayed in a quiet bungalow at the far end of Playa Blanca, and ate well at local restaurants, swam a lot, visited the sights, and did loads of reading. Here are the books I finished while I was there.
The Successor – Ismail Kadare This had shades of Lanzarote's late Nobel winning author Jose Saramago (whose museum home we didn't get to visit, as it's not on the tourist trips and we didn't want to rent a car), with a tough, allegorical flavour to a story that, nevertheless, gets at the reality of politics in contemporary Albania. Translated from Albanian to French into English, but you wouldn't know as the language is very tight and the shifting meanings offered by each successive account – did the president's designated  successor kill himself or was he murdered? – are thought provoking and absorbing. Also reminded me a little of Kapuscinski's The Emperor, which I read recently.
Never Mind – Edward St Aubyn I'd been avoiding this series of novels about posh people because I thought it would irritate me. Of course it does – the characters are meant to annoy. There isn't a single likeable one in this opening novel. But David Almond told me he was hooked on them and  got me curious. Then I found this, the opening novel, as a 99p Kindle deal of the day so thought I'd check it out. How good was it? Put it this way. I just bought the box set of all five books so that I can read them in order, soon.
The Doctor's House – Ann Beattie I've been reading Beattie for thirty years. She's probably my favourite short story writer, but her novels are more hit and miss. This, I'm pleased to say, is probably the best since her first, Chilly Scenes Of Winter. Told from three, successive points of view, it's the story of a young widow's relationship with her sexually promiscuous brother and the parents who shaped their lives. Beattie doesn't offer the traditional pleasures of resolution to the story she tells -it's a little frustrating that, once you exit each point of view, there's no return, but it's a brave and powerful, utterly absorbing novel that I polished off in less than 24 hours. Not published in the UK. Indeed, it must be twenty years since Beattie had a UK publisher, which is a damned shame…
An Exquisite Sense Of What Is Beautiful – J.David Simons You know how you save up one book that you know you want to take on holiday and read with complete concentration? For me, this was that book. I was delighted when it was published the week before we went away. I was knocked out by Simons' previous novel, The Liberation of Celia Kahn and initially disappointed that this wasn't the concluding volume of that historical trilogy. This, however, is a more commercial book, one that could almost be described as a beach read, which is not to say that it is any less well written. Simons has a terrific, fluent prose style. He lived in Japan for seven years and it shows in this story of an aging author and his return to the grand hotel where he wrote his first novel. It flips between the past and present in alternate chapters with a masterly control of suspense and compulsive plotting: the less you know about the story before you start reading, the better. All I'll say is that it's an immensely satisfying read. I made it last two days by rationing myself and, as soon as I'd finished it my partner commandeered it and read it with equal speed and pleasure. If this novel doesn't break through big for Simons and win prizes then the publishing world really has gone to pot.
Skios – Michael Frayn I missed this off the list originally, because we both read this one, too, but left it behind in the Atlantic Gardens library. An entertaining read by the pool. However not a novel one would be inclined to reread – a farcical romp that builds up to what should be a rip-roaring conclusion but, instead, gives you and an overcooked one that falls completely flat (all but ignoring the character you're most interested in). Pity.
I also finished Virginia Woolf's Jacob's Room but that was for work, and started Philip Kerr's Argentinian Bernie Gunther novel, A Quiet Flame, which I'm enjoying, on the plane home, but I still have a third of it to go. As usual, I took my back-log of New Yorkers to read in place of a daily paper and read lots of good stuff in there. Of particular interest was a fascinating, long article by Marc Fisher about Brooklyn private school teacher Robert Berman and his cult of damaged followers/victims which is currently available in full online.