The Longest Read: James Clavell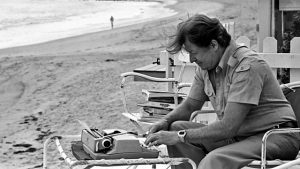 Thirty-nine years ago this month, I set off to hitch-hike around Europe. I took, as I recall, only three books with me. The Hitch-Hikers Guide To Europe, of course. Jack Kerouac's Lonesome Traveler (I'd already read On The Road  and Dharma Bums) and a notebook to write in. Back then, I wrote a lot of poetry. I'd been working for seven months after dropping out of university so had saved up enough to last for up to a month, depending on how well I eked it out, before returning to Nottingham, where I would study English Literature and American Studies.
I'd long finished Lonesome Traveller by the time I got to Genoa, by way of stops in Boulogne, Paris, Digne and Nice. It was in Genoa that I succumbed to joining the Youth Hostel Association so that I could stay in a hostel just outside the Italian city. I bought the required sleep sheet, a thin cotton sleeping bag thing that saved on their laundering bed linen. Bit of an expensive investment, as I didn't stay in a hostel again for the rest of the trip. Tried to get into the one in Athens, but it was full, and I slept on a roof instead. It was in the Genoa hostel that I met the Australian, a few years my senior, who was also travelling alone, and we agreed to hitch together for a while.
The Australian and I got up early to hitch to Rome, hoping to get to St Peters Square in time for the Pope's midday mass. Instead, we landed at a campsite just outside the city after four, the Australian sharing my tent. He lent me the book that he'd brought with him to read on his trip: James Clavell's Shogun, which I hadn't heard of, while he ripped through Lonesome Traveler. In Rome, we wasted precious travel money on black market Rolex watches while we queued to get into the Sistine Chapel. An Italian spiv displayed them from the inside of his jacket, like in the comic books, and offered a discount for two. The Australian talked me into buying one. Then we hitched to Naples and, from there, to Pompeii. I loved Pompeii, and was to return there seven years later on my first foreign holiday with Sue. But I got food poisoning and the Australian didn't want to hang around waiting for me to get better. Also, we'd been travelling together for a week, and were probably a bit tired of each other.
I was OK with that, and it only took me another day or so to feel up to moving on (I ended up getting as far as the Greek island of Naxos) but the Australian hadn't finished Shogun and took it away with him. I was only about 500 pages through the 1000+ page novel. So I never found out how it ended. There was, I recently learned, a very successful TV adaptation in 1980, but I didn't notice: probably too busy writing a dissertation and preparing for my final exams. It starred Richard Chamberlain, who I find hard to imagine playing Anjin-san, the English samurai, so was probably best avoided. In 1990, there was a musical, which took great liberties with the plot. Why didn't I buy or borrow a copy? Probably some innate distaste for best-sellers. I assumed that my holiday reading standards were lower and I would be disappointed. Also, it was so long and I didn't want to have to read the first three books all over again, not when I had all that great literature to get through for my course.
At the beginning of this year, Shogun showed up as an Amazon Daily Deal (once a big boost – Bone and Cane went back to the top of their charts when it was in the deal). I was about to go to New Zealand and stocking up my Kindle for the four flights. So I paid my 99p and, in February, on the endless flight back to the UK, began to read it. And, you know what, it was really good. A terrific plane read. Easy to follow, crisply written, with good characterisation, lots of exciting events and some insight into Japanese culture. The depiction of seventeenth century Japan reminded me of David Mitchell's The Thousand Autumns of Jacob de Zoet (2011) which is set a century or two later. However Shogun is essentially six novels in one, and I was taken ill two days after I got home, so didn't start the third book for a few weeks. Eventually, though, I made the novel my bedtime read. I would aim to read 1% before I fell asleep (that's around 6000 words, at a guess) and often managed it.
Last night, I finished the novel. It goes off a little bit towards the end. There are a few sentimental passages and overlong sentences that suggest the author was getting tired. He holds back information. This is partly to create suspense as to why characters are behaving as they are but, nevertheless, it gets clunky. There's a long passage towards the end when the principal Japanese character, Toranaga, thinks about his motivation and plans for Blackthorne, the novel's hero, that no self respecting writer would be happy with. But these are minor caveats. It was one of those books that you look forward to reading in bed, with a style that was easy to follow but content complex enough to tire the brain and send me to sleep. It's one of six Clavell Asia saga novels and, while I wouldn't rush to read the others, I wouldn't rule it out, either.
This morning, I read up on Clavell, surprised to find that this Australian-born Englishman wrote The Fly, The Great Escape and was writer/director of To Sir With Love, amongst other movies, on top of the big Asian books. He translated Sun Tzu's still hugely influential The Art of War. He was also a Japanese prisoner of war, which inspired his first novel, King Rat. He sounds like an interesting guy and I've downloaded his Desert Island Discs to listen to on my morning exercise bike ride (the photo above is from their site). The Anjin-san in Shogun is based on a real English sailor, William Adams, who had a fascinating life. Several other novels have been written about him.
My Australian wrote to me that December, with a cheque for the twenty dollars he'd borrowed in Rome. The gold had quickly begun to rub off the fake watch, he told me. He'd told a sob story and sold his to some Americans in Italy. I still had mine, which had stopped working within a week. When my mum took it to be mended the first thing the jeweller said was, 'you didn't think this was real, did you?' The Australian had a temporary job lecturing in Engineering at a university in Arizona. For all I know, he's still there. And I have to find a new book to read at night. I'm halfway through David Gates' Preston Falls, which is a cracking read if you like novels about fifty-something blokes whose lives are falling apart, but isn't conducive to a good night's sleep. I'll turn on my Kindle and see what takes my fancy. By the way, if you like novels about Japan, as I do (hoping to go back there next year), my favourite two are Kazuo Ishiguro's An Artist of the Floating World and J David Simons' terrific, too little known, An Exquisite Sense of What is Beautiful, which I wrote about three years ago.
The Fiery Furnaces – Japanese Slippers