Ryley Walker Trio, Glee Club, Nottingham, August 3rd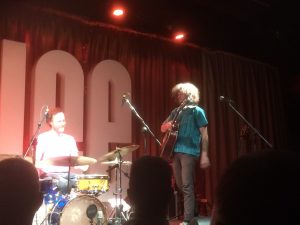 The second night of Ryley Walker's UK tour comes two weeks ahead of third album Golden Sings That Have Been Sung (no, that second word isn't a typo) which only the illegal downloaders in the crowd will know. Walker was meant to appear in a duo with legendary former Pentangle double bassist Danny Thompson, fifty years his senior (Ryley is 27). But Danny is ill – at least that's the official story – so we get his regular trio, featuring two musicians from Oslo. It's hard to imagine how this show would work without terrific drummer Stale Liavick Solberg, whose flamboyant jazz chops propel the evening's tight, spacey improvisations. Walker's intricate guitar work soars, while understated bassist Julius Lovid holds it all together. They create a wide, absorbing soundscape, more exciting and absorbing than on the impressive album (which I have heard a few times).
The 70 minute, eight song set is dominated by material from Golden Sings. I've had my doubts about Walker before. Those early John Martyn and Tim Buckley influences seemed too obvious and it was the appearance of Danny Thompson (who I've seen many times, with John M and Richard Thompson) that persuaded me to check him out tonight. But live, Ryley's his own thing, an absorbing showman with terrible hair and engaging humour. If the vocals remind me of anyone, I realise as the evening progresses, it's Tim Hardin's late 60's jazz slur. Walker namechecks the Miles Davis of that era, especially praising the On The Corner LP. These are the things he loves, he tells us. Well, them and chips with mayo.
Two thirds of the audience is my age or older, well placed to have seen Walker's influences in their heyday, but there's a healthy sprinkling of young hipster types too and the the evening goes down a storm with everyone. 76 minutes rush by, concluding with the opening tracks from his breakthrough album Primrose Green, with its imitation Van Morrison sleeve. Watching him yelp and swagger through encore Summer Dress, you can be sure he'll be back, bigger. What his next stage will sound like is anybody's guess.
Ryley Walker – The Great And Undecided