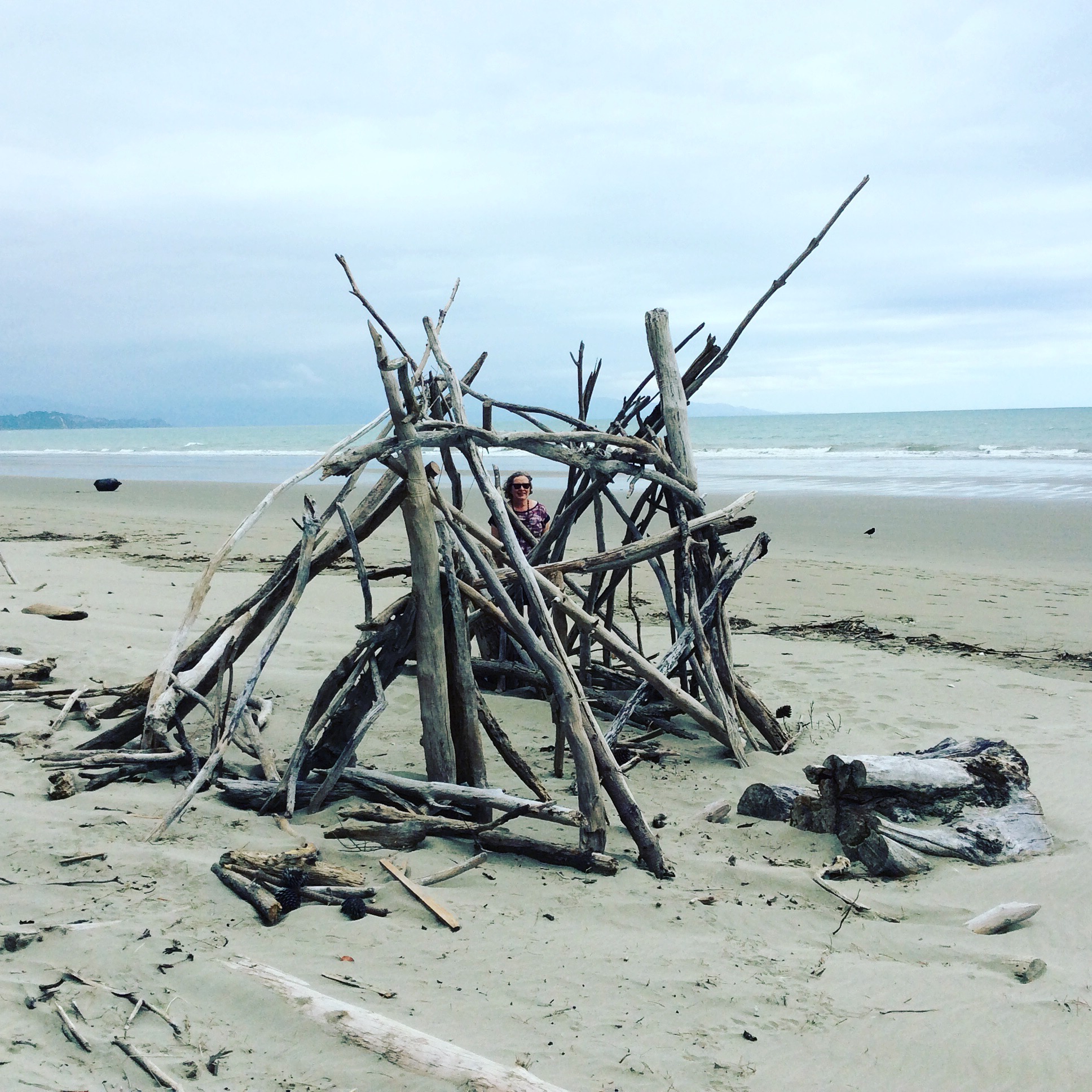 The sleevenotes start a day early this year, as there are 21 tracks (one only a minute long – but you'll have to wait a fortnight to find out what it is). This is our 28th best of year compilation, copies of which are sent or given to friends. For the last few years, I've been writing these sleevenotes and posting MP3s of the songs online (briefly, for promotional purposes, if any copyright holders object the song will be removed) which spreads the word and saves sending out ever more CDs. I tend to post one sleevenote a day but this year is tricky, so they may go up in batches, finishing on New Year's Eve.
Sue has a right of veto and chooses the title which, this year, is 'Empty Spaces'. That's her above, on her birthday back in January, in front of a driftwood installation on Rabbit Island beach, on the South Island in New Zealand, where we had a great break. As usual, it would have been easy to make two CDs packed full of great stuff. The new Rolling Stones (suprisingly good) and Neil Young (endearingly all over the place) LPs came out too late for inclusion. This year's comp is surprisingly light on what you might broadly call 'new soul'. There's good stuff on the latest albums by Beyonce, Solange, Kanye West and (especially, but boy is it patchy) Frank Ocean, but none of their albums really took hold of me. Maybe something to do with the year I've had. Best of the new soul bunch is probably the latest Maxwell, also absent. Old soul, though, now that's another story, as you'll see. When making a best of year CD, it's crucial to start with an absolute corker, so…
1. Teenage Fanclub – The Darkest Part of the Night. In a year when I've had to miss several gigs, this was one I was determined to see. So much so that, when I realised it was the same night as Van Morrison, who I had a great stalls ticket for, I didn't hesitate to flog the latter. TFC have been my favourite British group since I discovered them, around the release of Bandwagonesque, but it's been a decade since I last saw them, and they didn't disappoint, with a set that heavily featured both the fine new album, 'Here' and my favourite, 1997's 'Songs From Northern Britain.' They played this – for me, the strongest song on the new album, in the middle of the set, and it was wonderful.
2. The Jayhawks – Empty Corners and Quiet Spaces. The Jayhawks are Sue's second-favourite band, and their reunion album Paging Mr Proust is fit to stand alongside this line-up's classic trilogy: The Sound of Lies/Smile/Rainy Day Music. I remember at the end of 1997, when we compared best of year lists, my oldest buddy, the late Mike Russell, and I vigorously debated whether 'Sound of Lies' should be above 'Songs From Northern Britain', which he'd put at number one. I wonder which of these first two albums he'd have preferred. Sadly, the day we were due to see them in September, I wrapped our car round a tall lamppost just outside Thirsk, thwarting that and other plans. The car was written off but we were hardly hurt so no complaints. We still have the album. This is the catchiest song on it & provides this year's compilation with its title.
Quiet Corners and Empty Spaces
3. Haley Bonar – Kismet Kill. I heard this song on 6Music when Craig Charles was standing in for Shaun Keaveny and immediately tracked down the album it was from. Bonar reminds be a bit of Belly (whose reunion tour I saw this year) with some Til Tuesday and Bangles thrown in. The album it's from, 'Impossible Dream', consolidates and builds on the change of direction 'The Last War' made from her early, more singer/songwritery songs into pop-rock. This number might have a daft title, but it's ridiculously catchy, with a grunge edge, and I'm very much looking forward to seeing her at the Social in March.
4. Drive-By Truckers – Surrender Under Protest And if you were to ask me my favourite band who aren't from the UK (not that people tend to ask me such questions any more), I'd probably have to say these guys, who are in their 20th year. I've only seen them twice, at the Rescue Rooms around ten years ago and in Birmingham a few years later, and I wish they came nearer, more often. Since the classic Southern Rock Opera, they've been bringing out consistently great albums that blend Southern rock, Southern soul and a great sense of the history of the American South. I usually choose songs by Patterson Hood, but their co-lead singer/writer Mike Cooley is equally impressive, as this song about the civil war demonstrates.
5. William Bell – The Three of Me It's not uncommon for soul singers to make comebacks, but it's nearly fifty years since Bell released the Stax classic I most love by him: the wonderful I Forgot to Be Your Lover, while he's best known in the UK for his 1967 duet with Judy Clay, the lovely Private Number. His Stax career ended in 1974 and This Is Where I Live is his first major label recording in thirty years. It's bloody good, too: a consistent, timeless helping of deep Southern Soul produced by the illustrious John Leventhal, who I saw perform with his wife, Rosanne Cash, not long back. Congratulations to him for restoring Bell's career and to Bell himself, still sounding great at 77.
6. ABC – The Singer Not The Song ABC were great at the Royal Centre this year, and you can read an extended version of my review for the Nottingham Post by scrolling down or clicking here. Lexicon of Love II is a really good album. I've already posted this song once, which saves me uploading it again.
7. Field Music – Disappointed This North East band have been around for ages and play music that's hard to describe: think Gabriel-era Genesis, Prince and Steely Dan. Doesn't help, does it. This song is insanely catchy and I heard them do it twice at Rough Trade back at the start of February, the day after we'd flown back from New Zealand. I dragged along Martin Stannard, on a flying visit from China, but he wasn't impressed. I thought their tight, intense 45 minute set, mostly from the new album, was excellent. I was meant to be seeing them play a full set at the Rescue Rooms ten days later, but illness intervened. Still, I'll always have Rough Trade. And that isn't the only gig there that I'll be mentioning in this year's notes.
8. All Saints – One Strike Perverse to include the single from a generally ignored comeback by a 90s girlgroup while ignoring the Guardian's album of the year by Beyonce or the new album by her sister, Solange, who I generally prefer. Yet neither of those albums especially grabbed me. Nor did the new Alicia Keys. While this single… I dunno, maybe it's some kind of nostalgia, but it does it for me: uplifting, sassy, sexy, rather lovely. It was a complete flop.
9. Steve Mason – Planet Sizes Another gig I was forced to miss (work this time) was the former Beta Band frontman at the Rescue Rooms. Luckily, I did get to see him just before his wonderful Meet The Humans album came out. He played a short acoustic set at Rough Trade (a free gig, to boot), back in January. It included this corking number. I'd only driven back from London half an hour before, but couldn't resist. And bloody good it was too. As is the album, which I like even more than his previous two solo albums. Many of the songs feel like they're about battling depression (something that Bruce Springsteen talked eloquently on Desert Island Discs earlier today – this links to an extended version), yet it's as life affirming an album as you could hope for: also tuneful, substantial & uplifting. One of the very best of they year.
10. Lambchop – NIV. This number is the only one I have in common with Sean Michaels, novelist and co-author of the highly renowned Said The Gramophone MP3 blog where, many years ago, I first discovered The Arcade Fire and Vampire Weekend, amongst others, well before they had record deals. Every year, Sean posts his favourite 100 songs and makes them available for a short while, so I strongly recommend a visit. The new Lambchop album, bookended by long, Kraftwerk-influenced tracks (I'd have chosen In Care Of 8675309 but it's twelve minutes long) is  an absorbing, calming, philosophical album, great in the car, often just what I've needed in what has been a long, traumatic year. That said, over the last few days, I have been mainly listening to Iggy Pop, The Stooges and Lou Reed, who suit my current mood more. My interest in Iggy was rekindled by Jim Jarmusch's excellent Gimme Danger documentary, one of two new films by Jarmusch I saw in the same week. The other was Paterson, probably the best movie I've seen about poetry and the only one you'll ever see about William Carlos Williams. Lambchop would have fitted pretty sweetly on the soundtrack for that one.
11. Chip Taylor – One of us Must Know (Sooner or Later). The longest track on this year's CD was written by Bob Dylan. The Nobel Laureate had a second album of Sinatra covers out this year, but it didn't grab me as much as the first one. Which isn't to say that I'm not looking forward to seeing him for the twelfth time from the middle of the third row at Nottingham Arena next year. His most exciting release, for this Bob nerd, was a 36 CD set of every live recording from his legendary 1966 tour, which I'm working my way through. The acoustic sets vary only slightly, in (minimal) stage patter and intonation. The electric sets are devastating, constantly evolving… you can hear something being born. Bruce Springsteen sagely chose 'Like A Rolling Stone' as the one record he would keep behind on his desert island, and you can't argue with that. This song doesn't feature on the tour, but it's from that year, one of my favourites on Blonde on Blonde. They're all great, of course, which is why Mojo magazine commissioned a bunch of acts to cover the whole thing. One of their more leftfield choices was a guy Bob's age, Chip Taylor, who I've not paid much attention to before. On the back of this cover, I went to see him play in a barn near Southwell, accompanied by the Caledonian Soul Orchestra's leader, John Platania. It was a warm, entertaining, story-filled evening, including Chip's most famous songs, 'Wild Thing' and 'Angel of the Morning', but he didn't play this one. Pity, as it's a terrific reinterpretation: wry, kind, intimate: an arrogant young man's song sung by an old man. I sent an MP3 of the song to Michael Gray (at his request – Michael, who is on Twitter, wrote the first critical book on Dylan, Song and Dance Man, which I first read when a student). He loved it too, writing 'It's completely wonderful. What a tranformation. (And of course it could be heard as addressed to the young Bob who wrote the song in the first place… "I didn't realise how young you were… You said you knew and I believed you did…". See if you agree with him.
One of us must know (sooner or later)
12. Leonard Cohen – If I Didn't Have Your Love. I don't listen to many podcasts but one of the few I subscribe to is the New Yorker Radio Hour, and I recommend the episode where David Remnick introduces extracts from his interview with Leonard Cohen, the full version of which can be read here. This simple, heartfelt song is from Cohen's fine farewell album You Want It Darker. I've been listening to Leonard for 43 years and if you hit the search box on the left you can see some of the things I've written about him. The manner of his going was as dignified and wise as any of us might hope for ourselves and it was moving, as I listened to that podcast while on my exercise bike this morning, to hear him talk about the satisfaction to be had from putting your house in order. So long, Leonard, and thanks.
13. Ryley Walker – The Roundabout. Ryley Walker sounded like the sort of act I was bound to like. Sounded like it too much, in fact. The cover of Primrose Green is a pastiche of Van Morrisoncirca '71, while the songs echoed John Martyn and Tim Buckley too faithfully for my taste. But when I heard he was playing with Danny Thompson, I had to go review the show. Then I got to hear an advance copy of his forthcoming Golden Sings That Have Been Sung and it turned out to be terrific, as was the show. Danny was ill but the Danish jazz duo backing Walker were fantastic and the new songs showed he'd found his own distinctive voice: a slurred, stoner voice with jazz inflections and an anarchic, improvised spirit. Here, have a listen.
14. p j harvey – The Community of Hope. If I weren't in the middle of these sleeve notes, I'd be writing a blog about the last ever (probably) show by Family, which brother Paul and I went to see in Leicester last night, a joyous occasion in a surprisingly small hall, with shadows of the band projected onto the wooden walls on either side. Paul and I were on the barrier, centre stage for the 40 minute encore (I grabbed a setlist, which I put on Twitter), and it was bloody wonderful. As is this track from pj, back in war correspondent mode. The lyrics recount what her host told her as he drove round severely stricken parts of Baltimore. Too long since I've seen her live…
15. Orchestra BaoBab – Clementine Jam. How much do I love the Grateful Dead? Not that much, compared to some people, though I must own at least half a dozen LPs and retain a fondness for their work in the first half of the 70s. I discovered it after my family moved to Colne, then a bit of a hippy enclave, when I was sixteen. How much do we love Orchestra Baobab? That's another story. They're Sue's favourite band, and we made a pilgrimage to see them play a great show at the Festival Hall last year. I'm also a big fan of the National who curated a five disc tribute to the Dead that includes loads of my favourite acts (eg Bonnie 'Prince' Billy, War on Drugs, Kurt Vile), Day of the Dead. And two tracks by Orchestra Baobab at their glorious best, reminding me how that sweet African guitar sound has such similarities to that of Jerry Garcia. Not a Dead song I know, but bloody lovely.
16. Jonathan Coulton – Braindead (theme). Christmas Eve, and I'm about to go out to deliver the last two of these CDs to friends who we haven't seen since we finished them. Three entries today, to save my writing for two days, and this is the reason that the CD is one track longer than normal, lasting, as it does, only a minute. Twelve of the thirteen episodes of this superb, satirical show from the creators of The Good Wife (it's just finished on Amazon Prime) began with a one minute song summing up the series so far. And they're great (except, oddly, the final one, where Coulton makes a cameo). I chose an earlyish one to avoid spoilers but still give a sense of the show, set during the US election, which is as timely, prescient even, and as bizarrely funny as one might hope. But if you're not worried about spoilers, you can see/hear ten of them here. Mostly, this track is included for the same reasons as the other songs on here: it's catchy as hell.
17. Billy Bragg – Why We Build The Wall. I've tried to like the singer/songwriter Anais Mitchell, I have, but, like Joanna Newsome and this year's favourite, Angel Olsen, her voice grates on me. This song is from an opera she wrote, Hadestown which came out in 2010. I think it's sung by a character who is, essentially Satan, but could just as easily be a demagogue who's just been illegitimately elected president of, say, the USA. Which is why Billy Bragg was covering it during the recent election. I saw him play it during the aftermath, in a show with Joe Henry that I wrote about for the Nottingham Post (that entry has links to the Mitchell version). But this version was recorded in LA during the election itself. Song of the year, unfortunately. Merry Christmas.
18. Savages – Adore. And sometimes the right song appears at the right time. First post in three days – three days which have been among the worst of my life – and, since nobody but  friends are reading by now (not being modest – my Twitter followers always plummet when I link to these notes), mostly people who receive the CD, I'll explain why. My partner had a major operation on the 16th and, on Christmas morning, a pump she needed to use to drain the wound exploded with a loud bang. So we went to the hospital up the road before breakfast for what should have been a two minute procedure. However, the nurse saw signs of an infection so said we needed to wait for a doctor. It's not an A and E hospital so there were three on for the entire, vast place. Sue was seen four hours later, and admitted. So I went home to get a bag of stuff she needed, then spent until nearly nine at the hospital. I went to bed around one, the presents still under the tree and, luckily, forgot for once to turn the alarm on. Otherwise I might have been hospitalised too, interrupting the theft. The burglars were in and out very quickly, prising open a locked window, taking the key to our new car (an expensive, year-old Audi, replacing the Alfa I wrote off in a serious accident just three months ago) and the telly. Nothing else. They were very professional, wearing gloves throughout, according to the forensics team, leaving leads neatly arranged (though they took the wrong remote), letting themselves out by the back gate which they found the key for. I didn't discover the burglary until 10.45, by which time Sue was in surgery (too early to say how successful the op was). I wandered into the dining room as I answered the phone and saw that the telly was gone. Then I went into the hall to see how they'd got in and saw that the car was gone too. This was one of the worst days of my life, not least because I couldn't tell Sue about it until the next day, as she was emerging from surgery and under enough stress.
Anyway, she's in good hands, if not recovering as quickly as we would hope, and things are getting sorted. Friends and family have incredibly helpful and supportive. And now I cast my mind back to January, when we flew to New Zealand for a break at the end of my research leave and the beginning of Sue's. I was still coming to terms with the recent death of my oldest friend. We were in Singapore Airport between flights, already discombobulated by thirteen hours in the air and time zone shifts (we had three breakfasts that 'morning'). I put the new Savages album on my iPod. It had come out the day before we left and I hadn't played it yet. It's a powerful, gut-crunching album, reminiscent of early Siouxsie and the Banshees, p j harvey and the Au Pairs, yet feels utterly contemporary. And the title's track's question, about whether despite all the shit many of us have gone through, it's right to adore life, to make the most if every day, struck me that long morning as being incredibly powerful, and apt. Today, after the year we've had, and the one the world has had, it feels even more so.
19. Aaron Neville – I Wanna Love You. I think this might be the most gorgeous track on the whole CD. More old soul. I love Aaron Neville and have records by him going back fifty years. His best songs are often written by the late, great Allen Toussaint (whose final album, American Tunes, is well worth a listen). Neville wrote this uplifting love song. His voice, at 75, is still a thing of wonder. And, in DJ mode, I'd like to dedicate this to our dear friends Tracey and Greg, who just broke their journey to Blackpool to deliver their spare car, as a long term loan, which will those hospital trips a lot easier…
20. David Bowie – Dollar Days. I got hold of Bowie's Blackstar exactly a year ago today, two weeks before its release but too late for 2015's best of year CD (as, this year, were the excellent new Rolling Stones album and the patchy but often very good Neil Young album). I noted the songs' preoccupation with death, but put this down to their being connected to the forthcoming musical, Lazarus (the final performance of which I'm seeing in London next month). This song, though, troubled me. That line about 'if I never see the English evergreens I'm running to, it's nothing to me, it's nothing to see' didn't sound like a song sung by an alien from a sequel to The Man Who Fell To Earth. It sounded like a man who was dying far from home. But I only put it together, like everybody else, twelve days later, when I woke up to the news. I wrote a long post about Bowie that day, even appeared on local TV to give my obituary. It's very unusual, a year in which two of our greatest songwriters make albums about their own deaths, but I'm grateful to have them both, and I love this song.
21. The Last Shadow Puppets – The Dream Synopsis. Good riddance, then, to 2016, by far the worst year of my life for personal reasons, never mind the political ones, and I don't hold out a great deal of hope that 2017 will be much better. Still, I got Sue out of hospital last night, albeit I have to take her back for treatment every morning at eight and today we were there for three hours. And that's a big relief. Thanks again for all the support we've had from friends near and far.
OK, on to the ones I was forced to miss out. Mary Chapin Carpenter released a good album, albeit not quite as good as 2012's Ashes and Roses, plus she played a great show at the Playhouse, which I reviewed for the Post but forgot to post here. Her track, below, was bumped at the last minute for Orchestra Baobab. I'd liked to have included a track from the great Sturgill Simpson album, so there's one from him below – an alternative closer, if you like. Paul Simon put out a decent album, as did Hiss Golden Messenger, and Michael Chapman did a couple of nice vinyl only things. Looking forward to his Fifty next month and delighted to see him getting full page reviews for it in Mojo and Uncut. Richmond Fontaine made a fine farewell album and I saw them play two great gigs, most memorably their penultimate UK show at the Maze. I enjoyed albums by Kel Assouf, Hidden Cameras, Luke Haines, Van Morrison, Charles Bradley, Iggy Pop, Lucinda Williams, Solange, Mudcrutch, Steve Gunn, Pretenders, Bon Iver and Beyonce, but was a bit underwhelmed by the new Alicia Keys, Band of Horses, Beth Orton, Kanye West and Animal Collective. Frank Ocean's Blond is irritatingly patchy. Then there's the Last Shadow Puppets, whose album I've hardly listened to at all, apart from this year's closing track, which is essentially a great Arctic Monkeys anthem. It's about Sheffield, my hometown, and it ends the CD on an upnote, which, as 2017 beckons, is what we all need. Enjoy. Thanks for reading. I hope you have a good one.