The Fifty page rule. My August reading.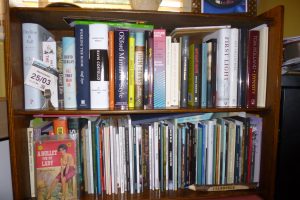 I normally do a holiday reading blog around this time of year. We've been unable to get away, although a weekend in Whitby beckons. However, I've been enjoying the sunshine and my last month running our UNESCO City of Literature, whose first director, Sandeep Mahal, starts today, which is very exciting. I've been helping sort out the publication of the Dawn of the Unread book, and I've also done plenty of reading, finishing a book I started nearly forty years ago (see the post below), dipping into numerous short story and poetry collections and devouring a few novels. Here they are, in the order in which I read them.
Alison Moore – Death and the Seaside
The third novel from one our UNESCO patrons is allusive and multi-layered. Moore keeps you alert and uses plenty of post-modern tricks, but in a unique, very personal way which always keeps the reader on board. I discussed it last week with the Arts Council's new literature director, Sarah Crown. I liked it a lot, but not as much as the review in The Guardian, I told her. Oh yes, she said, I wrote that. Oops.
David Mitchell – Slade House
I normally rush to read Mitchell's novels, but I read part of as a short story that he published it over a few days on Twitter and was – how to put this? – less than impressed. Yet, when I got round to this shortish novel, which I polished off on a long train journey, I soon discovered that it's a very good kind-of-ghost story, one that gets increasingly satisfying as it develops. Isn't that the problem with long ghost stories, that they frequently fizzle out long before the end? There is one problem with the book, which, like all of Mitchell's novels, turns out to have references to other novels, especially his last one, the uneven The Bone Clocks, and you really need to have read that for part of the new novel to work. But fair enough. Alison Moore's novel also expects us to have read and thought about other novels. This is, surely, a reasonable expectation.
Sjón – Moonstone: the boy who never was
Another from a UNESCO city of literature, this time Reykjavik, where the Spanish flu epidemic sweeps the city at the end of the First World War. A young gay man survives it, while coming under threat because of his sexuality. A short, satisfying afternoon's read, beautifully written.
Elizabeth Strout – I am Lucy Barton
After the rave reviews, and seeing the terrific TV adaptation of Strout's Olive Kitteridge, I had high hopes of this. While it's very well written, I came away slightly disappointed. I was expecting interconnected short stories but found a thin, fictional memoir about a sick woman's relationship with her mother, with a little about a failed marriage and quite a lot about her relationship with a woman writer who may or may not be based on a real figure. It's good, but, for me, didn't add up to more than the sum of its parts, as a good novel should.
AD Miller – The Faithful Couple
This, on the other hand, got better as it went along. I picked it up cheap on Oxfam, having enjoyed Miller's Russia-set debut, Snowdrops. The new one's subject, male friendship, is typical first novel terrain and I wasn't impressed at first. Reading on the lounger in the lawn, one hot day this week, I was annoyed to find that I'd got past page fifty. That's my rule, you see. If I get past page fifty of a novel, I have to finish it. But, in this case, I'm glad I did. The writing is strong and the relationship (charting the fortunes of two very different friends who meet on a USA holiday, and are implicated in something bad that they did there) credible. Miller chronicles the messiness of life, with its built-up resentments and broken ambitions, very well. This would be a good novel to read for a take on metropolitan life over 18 years, from 1993. That said, there isn't much call for novels like this these days, so, unless someone's enthusiastic enough to turn it into a TV mini-series (hard since so much of it happens in the characters' heads, it probably won't get noticed a lot, which is a shame. Anyway, I've got thirty pages left, and I want to know how it end, so I shall be finishing it over lunch before going into town for this evening's City of Literature board meeting.
What to read next? I'm rather spoiled for choice, as the photo above demonstrates. The bookcase used to belong to Stanley Middleton. Nice to see Alison Moore give him a nod in her top ten books about the seaside for The Guardian. Click on the picture for a closer look. The bottom shelf needs a little explanation. The novel on display is one that took me ages to track down, written under a pseudonym by my favourite novelist, Brian Moore, at around the time of the publication of his first novel under his own name, Judith Hearne. All of the books to the right of it are poetry collections. I've built up rather a backlog in the three years that I ran Jazz and Poetry Nottingham (now, sadly, in hiatus). I should probably start that fat Elvis Costello autobiography and read it before Bruce Springsteen's memoirs come out. I've heard mixed reports of David Szalay, which is on the Booker longlist. Maybe I should try that. And I've been saving up Graham Joyce's final novel. Also, the new Ian McEwan is published today, and Robert Harris has a promising looking one out in a couple of weeks… so many books, so little time, as the badge I bought at City Lights says. One of these days, I might even start writing another one myself.
Elvis Costello – When I Write the Book (by Nick Lowe) & Everyday I Write the Book (Medley)