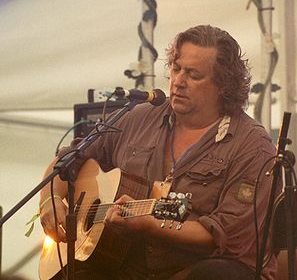 I first saw Jackie Leven more than 30 years ago, at the Ad Lib club in Nottingham, fronting his band, Doll By Doll. I'd just bought their debut album, which I thought was staggeringly good, and dragged my new girlfriend and a visiting mate along. That album Remember consists of six tracks of blistering, rock music and a gorgeous ballad, Janice, which I adored (still adore). The Ad Lib DJ obviously adored it too. He played the track no less than five times before the band came on. It is never a good idea to play music by the band who are about to appear and, sure enough, in revenge, Doll By Doll didn't play the song that night. Never mind, they played a visceral, overwhelming set, more punk than any punk band I saw (and I saw most of them). Joy Division? Pah. Doll By Doll did the dark stuff better. I'm not sure the friends I took with me were as impressed. Not everybody wants music that contains so much rage.
Fast forward twenty years. Jackie Leven is playing the room upstairs at the pub up the road from me, The Gladstone. I'm vaguely aware that he has a solo career these days, having borrowed a CD from the library that contained two songs I really liked. He has a fine voice that was still recognisably the guy who sang Janice, despite the absence of his trademark falsetto. What I wasn't prepared for was that he had become a brilliant storyteller, self-flagellating, scatalogical, seedy and utterly hilarious. It was a great show and, appropriately enough, I happened to take a piss next to him afterwards, so I told him about seeing him in '79. That was one of the few good Doll By Doll gigs, he told me, then patted me on the back and thanked me for continuing to follow his career.
Since then, needless to say, I've been a major fan, acquiring a good few of the numerous CDs he's put out (astonishingly, they keep getting better), watching each tour, although he's not played Nottingham since that Gladstone gig. I was at the Summer Sundae show where the photo above was taken. I usually take along a friend, too, and they always want to see him again because, even if they don't immediately fall for the music, the stories between the songs are fantastic. He lost the falsetto in the early 80's, having had his throat slashed in a street attack. After that, he became a heroin addict for years, before cleaning up and founding a charity where Princess Diana was one of the patrons. He knew her. Indeed, he seems to have known an amazing array of people, from Lawrence Olivier to Ralph McTell, who features on his latest album Gothic Road. When three of us went to see him in Derby this month, the stories about Diz Dizley were worth the price of admission on their own. And, although the loss of falsetto means that he can't sing Janice any more, he managed an impromptu, Matt Monroish rendition of Strip Show, its counterpart from the second Doll By Doll album.
My second song of the week is a beautiful one he played at The Flowerpot, which shows his melancholy, poetic style to good effect. It's originally from an obscure 90's album, more recently included in this version on Men In Prison, a CD from one of four live doubles he put out (at bargain prices) last year. If you let the track play on, you'll get a little sense of his story-telling style. Have a listen to Poortoun.