Billy Bragg, Rock City December 2, 2010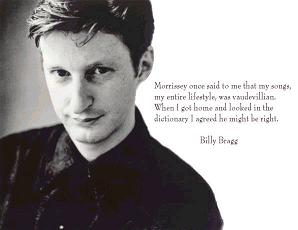 I bought a ticket for Billy Bragg last night, the umpteenth time I've seen him. Then the Nottingham Post's reviewer was snowbound, so I agreed to step in at the last minute. Would I have enjoyed the show more had I not agreed to review it? I doubt it. This was by far the worst Bragg show I've been to, indeed, the only under par Bragg show I've been to. Anyway, here's the extended web version of the review, and a download of the song that was the highlight of the show.
Billy Bragg, Rock City, December 2, 2010
Billy Bragg first visited Nottingham with an unforgettable, seven encore show at the Garage, 26 years ago. His greatest triumph at Rock City was on the eve of New Labour's 1997 election victory. Another 13 years on, a weather sparsened crowd wanted to know what he had to say about the new government. And the answer was… not much. A solo show that started promisingly petered out into too many speeches that tried too hard. Beating the BNP in Barking is heart-warming, but nowhere near as significant as the arrival of the coalition, which Bragg accidentally voted for ('Never heard of tactical voting?' he asked a heckler, of which there were a few). His heart wasn't in pressing the converted to say 'yes' to 'electoral reform – hard to write a song about'. He was more comfortable slagging off the World Cup victory for the Russian mafia, 'Let's just watch it on TV' and praising student protesters at the University of Nottingham.
There were high points, of course there were, in a set that didn't include nearly enough songs. 'Levi Stubbs Tears' never fails to move. There was a lovely encore of 'Tankpark Salute' and 'Following The Wrong Star'. Sadly, his fine rendition of Woody Guthrie's 'Ain't Got No Home In This World Any More' made his own political songs pale in comparison. The audience liked to sing along to the honest, naturalistic love songs that he excels at, but didn't play enough of. Bragg isn't content to be the Mike Leigh of Indie song writing and described himself at one point as a stand up comedian. Hard for this diehard fan to say, but his politics, tonight, were all over the place. A condescending spiel about cynicism suggested that he might want to consult a dictionary to establish what the word actually means. OK, he's a 'glass half full guy', but perhaps it's time to give the politics a rest and leave the agitating to the students occupying Nottingham University's Trent Building. The hour and three quarters concluded with a rapturous singalong of 'New England', which at least ensured him a triumphant retreat.
Billy Bragg – Levi Stubbs' Tears