Gaffa – The Triumphant Return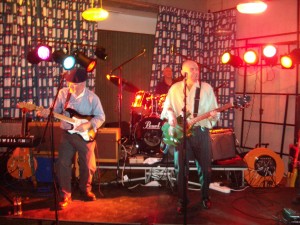 Contemporary's café-bar is rammed for a historic reunion. There are plenty of half remembered faces in the crowd. Wasn't that guy in Some Chicken? Aren't they Fatal Charm? Most of the crowd are, like the band, into their fifties. The rest are here to see what they missed first time round. This is the band's first gig since 1980. When Gaffa take the stage at nine, the years roll back.
Lyricist Wayne Evans is on bass and vocals. John Maslen, who wrote the music, plays guitar and keyboards. Youngest original member and co-writer, Clive 'Myph' Smith, on guitar, is about to become a grandad (sorry, from where I was standing, I couldn't fit Myph into shot, but you get half of him in the distorted photo directly above). Each has grown a small beard. Simon Bowhill ably stands in for absent drummer Mick Barratt, now 'the kebab king of Hereford'.
'You know what they say: "If I'd known I was going to live this long, I'd have taken better care of myself",' Wayne tells the crowd. Then the group launch into 'Stage Gear' and 'Married Men' from their debut EP, an NME single of the week. They remind us how quickly they moved from post-pub rock to more ambitious, intricate and varied material, including never released numbers like 'Organic Shuffle' and 'Haunted.' The songs are augmented by excellent sound and thirty added years of musicianship.
After three numbers, Wayne's famous frog shaped bass is unveiled to a massive cheer. Final single 'Attitude Dancing' gets an airing. 'Different Story' and 'Words Fail Me' mark World Book Night with a touching shout out to a local author (yeah, you guessed). Evans' warm Nottingham wit is as sharp as ever. The old songs still nail the experience of working class life in the seedy inner city. 'Radford Soul'. There's been no way to hear most of these songs since just after they were written. Wayne apologises if they haven't played our favourites. 'It's like dipping a bucket in a river, which songs to learn. None of them were written down.'
Their one LP, 'Neither Use Nor Ornament', is represented by 'Back To Villainy', 'Throw Me To The Christians' and 'X Marks The Spot'. 90 minutes and 19 songs, all they have rehearsed, fly by. The reunited band finish their set with the never recorded, 'Parish'. Wayne spreads his arms to sing 'this city is where my friends are, this city is where I'm going to stay.' Legend.
The crowd won't let them leave, so they busk a couple of easy ones that they used to do as encores: 'Lucky Lighter' and 'Loon Pants, £2.50 Blues'. For those last few minutes it could be a Tuesday night in the big back room at The Imperial on St. James Street, back in the day.
The above is a slightly extended version of my review for the Nottingham Post. John Maslen was kind enough to provide me with the setlist:
Stage Gear
Target Practice
Married Men
We Used to.
Attitude Dancing.
Organic Shuffle
Common Knowledge.
Haunted
Bad Thing.
Different Story.
Words Fail Me.
Crying Lessons.
I Am Not Your Friend
Man With A Motive
Disco Funeral
X Marks the Spot
Villainy
Parish
Throw Me to the Christians
Unrehearsed encores:
Lucky Lighter
Loon Pant 2. 50 Blues