Bone and Cane – the eBook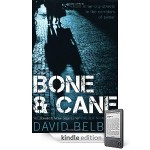 For the last day, the Kindle edition of Bone and Cane has been just outside the paid for in Kindle top 20. My mate Scott says he saw it at number 19 yesterday, but it can't have been there long, as I checked every couple of hours and the highest it got was 21. I like chartwatching and working out how charts work. eBook charts are a very different thing to music charts, where most artists (other than Adele) tend to peak in the first week or two of release, then drop like a stone. When my publisher, Tindal St Press, told me that they wanted to make the Kindle edition of my debut adult crime novel only £1 for a limited period, I said 'go for it'. The idea was to make an impact and build an audience for what I hope will be a long series. When the price went up briefly, sales dropped off. The price went back down and they picked up again. This week, we decided to leave it at a pound for a bit longer, see if we could get in the top 100 eBooks. Then I saw a tweet from my agent, the redoubtable Allan Guthrie, pointing out that the book was now at no 40 in the paid for on Kindle chart.
Al has a great blog eBooks That Sell (and an even better one, Criminal e, where you can read daily interviews with crime writers, including me) and we've discussed the eBook issue at length, so I already knew that print reviews mean nothing for Kindle sales. Neither does a writer's previous sales record. There are three crucial factors in selling an eBook on Amazon. One is price. Sorted. Second is the number of five star reviews you have. Sorted. Bone and Cane currently has eleven five star reviews out of eleven reviews, some from people I know or have contact with in the virtual world. A million (or, at the very least, several thousand) thanks to each reader who wrote one. If you have time to write a review, however brief, I'd really appreciate it, because, when it comes to eBooks on Amazon, it all adds up. The third factor is where your book is on the chart. For eBook readers tend to browse charts, and there are twenty books featured per page. So if you're on 21-40, which I now am in the Fiction chart and the overall Paid In Kindle (ie any book that costs money) then you're on the second page that people see. If you're in the top twenty (as I am in Crime and Mystery), you're on the first page and get even more traction. You're vitually certain to pick up more sales (don't know how many, as Tindal St haven't been given any figures yet).
So, here I am, shamelessly pimping my new novel again on my website, on Twitter and Facebook. Because this is what you have to do and I've long ceased to be embarrassed about doing so. Because it works. Sincere thanks to everyone who's bought the book so far, in the virtual or legacy edition, and a reminder that it won't be £1 for ever. Why not help me get into the top twenty this weekend? Update: the book scraped in at no 20 three hours after I wrote the above and, a week later, hit the top ten. Six days after that, May 27, it was number one in both Fiction and paid for on Kindle. Wow. Thanks to everyone who bought and/or reviewed it. Here, as a reward for reading this, have a filthy song by one of my favourite bands, Toronto's Hidden Cameras.