Richard Thomson Electric Trio – Nottingham Royal Centre, March 6th, 2013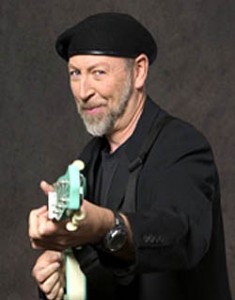 A slightly extended version of my review from the Nottingham Post.
Richard Thompson's 'power trio' is a distillation of what has been his core band of the last ten years, last seen here on the Dream Attic tour. That time, perhaps unwisely, he devoted the first 75 minutes to his new album. I bought eight tickets for that show, and none of the people I went with chose to come this time. Nuff said. Tonight, the band start with three songs from Electric (a stronger album) but play just three more new songs during the rest of the set, which blends the new with an astute selection of classics and interesting choices. The set list is clearly aimed at long time fans, some of whom have 'driven 80 miles to see me', as he points out before launching into a powerful 'Shame of Doing Wrong' from 1975.
The electric trio come into their own on an extended work-out of 'Can't Win'. Michael Jerome must be the most dynamic drummer Thompson has ever worked with, while Taras Prodaniuk is a supple, inventive bass player, who also adds backing vocals when required. They provide the perfect companion to Thompson's fluid, melodic yet muscular electric guitar. He jokes about their being too folky to be a power trio, but if he was American, we'd be ranking him equal with Neil Young as a lead guitarist. Worth noting that, no matter how heavy the song, you can always make out the words. Did She Jump Or Was She Pushed and Wall of Death are highlights.
There are folk elements. Sidney Wells turns into a 9/8 slip jig. Thompson begins the encore with two acoustic requests. I'm taking notes and, unusually for me, don't call out for anything. But my partner, for the first time in her life, is moved to yell out for her favourite song – and she gets it: the quintessential Thompson story song Beeswing, which is wondeful, and is followed by 1952 Vincent Black Lightning (the only time in the tour he's done two acoustic requests). Then he surprises us by playing the Hendrix version of Hey Joe (and a bit of Purple Haze). We're given an extended version of Electric opener Stony Ground before he leaves us with a rousing run-through of old chestnut Tear Stained Letter. Three men, two hours, three standing ovations. Fantastic.
I  could happily have handled one more song from his new album, by the way. This new classic is buried on the bonus disc that comes with 'Electric'.