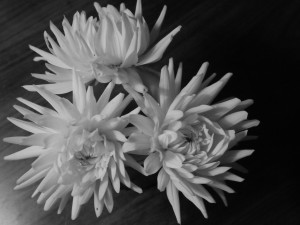 Every year since 1988, we've made a best of year music compilation for our friends, and this year is no exception. In recent years, I've put the songs up on here for readers to enjoy. Our cd is intended to promote the artists featured and the songs will only remain on this site for a short time, but if copyright holders are concerned, just email me on the link above and the relevant song will be removed. This post will be updated once a day or thereabouts, until New Year's Eve. Those of you lucky enough to receive a copy in the post may want to look away until yours arrives. I haven't actually started burning them yet, but once this big pile of marking subsides, they will go until full production. On with the show.
1. Daft Punk – Get Lucky (full length version) I hardly need to post this song, do I? It's become ubiquitous, yet it was an instant ear worm and the full length version has to be the one (unfortunately, due to word press file size limits, you'll have to make do with the radio edit here), with that mesmeric Nile Rodgers guitar riff used to the full. Only problem with putting it first is that it's an impossible song to follow.  
2. The Pet Shop Boys – Love Is A Bourgeois Construct (Penelopes Remix radio edit) The original of this is even longer than Daft Punk and this year's cd is already two songs lighter than last year, so I went for this shorter, perkier version of the only pop record to date based on a quote from David Lodge (the novel Nice Work, last of his terrific academia trilogy that starts with Changing Places and continues with Small World). The PSBs are clearly having a late career hey-day. For over a decade, you could see them in theatres. Now it's back to arenas, headlining festivals and – honour of honours – they've been on our best of year cd two years running!
The Pet Shop Boys – Love is a Bourgeois Construct (The Penelopes Remix Radio Edit)
3. Unknown Mortal Orchestra – So Good At Being In Trouble I know nothing about this band, having heard this song on a music blog early in the year. It comes from an album called II and it sounds a bit like a young Boz Scaggs (who had a good album out this year), kind of timeless and insanely catchy new soul. Seems they're primarily from Sue's favourite country. Classy.
Unknown Mortal Orchestra – So Good At Being In Trouble
4. David Bowie – Where Are We Now? Ten years since I last saw Bowie, on the Reality tour which ended with his heart attack. Last year a journo at the Nottingham Post told me he was sure Bowie would be back this year, but I  pooh poohed the idea. He'd retired, and all we had to look forward to was an exhibition of his stage costumes and ephemera. Then this track appeared on his birthday. The album that followed is good, great in places, I bought it on double vinyl, where it works best in small sections. I'm not sure the whole quite coheres, but this single is haunting and quite lovely. There's a bit in Morrissey's remarkably readable Autobiography where Bowie tells him that he shouldn't be alive, what with all of the drugs and dangerous sex he's had (and this is Bowie 25 years ago). Very much a survivor's song.
David Bowie – Where Are We Now?
5. The Arcade Fire – Afterlife Reflektor is an unwieldy double cd that sounds deliberately dumb when compared to the AF's two masterpieces, Funeral and The Suburbs. But there's loads of great stuff on it and I was pissed off not to get tickets for one of the shows they played at The Roundhouse a month ago. This is my favourite track at the moment, and it's too long to fit on this site, which is OK, because it has a fantastic, haunting video, so good I watched it twice (can't remember the last time I did that), so you can watch that instead.
6. Prefab Sprout – The List of Impossible Things Paddy McAloon: The Comeback. This summer, an album appeared online, in one of those places that my internet provider now (rightly) blocks. It was intriguingly titled 'The Devil Came A'Calling' and credited to Prefab Sprout. The title was well known to Sprout fans, as belonging to one of Paddy McAloon's 'lost' albums, reputedly the dark side of 2009's Let's Change The World With Music which was itself recorded much earlier than its year of release. Of course, some people thought the album was a fake, but two plays convinced me that it was the best thing Paddy had done in over 20 years, an opinion I've had no reason to revise. In October, the album was released, with a slightly different order and a new, more naff title Crimson/Red. Turns out that it consists of new recordings of some of the songs that Paddy has written and abandoned over the years. It's lush, beautifully produced and full of catchy, intelligent songs like this one. Paddy's visual and aural disabilities mean he can never tour again, but it's terrific to have him recording again and in such classic form. A contender for album of the year.
Prefab Sprout – The List of Impossible Things
7. James Blake – Retrograde. Like everyone else, I was pretty surprised when James Blake won the Mercury Prize this year. I enjoyed the new album but it sounded a lot like his first album, only more so: haunting dubstep with traces of jazzy John Martyn in his echoplex period, only, this time, without the novelty. Which isn't to say that he didn't deserve to win. He did, and, happily the win sent me back to the album, which is great, as this track (which The Guardian just picked out as the highlight) demonstrates.
8. Billy Bragg – No-one Kn0ws Nothing Any More A toss up between this one, with the ungrammatical title and 'Handy Man', which Sue loves because it reflects my practical abilities about the house. This wins on musical merit. A gorgeous, rolling, romantic song, with great guitar work, not sure who by. Been a long time since we had a Bragg song on our best of year. The rise and fall of New Labour wasn't good for his songwriting. NOKNA finds me back in tune with him, reflecting on how, the older you get, the more you realise you don't know. Can't argue with that.
Billy Bragg – No One Knows Nothing Anymore
9. Jason Isbell – Elephant This has been a great year for gigs, which isn't reflected in the CD as I couldn't get Arcade Fire Roundhouse tickets, and neither Bruce nor Neil had albums out this year, while I got Quadrophenia for Christmas 40 years ago. Other highlights included Slaid Cleaves at The Maze, Hugh Masekela and Larry Willis at Lakeside, Laura Cantrell at Glee, Elvis Costello at Sheffield City Hall, Richard Thompson at the RCH and the regular shows by Four In The Bar at Jazz & Poetry in Nottingham's The Guitar Bar (which I co-run, and is on the second Wednesday of every month). We had tickets to see Stan Tracey in Derby last month but, sadly, this was cancelled at the last minute, and he died last week. The gig I most regret missing, other than that one, isn't the Arcade Fire (though I've seen all their earlier tours) but one at the Bodega Social three weeks ago. I have a killer teaching day every other Thursday, from eleven until half eight in the evening, and after going to see Clem Snide straight from work after one of these, realised it was no good. I was too knackered to enjoy it properly. So I had to skip seeing Jason Isbell (formerly of Drive By Truckers) play what was, by all accounts, a great gig, showcasing his fine album South Eastern. Here's my favourite song from it, a haunting death ballad. Tonight's my last gig of the year, first time seeing Roy Wood at Sheffield City Hall Ballroom, with songs he did with Wizzard, The Move and maybe even ELO. Good way to finish a great gig year.
10. Laura Marling – Once Sorry, also, not to see one of Laura's immersive gigs in a secret London location (couldn't persuade anyone to come with). Mind, it's not long since I last saw her. Her albums get better and better: more ambitious and varied, strikingly mature. The whole first side of her brilliantly bare bones produced Once I Was An Eagle (one of those double albums that really does works best on vinyl) is a suite of songs that will take your breath away. As does this delicate yet powerful song about the fragility of love.
11. Glen Campbell – Postcard From Paris Bit of a story to this one. Thought Glen had bowed out last year, with a final tour and Alzheimers encroaching. I saw him thirty months ago, a great show at which he played this Jimmy Webb song I hadn't come across before. It was included as a iTunes bonus on his last album, but it was a duff, speeded up version. As if it to make up for this, his final album, See You There, includes two terrific versions of the song, of which this is marginally the better. Campbell has always been by far the best interpreter of Webb's songs, as this sentimental masterpiece amply demonstrates. Enjoy.
Glen Campbell – Postcard From Paris
12. Haim – The Wire Rumour has it that singles still exist. I do pick up the occasional limited edition 7″ to add to the 2000 or so on the shelves behind me. But, beyond the first two tracks, this year's CD is light on pop hits. Only the first and last tracks were actually bought as singles (on a 12″ and CD respectively). The Haim song cries out to exist on a 7″: a huge, hook laden four minutes of magic. Not quite so convinced by the whole album – the jury's out until I see them at Rock City in March. Until then, this is pretty much perfect pop.
13. The Arctic Monkeys – R U Mine? The initials in the titles aren't too promising, are they? And at first this one sounds decidedly rockiest, part of the 'heavy' side of the Monkeys (e.g. 'Brick By Brick') that I'm less keen on than the ballads that dominated my favourite of their albums, 'Suck It And See'. New album 'AM' is fine, but a less compulsive listen. Yet this one creeps up on you: a sly, witty, nuanced thing that sees Sheffield's finest continue their rise and rise, without losing their edge in the process, a rare occurrence.
The Arctic Monkeys – R U Mine?
14. Kurt Vile – Snowflakes Are Dancing Bright clear Christmas Eve here. Storms up north, mind, and friends suffering awful weather in Canada. Kurt's title track Wakin' On A Sunny Day is one of my most played of the year, but, at 9 minutes, is long for the CD and this is in a similar, catchy, bright hypnotic mode. It's also an appropriate place to take a brief break from these sleeve notes. Thanks for reading (and listening). Have a good Christmas.
Kurt Vile – Snowflakes Are Dancing
15. John Murry – Southern Sky I was invited to go see John Murry but was on holiday and didn't get round to checking him out until last month. What started as a grudging admiration for his Warren Zevon goes Americana sound turned into a constant ear worm as I kept discovering how catchy the tunes were on his rich, gut wrenching monster of an album. This was the last addition to the CD and is currently my favourite track on it.
16. The National – Sea Of Love One of my very favourite bands, The National, but album 'Trouble Will Find Me', of which this is the title track, is a hard one to love. The songs aren't substantial enough and the whole has this production sheen that gives them a U2ish feel. Breakthrough 'Boxer' had the opposite problem, a production so muddy that it took the songs a long while to come through. There's only one number on the album that I love, would dearly like to hear live, and sounds like The National I fell hard for, in a crowded Rescue Rooms on the Boxer tour. This one.
17. Tamikrest – DJanegh Etoumast This Malian group inevitably remind one of Tinariwen, from whom they nicked their lead singer, but are rockier. We saw them play a terrific set in the tiny Lakeside Arts theatre earlier this year, and the whole album.Chatma,,  is as good as this track.
18. Vampire Weekend – Step I discovered Vampire Weekend via the excellent MP3 blog, Said The Gramophone, and had them on our best of year CD before they even had a record released. Their sound, so young & poppy, hardly seemed destined to last. Yet, six years on, they've released their third and best album, the sound getting richer, the lyrics a little subtler, the tunes just as memorable. Sue's other favourite track on the CD, natch.
19. Bridie Jackson & The Arbour – All You Love Is All You Are I came across this Tyneside group because of a visit to Cullercoats, where Iron Press had a 40th anniversary literary festival. The redoubtable Peter Mortimer (born in Nottingham, he celebrated his 70th this month – congrats, Pete) scheduled music alongside every literary event, often a great idea, and this band were supporting my old friend, David Almond. I bought a copy of their album, which came out last year. This track closes it, but the version here is a newer one released on a single this year, thus making it eligible for inclusion on the disc (I have a strict rule that tracks must have been released on album or single during the year, or I'd have even more trouble keeping the length down to under 80 minutes). In June, the band opened the acoustic stage at Glastonbury. I hope they make it to Nottingham soon, as I'd love to see them again. This is a beautiful folk song: ethereal, absorbing, never twee I wrote back in May, and it's worth repeating. Also, an appropriate sentiment to end the year on. I'll be back at the weekend with my albums of the year. Meantimes, a happy new year to all of my readers.