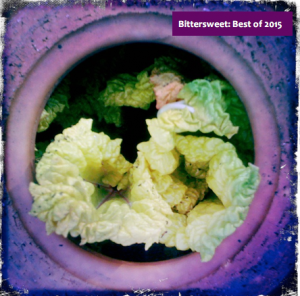 This year's sleeve-notes are a little late, for reasons suggested by the post above, so I shall be posting the tracks slightly more frequently than once a day in order to catch up. For those of you new to this, my partner Sue and I have been making best of year CDs (or cassettes!) for our friends since 1988. In recent years, I've written about the songs chosen on this blog (MP3s are low bit-rate and only up for a while. They will be removed at copyright holder's request). The title of this year's CD, the cover of which (forced rhubarb in our allotment, by Sue) is above, may need explaining. 'Bitter', because a few weeks ago my closest friend, Mike Russell, died after a long illness. Mike and I knew each other since we were tiny babies and shared an obsession with many of the same kinds of music. I've seen more gigs with Mike than anybody else, despite our not living in the same city since we were two. One of the last ones was Rumer at Nottingham's Albert Hall. Afterwards we had a chat with the singer's fiance and arranger, praising them for choosing Todd Rundgren's 'Love Is The Answer' as the final song. Not many people there knew it, but we did, and Mike was a huge Todd fan. Rumer released her version this week, too late for the CD, but here it is anyway.
Oh, and, why 'sweet'? Read the post above. Sue, presciently, picked the title before, this month, UNESCO announced that Nottingham has been accredited as one of its twenty World Cities of Literature. I'm so proud to have led the city's bid for this honour, which is sweet indeed, and allows us to expand our ambitions for our city's writers and, especially, its young people.
OK, I've said enough about that for now, so on with the show.
1. Ezra Furman – Restless Year He's been around for several albums but 2015 was Ezra Furman's year. I happened on the excellent Perpetual Motion People online just before it came out, an album that starts with the two catchiest songs of the year (this one, then the more doo-woppy 'Lousy Connection'). In July, I preordered it on vinyl and got two wristbands to see him and his band do an instore at our wonderful new Rough Trade Nottingham (where, a few months later, I would launch my new novel). Even the soundcheck was exciting, Furman blasting through snippets of early rock classics (eg 'Ready Teddy'). The 42 minute show that followed was riveting: Furman a wild, beautiful androgynous figure at his Ziggy Stardust moment, arriving after several albums remythologised and fully formed. Less than a month ago, when I took my brother to see him at Glee, the show was sold out, and he was clearly exhausted, but still wonderful. So much so that Rich and I booked to see him again, in Sheffield, in February. Can't wait.
2. El Vy – Return To The Moon While The National's last album had its moments, was a bit too glossy for me, with a U2y production sheen, whereas this side project is just fun. Berringer's lyrics – ever literate, verging on literary (his wife's a former New Yorker Fiction editor, and he runs them by her first, according to interviews) merge well with the music of Brent Knopf, whose band, Menomena, I know nothing about. Another absurdly catchy, joyous pop song, it has a silly subtitle, which I didn't bother trying to squeeze on the cover. Don't ask me what it means (but if you want to leave an answer in the comments box, do, comments boxes are very lonely places these days).
Return to the Moon (Political Song for Didi Bloome to Sing, with Crescendo)
3. Unknown Mortal Orchestra – Can't Keep Checking My Phone
I don't have a smart phone. Not because I'm a dinosaur. I tweet like crazy and my mini-iPad has the password of endless wi-fi networks, which, combined with free wi-fi in both the city centre on our buses, means I can be pretty much connected wherever I am in the city. But I relish not being available to everybody, all the time, and, while I own a mobile, days can go by without my turning it on, or checking my messages. Indeed, when I got it out at last night's board meeting, I realised I'd left it on several days ago and the battery was totally discharged. Not only that, but my phone is eight years old, making it too prehistoric to be charged by any of the chargers Bromley House keeps behind the desk. I like my partner's iPhone 6, and, soon, I may need to have one, but I don't covet one. About the only time I miss having one is when I could be reading twitter while waiting for a band to come on stage, but anticipation and waiting is part of that experience. And don't get me started on people who have their phones on in the cinema, during the film.
This song about phone addiction is, like the first two, incredibly catchy and, like their previous entry on one of our cds (when, I notice, they were also track three) rather soulful. Earlier this year, I went to see them at the Rescue Rooms, where they were OK, but very loud and didn't quite catch the syncopation that makes their albums so enjoyable. That said, this track is glorious.
Unknown Mortal Orchestra – Can't Keep Checking My Phone
4. Sleaford Mods – Tarantula Deadly Cargo

Sleaford Mods sum up the spirit of Nottingham: angry, defiant, utterly original and sticking to their guns regardless of how long it takes the rest of the world to catch on. Contrarian, that's the word I found to best represent the city's writers and its creative spirit, meaning: independent and not afraid to take a point of view that goes against the mainstream. And, make no mistake, Jason Williamson's lyrics are as much part of this city's literature as John Harvey's novels or Lord Biro's poems. I first saw them supporting Scritti Politti, 40 months ago, and gave them their first Nottingham Post review. I've seen them at least five times since, always dragging along a different friend, each of whom (even Sue!) has been converted. This year, there was their tour closer at the Rescue Rooms in January and, even better, the last night of the tour for fine new album Key Markets, at Rock City, a deservedly triumphant celebration of the band and the city. We are you! Indeed. The new album marks and important advance on its predecessors, musically and lyrically. They're not underdogs any more and don't pretend to be. And never underestimate Andrew Fearn's equal role in this partnership. I love the echoes of Krautrock in this song, the snatch of jazz in the intro, the chunky, slightly off-key bass and the elliptical, doom-laden lyric that mixes casual lines like 'freeze it, you can always eat it later' with portents of apocalypse. Brilliant.
Sleaford Mods – Tarantula Deadly Cargo
5. Young Fathers – Shame
Awards do make a difference. The Mercury win got me listening to Young Fathers' excellent debut album last year. This year, my MA students were kind enough to let me start our final MA session half an hour early so I could get to the Rescue Rooms in time for their show in June. It was far from sold out, so the Mercury can't help that much, but the band were mesmerising. An hour of tight, brilliantly choreographed, intense R'n'B (or whatever you want to call their infectious mix of hip/hop, rap, Stax and deep soul). We couldn't take our eyes off them. Just sorry that we're away when they do a support slot for Massive Attack (who I've never seen) next year.
6. The Libertines – Heart of the Matter
Mike had never seen The Libertines, whereas I saw them twice in their prime and once after Pete was kicked out. I'd taken Mike as my +1 to see Pete Doherty at the Rescue Rooms the previous July, several months before his cancer returned. Now he was very frail and, at the last show we'd seen at Rock City together, The War on Drugs, it had been tricky to get him a decent, safe standing spot (Rock City somehow get away without disabled access). That gig was relatively sedate. This would be manic. Rock City at its most crowded and moshy. But Mike was insistent and the gig was two days after his 58th birthday: I couldn't refuse. Maybe he knew this would be his last gig, but I didn't. He preordered the Libs' new album on vinyl through the fan club to guarantee that we would get tickets, rather than relying on me to get the review slot.
We arrived in good time to get a decent position, on the floor, with Mike's back to a kind of fence by the sound board. I spent the first twenty minutes protecting him from people crashing backwards into him. Hard for me to enjoy and Mike found it claustrophobic. He slipped away and managed to get a decent place on the stairs. Me, I threw myself into the mosh pit that was most of the main floor. The Libs played song after song that I'd forgotten how much I loved. It erased the bad feeling left by the dreadful post-Pete, Glasto gig I walked away from in 2003. Mike had a brilliant time and we stayed up late, listening to music, the way we always did. He avoided talking about his illness, the way he always did. The Libs' new album's good but evokes too many memories for me to listen to it often. I remember this song was great on the night, and it's named after a Graham Greene novel, which is good enough for me. Two days after the gig, Mike started to feel rough. 'This might be it', he told me on the phone. And it was.
The Libertines – Heart of the Matter
7. Rickie Lee Jones – Jimmy Choos
8. James Taylor – Stretch of the Highway
No update yesterday as we were in Sheffield to see Mike's mum, Jean, and Daniel Evan's farewell production for Sheffield Crucible, a magnificent Showboat. I don't share the passion for musical of other family members who were with me, but this is very, very good indeed and has just been extended for a week. Two songs in one post then. I remember, around 1990, our best of year tape was dominated by acts like these, and the Indigo Girls, whose musical sensibility was formed by the late '6os and early '70s, the time when I was getting into music. Then grunge and Britpop came along, and I found myself listening to a lot less of them. Doesn't mean the best don't endure, though, and The Other Side of Desire, Rickie Lee Jones' first album of new material in twelve years is a delight, nothing more so than this gorgeous, rolling song about designer shoes. And James Taylor? When I was thirteen, my friends used to take the piss out of me for liking him so much. He's an outstanding songwriter and has a beautiful, smokey, plaintive, timeless voice. I can listen to him sing most anything. His new album, Before This World, amazingly, gave him his first US number one (at 67!) and has lots of great, trademark ballads, but I've gone for this bluesy, earworm of a driving song, which I greatly look forward to playing on a forthcoming road trip. In choosing these two songs, I'm aware they'd have been my friend Don's favourite part of the CD. Don, who died in January, was a great compilation maker, and always looked forward to this CD. I'd often have music conversations with him, and with Mike, through the day (even though Don was in a different timezone). Both gone now, but I'm still having those conversations in my head.
Rickie Lee Jones – Jimmy Choos
James Taylor – Stretch Of The Highway
9. Hot Chip – Started Right
I saw Hot Chip for the first time the night before Mike died. I'd double booked myself for reviews that night, also grabbing the slot for Georgie Fame at the Playhouse – a seated gig, which I thought Mike would be more comfortable at, but he was insistent about seeing Hot Chip. He liked them a lot but had never seen them (we'd seen Fame together, playing with Van Morrison). But it wasn't to be. That evening, thanks to Macmillan Cancer Support, he was moved out of Sheffield's Northern General to a bed in the dining room at his mum's home, where he was anxious to be. He died late the following morning. When Hot Chip came on, they began with a snatch of Until I Die, the Beach Boys prelude to Mike's favourite song, Surf's Up. I'm a cork in the ocean and I welled up. I'm welling up now as I write this. For many years, Surf's Up was the last song we played at the end of a long session. We played it during a montage of photos of Mike at his funeral. It'll be a while before I listen to it again.
10. Grimes – Flesh Without Blood
Mike was, it has to be admitted, a bit of a hoarder. At one point he had something like 20 years' worth of NMEs stashed in his room and he bought the final paid issue, whereas I didn't bother. I'd bought all the original copies whose covers and articles it reprinted. The end of another era. These days I pick up a free one when I'm in town. While it only takes five minutes to read, I have NME to thank for this next track, which is on their album of the year, Art Angels (I'll probably post my albums list on Jan 2, btw). It's an electro-pop stormer with almost as many hooks as you find in Robyn's best songs. And that's a high recommendation.
11. Kurt Vile – Wild Imagination
Funny how Kurt, one of my main reasons for going to Green Man last year, suddenly caught everybody's imagination with this year's Believe I'm Goin' Down, which is just another Kurt Vile album, very similar to, but not quite as outstanding as the previous two. Not complaining that he's all over 6 Music with 'Pretty Pimpin" (which, I'm pleased to see, starts my brother Rich's best of year CD), just surprised it didn't happen with 'Wakin on A Pretty Daze.' Didn't get to see him this year. Maybe next. This, droney, hypnotic song is the longest on this year's CD, but you won't notice.
12. Father John Misty – The Night Josh Tillman Came To Our Apartment
Didn't get to see FJM either, but I'm reviewing his Rock City show in May, Did see him once, as Josh Tillman, opening for Fleet Foxes at NTU (does the new Student's Union have a music venue? I have no idea.) He was very wimpy and dull. I Love You, Honeybear is a glorious, delirious suite of songs about a love affair that ended in his marriage. A classic. This sarcastic, cynical song is an anomaly but I couldn't get it out of my head all year. In the latest Uncut, Tillman writes: 'It's pure male impotent rage. It's a portrait of wounded narcissism. It's not so much about this girl or this episode so much as it is about my self-hatred.' There's more, but you get the idea. He concludes 'it's a despicable song.' Love it.
Father John Misty – The Night Josh Tillman Came To Our Apartment
13. Destroyer – Times Square
I liked Kaputt a great deal two years ago and Poison Season seems to be nearly in the same league: cinematic, almost Springsteenesque in the way that it summons up West Side Story and makes it modern. But it's Boxing Day. I just got home from the in-laws and I need a snooze. Just check out the song below.
Destroyer – Times Square, Poison Season I
14. Jason Isbell – The Life You Chose
I sent am mp3 of this song to the old mate who first got me into the idea of a best of year compilation, nearly thirty years ago, who replied telling me that it was the sort of thing he would have loved thirty years ago. His loss, I reckon. Isbell followed 2013's South Eastern with the equally outstanding Something More Than Free. The Americana album of the year (though his old band Drive By-Trucker's triple live album is also a fine thing). Grown up songs, plaintive and passionate. This one has a story and a sentiment that anyone over thirty can relate to.
Jason Isbell – The Life You Chose
15. Tracey Thorn – Let Me In
A pleasure to see the resurgence of Tracey Thorn over the last few years. Two great albums, an entertaining New Statesmen column and two well-regarded memoirs that I shall get round to reading. Had to buy her Songs From The Falling soundtrack on Record Store Day. Partly because, last year, I loved the songs in the soundtrack to this terrific British movie. Partly because it comes on a lovely 10″ LP to put alongside my original thirty-three year old 10″ of Tracey's first solo release, Distant Shore. That lovely album includes the original version of the song of hers that I first fell in love with. 'Plain Sailing' was on a 99p Cherry Red sampler called, I recall, Pillows and Prayers. This anxious, melancholy song also shares a title with R.E.M.'s classic about Kurt Cobain's suicide. Suspect that's a coincidence.
16. The Delines – Sirens In The Night
The second Delines album, Scenic Sessions, was only sold at gigs and they didn't come to Nottingham this year. Hope to pick up a proper copy when I see Richmond Fontaine (Willy Vlautin's other band) in Sheffield. My sister Fran copied it for me and, I have to say, I think it's even better than their first. They've settled into a really rewarding soul/country groove. Here's a story. After two days' delivering loads of food and other supplies to, then helping out refugees in the jungle at Calais, Fran and her friend Stuart stopped at a pub on the way home. When they got out, somebody had torched her campervan, destroying everything in it. Nice. They were insured, luckily, but there was one item more irreplaceable than their passports: Fran's Delines CD. She wrote to Willy on facebook. He sent her a replacement copy, gratis. Sweet guy. Sweet song.
The Delines – Sirens In The Night
17. Seckou Keita – The Path From Gabou
Sue has right of veto on any CD track and generally chooses two by herself, usually of a world music persuasion. She rejected my first Seckou Keita selection on the entirely reasonable grounds that I'd merely chosen the shortest track on the album (it allowed me to squeeze on one of Bob Dylan's Sinatra covers. Oh well.). We saw him recently at the Arts Theatre in Nottingham, a lovely gig, and, last year, with harpist Catrin Finch at St Mary's Church. Although he's a Senagalese kora player, Seckou lives in Sneinton, Nottingham. This track demonstrates the calm, melodious, transcendent sound his music reaches for and often achieves. 22 Strings is his best to date.
Seckou Keita – The Path from Gabou
18. Calexico – Cumbia de Donde

Must confess that my choice from the excellent Calexico collaborative album, Edge of the Sun, would have been the opening track featuring Band of Horses, Falling From The Sky, another of their widescreen, rolling ballads, but Sue insisted on the track that follows it in their current setlist. This Cuba meets Tex-Mex pearl, features Amparo Sanchez, who, I just discovered, recorded an album with Calexico as her back musicians, way back in 2003. Must check that out.
19. Mercury Rev – Rainy Day Record
Listened to Elvis Costello being interviewed on Front Row while on my exercise bike this morning. Talking insightfully and self-critically about his songs and playing snatches from them. A year ago, I'd have sent the link to my friends Don and Mike, both mentioned above. Today's post brought the new Oxford American Music Issue. When Don and I first got to know each other, twelve or thirteen years ago, he sent me a couple of these compilations in thanks for a soul one that I'd sent him. In recent year, he sent me the whole magazine (you really need the articles that go with the tracks). This year, his widow, Jo-Anne, bought it for me. Means a lot. When I went to see Mike for the last time, four days before he died, I took some CDs for him to listen to when he got home from hospital. I thought he was going to have a slow fade-out, but it turned out to be very fast indeed. One of the CDs was Mercury Rev's new album, with this paean to the vinyl record. Jonathan Donohue seems to think that LPs are on their way out, but he couldn't be more wrong. My nephew proudly played me the 'vinyls' he got for christmas (Wish You Were Here and, from us, Aftermath, one of Don's favourites). Nevertheless, this song is so joyously nostalgic that even a reverential reference to annoying Peter Hook can't stop me loving it. I suspect that Mike would have loved it, too. Don, I'm less sure: he was harder to second guess, but always open to new stuff. Outside, it's raining heavily, and that feels right.
Mercury Rev – Rainy Day Record
20. FFS – Piss Off
Now here's a band I would have liked to see live: a combo of Franz Ferdinand and Sparks, who I've never seen, but they didn't come nearer than Manchester, which is a pain to get to (managed it for Dylan and the Super Furry reunion, but that was enough). This sounded like a gimmicky idea, until you heard it, and realised it's the best FF album since their second, a memorably engaging, fun, record. I meant to end the CD on an elegaic note, but a song telling people to piss off feels more appropriate. If you want a bit of beauty, though, below is a bonus track from this year's Oxford American CD, a recently discovered 1961 demo where Johnny Mercer sings the words he's just written for a tune that Henry Mancini has composed minutes before. Have a good 2016.