Hugh Maskela & Larry Willis, Lakeside Arts, Nottingham, November 11 2013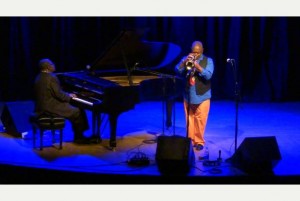 South African trumpeter Hugh Masekela left South Africa after the Sharpeville massacre 53 years ago. At the Manhattan School of Music, he met a pianist from Harlem called Larry Willis. They've been friends throughout long, successful careers, collaborating often since forming their first band in 1963. Seeing two such stellar performers together in such a small venue is a rare privilege. It sold out instantly and I missed getting tickets (put the onsale date in my diary then forgot…). Luckily, I was able to land the slot reviewing it for The Nottingham Post. This is an extended version of my review for them.
Zena Edwards opened with an impressive, varied forty minutes: the highlight was her poem 'Settle Down', with kora accompaniment. She has a rich voice and a cool stage manner, much better than the last support I saw at Lakeside, and went down really well.
Willis and Masekela enter with Herbie Hancock's Canteloupe Island. Masekela plays tambourine, using every part of his body when not playing flugelhorn. He also played cowbell and another small percussion instrument I don't know the name of. Both men sing on the second number, credited to Miriam Makeba, who is name-checked often. There's plenty of African style singing, verging on chant, alongside more conventional crooning throughout.
'Larry and I… proper English, right? quips Masekela. For several minutes he regales us with stories about meeting Willis, then getting to know giants like Miles Davis and Louis Armstrong in the 60's, going round the clubs in Greenwich Village, sometimes as many as five in a night. It was Satchmo who told him that he had to sing. 'If I can sing, anyone can sing.' The two then go into a terrific Easy Living, followed by a vivid description of Fats Waller and a lovely Until The Real Thing Comes Along.
Masekela had a pop period, and including a song by The Stylistics might risk lowering the tone. However, the slow, elegiac piano on You Make Me Feel Brand New is an absolute treat, as is Masekela's plaintive horn.
Masekela does a terrific scat impression of Charlie Parker before Billie's Bounce. Armstrong's Rockin' Chair follows. Alternating flugelhorn and trumpet, this humble man is in fine, fluid form throughout, while Willis is as classy a pianist as they come, elegant and eloquent. 1968 number one Grazin In The Grass gets everyone to their feet. An encore of Louis Armstrong's When It's Sleepy Time Down South leaves us happy. A sublime 90 minutes.