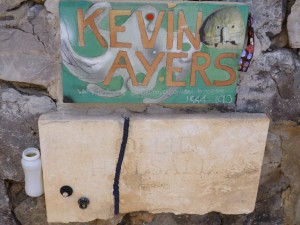 We spent Easter week in Deia, Majorca, where my friend Alan Sillitoe used to visit Robert Graves (whose house we went to) and one of my old musical heroes, Kevin Ayers, spent much of the 80's and some of the 90's. His ashes were buried there last year and there's a plaque for him in the church cemetery, directly above that for his old mate and fine guitarist Ollie Halsall, who OD'ed in Deia in 1992. The place also has connections with Robert Wyatt, Daevid Allen and Gong, who used to hang out with Graves' son, Tomas. We weren't allowed into Graves' orchard area where Wyatt built a small ampitheatre, though my brother Paul checked it out a couple of years ago.
Spent a fair bit of time reading, on the plane and by the pool. So here's my customary reading diary, just four books this time, in the order I read them. (I also read half of one of Sue's books, a gift called 'Majorcan Holiday' by Petre and Gill Mais. Mais, a best selling writer in his time, devotes far more space to what he drinks than where he visits, and the voice, unaware of how silly he sounds, in this 1956 account, reminded me of the comic passages in Mitchell's Cloud Atlas or one of Kazuo Ishiguro's early, pompous narrators. Interestingly, Mais meets Graves, not in Deia but in Palma, where Graves lived in term time, for his children, a detail not mentioned in the Deia house cum museum).
Sue Grafton – 'U' is for Undertow Been a while since I read a Kinsey Milhone mystery and this is the one I'm up to. I thought of it as a light, quick read and was surprised to find that it is, to the best of my recollection, the strongest of the series: not something you expect 21 books in. Ingeniously structured, manipulating point of view and time frame to great effect, it's a very absorbing read in which Kinsey solves a decades old kidnapping. The only flaw, necessitated by the timeframe, is that the story locates the arrival of drug/hippy culture a few years too early in the 60's. But that's a minor caveat, and it's good to see a crime series that proceeds in real time. Stonking.
Eleanor Catton – The Rehearsal Had this first novel on my Kindle for ages but the Booker win for her second novel brought this to the top of my reading pile. It's an absorbing, formally adventurous novel, a little precious and over clever in places as you might expect from a debut, with shades of Virginia Woolf. Not sure I'd have had the patience for this at home, but during a day spent at Son Muleta bay it kept me absorbed and intrigued, with its authentic mid-adolescence insights. Will I read The Luminaries? Not sure.
Rod Stewart: 'Rod' – The Autobiography Bought this as a plane read last year but didn't get round to it. Seen Rod live since (for the third time!), back on top form. This is entertaining, often self deprecating and honest about both the crap albums and his greatest addictions (model trains and super-models). Dunno who his ghost was, but they did a good job capturing his voice.
Edward St Aubyn – Last Things Evidently St Aubyn wrote his new novel, a parody about literary prizes, after this, the finale of Patrick Melrose series, failed to even make the Booker longlist.  Unsure whether, if I'd not read the previous four, I would have rated it highly. It's very much a post script and the weakest of the five, if not a complete clunker, like Ford's final Parade's End Novel or all three of the late entries to Armistead Maupin's Tales of the City series. Set entirely around the funeral of Patrick's mother, it clears up the fate of many characters and has some satirical bite, but falls a little flat. It also has a useful quote that is evidently a mainstay of counselling techniques: 'resentment is like drinking poison and hoping that your enemy dies'. St Aubyn might have remembered that before starting his much slated current novel….
Here's Kevin Ayers duetting with Bridget St John, who came to his Deia memorial, on his final album, 'The Unfairground'. Baby Come Home