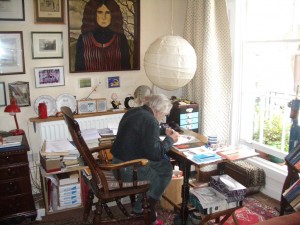 My friend, the poet and novelist, Barry Cole, died at the end of last month and I wrote an obituary for The Independent. It was only in the paper this week or I'd have posted earlier. Those of you with long memories may recall that I spent a day with Barry five years ago, culminating in a visit to the BFI where there was a showing of rare films by BS Johnson, Barry's close friend, including one that Barry appeared in. The photo above is of Barry at home, signing a first edition of his finest novel, Joseph Winter's Patronage, which he gave to me that day (I'd just read the new Shoestring edition, which is still available). Although he was very ill for the last few years of his life, Barry retained his sharpness, acerbic wit and acute editing skills. Indeed, after I gave him a copy of my last Bone and Cane novel, What You Don't Know, he sent me back a handful of corrections and even pointed out a messy paragraph that I was able to correct in the Kindle edition.
Shoestring is run by our mutual friend, John Lucas, who I mention in my obituary and who effectively conducted Barry's funeral service, talking about Barry, then reading a selection of his poems. John has written about Barry in The Guardian.
Here's the song that was played at the end of the funeral. An appropriate choice, for reasons you'll see if you read my obituary. Condolences to Barry's widow, Rita, three daughters and four grandchildren. RIP.