Pete Doherty, Bodega Social, Nottingham July 1st 2014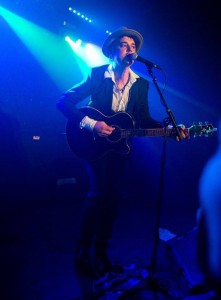 A modified version of this review appears in today's Nottingham Post.
It's four days before The Libertines' huge Hyde Park reunion gig, which is rumoured to be making Pete Doherty and Carl Barat a cool half a million each. So what does Pete Doherty do? He announces a trio of tiny solo gigs, kicking off in Nottingham.
The Libertines have form at the Bodega Social. They supported The Vines here in their early days, and headlined just before the release of their first single, the fantastic 'What A Waster'. So punters can be forgiven for thinking tonight could be a low-key, final set of tune-ups for the big money show.
But no. There's a single mike stand on the stage, picked out by two green spots. The question, standing positions carved out, is how long we will have to wait for Doherty, notorious for making his audience hang around. Starting time comes. We wait. And wait.
He's only fifty minutes late. In grey fedora and sports jacket, he accepts cake from someone at the front, then begins to throw it at the audience. 'Catch it in your mouth and you get another piece.' It's a chaotic start, but then he launches into Libertines' classic 'Can't Stand Me Now' to a mass crowd sing along. And it's great.
As is the rest of the show. Debut single What A Waster is a hundred times better than the post-Pete version I saw at Glasto exactly eleven years ago. Yes, you can see reunion shows in huge venues, but here their charismatic front man is, singing his heart out, with an unannounced fifty something drummer and an out of tune guitar. If it works for the White Stripes…
The setlist mixes Libertines classics with the best stuff from Doherty's subsequent career. Delivery is particularly good. So is Last Of The English Roses. Less so, the song he improvises about QPR.
Love On The Dole prompts crowd ecstasy, as does Time For Heroes. A mass sing along of 'shoop shoop de lang lang' precedes What Katy Did. After 48 minutes, he says 'that's your lot', but then plays Babyshambles' Salome in response to a note from the front, and stays another twenty minutes. After Stranger In My Skin, the floor turns into a thronging moshpit for a finale of Death On The Stairs, Baddies Boogie and F*ck Forever. You'll get a feel for the show with Stencilboy's video, which doesn't show the stage invasion that, as always happened at Libertines shows, ended the evening.
Who knows why he chose to play this tiny gig at this time, but it was top stuff. Next stop for many here, Hyde Park.
Photo by Laura Patterson, from the Nottingham Post.