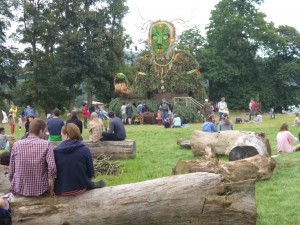 The line-up convinced me. My younger siblings have been going to Green Man for years, not doing Glastonbury since I last went, in 2009 (full diary here), but I'd never investigated going. Then I saw that the two current bands I most want to see were playing (War On Drugs and their former member, Kurt Vile), not to mention Bill Callahan, Beirut and Sharon Von Etten, none of whom I've managed to see, and Mercury Rev, who I haven't seen for years. I was in. Now I'm back and I can see why, if the above is your kind of music, you'd never bother with Glasto again either.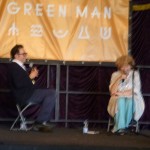 For a start, it's smaller and nearer, set in the one of the most beautiful parts of Wales. We booked late, so got the further out car park and had a long walk to the campsite. But then it was only six minutes walk to the main stage, and you could get anywhere on the festival site in five to ten minutes. I spent a surprising amount of time chilling out in the book tent, Talking Shop, which ran brilliantly, if rather late, meaning that I missed some acts I wanted to see (Michael Chapman, Neko Case, William Tyler) but did see a fascinating interview with long missing folk giant Shirley Collins (above), most of a very good pop quiz (kudos to Pete Paphides for both), a shortened Bob Stanley, the more than interesting Green of Scritti Politti and the frankly, irritating Viv Albertine of The Slits. Oh and Gruff Rhys of Super Furry Animals, but he started so haltingly that I soon nodded off and only woke for the last few minutes.
The Babbling Tongues and Walled Garden area, with several bookshops (one had a full row of RS Thomas first editions!) and many of the best places to eat, was excellent (the loos were very good, too, regularly cleaned with plenty of paper and liquid soap, surprisingly unsmelly). The Goan Fish Curry and The Pembrokeshire Beach Food Company's splendid crab wraps are particularly worthy of your custom. Even the welsh bacon (with, if you can risk the yolk, a fried egg) breakfast baps were of particularly high quality.
The first music I watched was Jonathan Wilson, whose last two albums I've enjoyed in a retro way. The sound was great and his songs sound splendid but nearly every one involves a steal from something closely related to Crosby, Nash, Stills and Young, so it was more like listening to a top drawer covers band. Sun Kil Moon didn't do it for me, so I went to eat, then caught some of Toy (OK) in the crowded Far Out tent, and nearly all of Polica, who were good (think 80's Natalie Merchant 10,000 Maniacs vocals on top of a more electronic, beatier Goldfrapp).
I saw Daughter soundcheck on the Mountain Stage at eleven in the morning, and was impressed enough to return in the evening, when they were good and went down very well. But Beirut were the surprise for me. I enjoy their albums, but live they were a perfect festival band: joyous, varied, with a full rich sound involving fantastic brass, Zach Condon a charismatic presence. Great way to end the evening.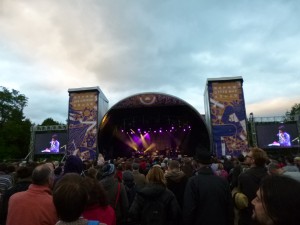 Before the book stuff on Saturday I ran into friend Jon whd got a ticket at the last minute and, impressively, cycled from Abergavenny railway station, so caught up with him then watched the first half of Angel Olson together before he moved to the front. She was pretty good (my brother and sister said she got steadily better and was their favourite act of the day) but I left to watch Scritti Politti's Green in the Talking Shop. He turned out to be on half an hour late so I could have seen the whole of Angel. Oh well. Green had lots of interesting stuff to say about the music business. The first act I saw all of was Sharon Von Etten (above), whose last two albums I like and who was enjoyable if not thoroughly absorbing until she finished with the glorious 'Every Time The Sun Comes Up' from the new album. Fran, Rich and the young girls then went off to see Jeffrey Lewis and the Jrams in the Walled Garden, which they raved about, while I made my way to the front for The War On Drugs.
Here's the thing I particularly loved about this festival. First, it was entirely possible to get to the front, especially if you got there a little early (twenty minutes in my case, of watching the band soundcheck). Plus, when you were there, there was considerably more room than further back in the middle. Not only that, but the atmosphere was fantastic. WOD began with 'Under The Pressure', the best song on their new album and followed it with 'Baby Rockets', the catchiest song on their previous one. It was ecstatic, arms in the air, throw yourself around stuff. I suspected that WOD were the best rock band in the world at the moment. Now I'm sure they are. Talking to strangers (20's t0 50's) between numbers, we were all saying the same thing: 'I thought they'd be great, but I didn't know they'd be this great'. Adam Granduciel is a warm, modest and hugely likeable frontman, too. 'Lost In The Dream' (MP3 below if you want to soundtrack your reading) was epic. Guitar rock can still be fantastic. This was my best hour of the festival. It was probably my best hour of the year.
I've seen Mercury Rev several times, including the original Deserters Songs tour, and am a little ambivalent about shows where bands play their whole, historic album, but they were great. The songs all hold up fine and, after the main set, Jonathan made a cool speech about what kind of festival this was and why it was so important to bands like his, then talked briefly about depression being in the news and played a Sparklehorse song before finishing with a song each from their other two classic albums, concluding with the unfollowable epic 'The Dark Is Rising', which would have sent me back to the tent happy, but there was still time to catch twenty minutes of Slint, so I did. They were good.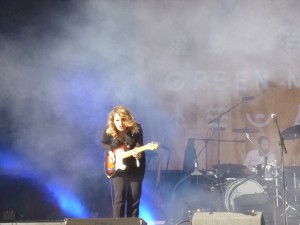 My brother Rich and I went to see Joanna Gruesome on Sunday afternoon, but they'd cancelled due to illness, so we went to the front to see Anna Calvi (you can tell how close we were from the photo above), who I've seen twice before, once in Nottingham's tiny Bodega Social, once in the Arctic Monkey's Sheffield tent. She's come on enormously as a performer and was thoroughly enjoyable. An hour later, I got to see Bill Callahan from the same spot, alongside my friends Rory and Libby, who are huge fans. 'This has all the makings of a classic set', he said, a cool dude in a sharp suit who never goes near the front of the stage and whose recent music is equally laid back, which hardly lends itself to the live experience. He was good, but not, it has to be said, great. Maybe I wasn't in quite the right mood to be mesmerised. The closing 'Drover' was the highlight.
I've played The First Aid Kit album a bit and found it pretty but bland. Young Swedish sisters who play refined country pop, they were the perfect band for Sunday early evening. The young girls with us liked them and so did everyone else. We were at the back where we had lots of space, but it never got chatty. Nice cover of 'America'. One for all the family.
The other band who I most wanted to see this weekend were Kurt Vile and the Violators. Another guitar band, a bit less mainstream than WOD, with great guitar and a bit more of a Jesus and Mary Chain meets Dinosaur Junior thing going on. Up front in the Far Out stage, they did not disappoint. Kurt yelps gutturally between songs, throwing in a surprising number of sweet acoustic songs. An absorbing, at times electrifying set and the perfect way to close the festival. Afterwards, we all met up and went to watch the Green Man (photo at top) set alight and a firework display.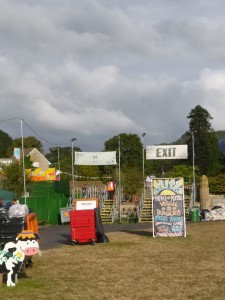 In the morning,  I took the above photo as a memento after buying milk and hired a trolley to make our return to the car easier. It took an hour to get out of the field we were parked in (but that was four hours less than Glasto 2000 (diary link), the one where I researched Festival, accompanied, incidentally, by three of the ten people with me this time). We were directed out a different, slightly longer way, which took us through a ravishingly beautiful section of the Brecon Beacons. Result. Thanks to Fran for driving and hello again to everyone I saw there. We'll be back.