All Saints & The Human League – Nottingham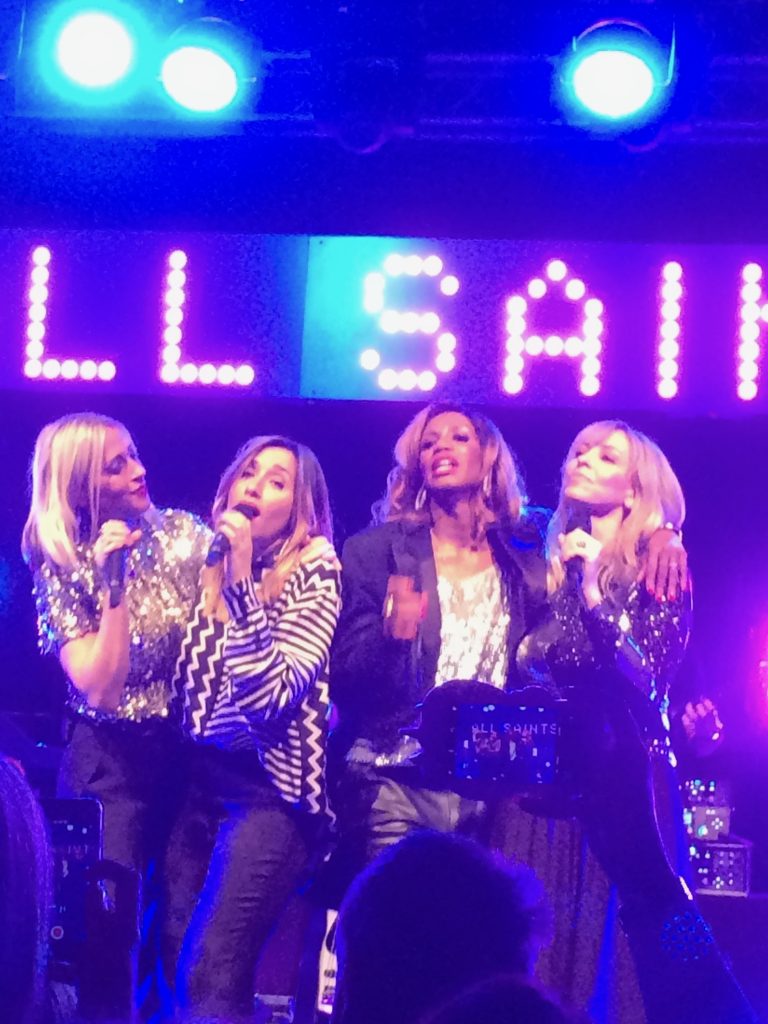 Forgot to post for all of November, so here's a double gig review to make up. I yield to nobody in my love for a good Girl Group and, when I didn't get the Post review slot (Rachel did a good job here) and couldn't persuade anyone to go with me, I went to see All Saints at Rock City alone. Not quite sold out, and I got a good spot near the front, as the photo above shows. Their new album's OK, and I was pleased that they included the best song from their last album, which made it onto our 2016 best of compilation. (which reminds me, this year's sleeve notes will begin to appear later this week).
More to the point, their band were great and they were having a lot of fun, as was the often ecstatic audience. The singing was fine and they looked a lot better close up than you might have feared. All the songs I wanted to hear were present and correct (No Lady Marmalade, but if you're from my generation, that's a Labelle song). I'm not just talking about their first album either: Black Coffee and Pure Shores were particularly sublime. A good time.
The following night I was at the RCH for The Post (sitting next to Shaun Gordon, who has a fine gallery of photos here – my phone ones were rubbish). Unusually, the sold out crowd had packed the hall for tonight's support act. I shall shift to present tense and unashamedly expand my review.
Everyone's happy when Midge Ure bangs out hit after bombastic hit with his band, Electronica. Everyone, that is, except Midge, who can see a few people using their phones. Don't they realise it illuminates their faces to those on stage? He can see exactly who's checking facebook, he tells us. I leave checking the football scores until the interval. I think I can honestly say that I've never liked a single Midge Ure song and even Vienna means nothing to me tonight. At least he doesn't play his cover of Tom Rush's wonderful No Regrets.
In their forty-first year, surely the Human League have little new to show us. Their setlists vary little from tour to tour. What distinguishes each of their near Christmas outings is the light show and tonight's is spectacular, a mass of illuminated cubes that vary throughout, an ever enticing backdrop. Phil comes out wearing his tiny shades, while Susan and Joanne have an Egyptian thing going on. From then on, you know what you're going to get.
Solid gold hits. Sound of the Crowd goes into Mirror Man. The singles are mixed with nearly all of the songs on their classic album, Dare. The big surprise of the night is that they play three ballads where they normally stick to one – a weedy One Man in My Heart gives way to the lovely Louise, climaxing with the sublime Human. Used to be that they played either one or the other of the last two, never both. Good to see that change.
Before Seconds, the women don black evening dress. Behind them, the musicians wear suit and tie. Phil wears his long leather coat for a while, but it's a bit hot to keep on for long. By the end he's in all white. Love Action and Open Your Heart get a lot of the circle dancing.
The Sheffield stars finish the main set with Tell Me When and Fascination before coming back for the inevitable, indestructible Don't You Want Me. Hearing that song always takes me back to a bedroom in Lenton, about to go out to my first post-uni job, hearing it played as an album track and thinking 'bloody hell – that has to be a huge hit'. Which it was. The second encore is more intriguing with the brooding, forty-year-old Being Boiled performed to a brilliant Metropolis-style backdrop. They finish their 85 minute set, as they always do, with Together in Electric Dreams. Great stuff.