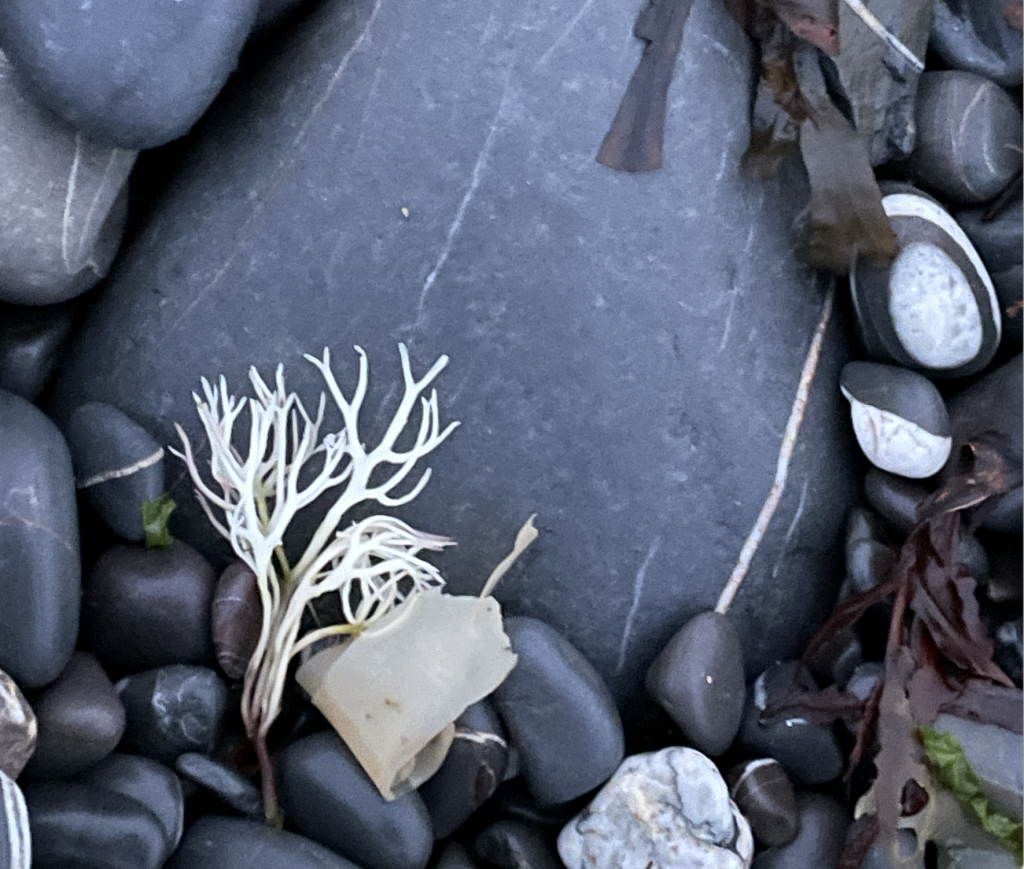 Been a bit late getting started this year, due to a bereavement and other issues but, as ever, I've made a best of year CD to send to friends – our 33rd compilation – which is now accompanied by a Spotify playlist. I'm going to be posting daily sleeve notes here – not quite a track a day as, Covid willing, we hope to be away now and then, but I'll be done by New Year. As usual, only tracks released since the last CD was compiled qualify and I tend not to include cover versions (sorry, Suzannah Hoffs and Robert Plant with Alison Krauss who both made excellent covers LPs) with a couple of late exceptions. Songs are from albums I've bought and appear for reviewing purposes below. Please support the artists by buying their music & paying to see them. Without any further ado, on with the show.
Gary Louris – Almost Home On the first mocked up cover (after which we chose Sue's lovely photo from our Cornwall holiday for the cover) I couldn't remember the name of this track so called it 'Paul Simon meets the Jayhawks'. And that just about sums this one up. It got promoted from track four on the first draft because we wanted a jaunty, catchy opener. This is that: the opening song on the Jayhawks frontman's second solo album, the excellent Jump for Joy.
2. Sharon Von Etten & Angel Olsen – Like I Used To Two acts I've seen at Green Man and am divided about. Olsen I like in theory but leaves me cold. Von Etten is a great performer with good tunes but can be a bit bombastic for my tastes and this song represents that turned up to the max. Yet, it's a banger, with a lyric that takes a while to sink in, then gets inside your head & great performances by both.
3. Teenage Fanclub – I'm More Inclined
Haven't seen the new line-up yet as I didn't get to Green Man (where they were up against Fontaines DC, tough call) but the album this is from, Endless Arcade, is well up to scratch, despite the absence of Gerry's songs. If forced to choose, I'd say that Norman is my favourite of their songwriters, and I love the simplicity of this little love song.
4. John Hiatt – All the Lilacs in Ohio
There are old dudes (by which I mean the half generation ahead of me, now in their 70s) who keep turning out records that are perfectly listenable and have a couple of decent songs (the latest Jackson Browne and the Neil Young that came out on Friday, too late for this compilation, are examples). Then there are people who consistently come up with top notch work, as good as their peak period thirty or forty years ago ie Dylan and, yes, John Hiatt, who I got to see on his Slow Turning 30th anniversary tour and here he is, with the Jerry Douglas band, playing a song good enough to have been on that album. Long may he run.
5. James McMurtry – What's the matter?
The great American novelist, screenwriter and bookseller Larry McMurtry died this year. I've loved his work since I managed to get into the movie of his 'The Last Picture Show' when I was 13. Since then I've read several novels, his bookselling memoir and seen a lot of adaptations, most famously, perhaps, the series Lonesome Dove. Larry was one of the greats, but this is about his son, James. Saw him once (or was it twice? Yes, I think it was.) at the lost lamented venue The Maze, a short walk up the road from me at the edge of Nottingham. Shook his hand. A surly character, it has to be said, but a great songwriter with his dad's wry humour and eye for detail combined with his own cynical take on the USA that combines with a fine voice, a great rock sensibility and that bit extra that great songwriters bring. Listen.
6. Kylie Minogue – Where Does the DJ go! No, that's not a type, it's an exclamation mark rather than a question mark. And yes, I know this came out last year, but too late for inclusion on the CD and this is Sue's pick. We tried it at the end of the CD in the first draft but it didn't quite work, so here it is, a disco banger (from the album Disco) from an album designed to get you dancing in the kitchen. And it also marks a shift away from Dad-rock. Or does it?
7. The Weather Station – Tried to Tell You Introduced to this group by a free EP that came with Mojo. Listening to their earlier stuff, I'm not sure that I'd have been poised to investigate further – there are just so many good but not great female singer/songwriters out there. But Ignorance fills a spot occupied by Aldous Harding and Jenny Lewis on previous CDs: clever, interesting pop that, in her case, has a certain mid-70s Fleetwood Mac feel. Catchy.
8. Gruff Rhys – Can't Carry On I had tickets to see Gruff again this year, in Sheffield, but missed the show because of a bereavement. There'll be more, I hope. Seeking New Gods could well be Gruff's best solo album to date, although I do live in hope of seeing the Super Furry Animals again, having missed not one but two shows back in 2016.
9. St Etienne – Pond House It's the time of year when I scan the best of year polls, more to see what I've missed than to see what I agree with. No 1 in the Guardian is Self Esteem, who I'm about to check out, while No 1 in Electronic Sound magazine is the new Lonelady,, which I'd missed, despite being a fan (and is very good but too late to be included here). No 2 in Electronic Sound is St Etienne, with an album that divides fans. Some miss their song based work, but there's already loads of that out there. The inventive blend of multi-tracked music, created by collage rather than the band being physically present together, on I've Been Trying To Tell You feels just right in 2021 and forms a continuum with their very early work. Check out this woozy classic.
10. Floating Points – Movement 5 Apologies to friends who have this track missing from the track list – a typo on the sleeve rather than a deliberate attempt to force you to check out these online sleevenotes. This album, one of our most played of the year, is a collaboration with the LSO and Pharoah Sanders and is a thing of beauty. Mojo's album of the year, as it happens, sitting in a sweet spot between free form jazz and ambient. See what you think.
11. Dry Cleaning – Scratchcard Lanyard A late discovery. Bought their cd in order to see and instore at Rough Trade last week. Smart, sardonic, world weary lyrics set against a post-punk rush reminiscent of St Etienne meeting the Gang of Four. Hits most of my spots then. Great video too. Their instore was cancelled due to illness. Maybe next year.
12. Joan Armatrading – Already There A perennially underrated figure, entirely due to her being Black and British, Joan is now 70. I discovered her music 48 years ago when I bought a cut-out copy of her first album (cowritten with Pam Nestor, on the Cube label) in Bury. First saw her in 1976, in Nottingham's Albert Hall, when her third album, Joan Armatrading had just come out. Two years later I saw her at Blackbushe, supporting Bob Dylan, in front of 250,000 people. The third and final time I saw her was with Sue and my dad, at Colne's tiny Municipal Hall a few years ago, on her farewell tour, which began in small venues like that one. Great every time, and, while I stopped buying her album regularly in the late 80s, the new one intrigued me, as it harks back to that period. This effervescent song, in particular, could be from Walk Under Ladders and reminds me of how I was feeling 38 years ago, when it took the recipient of those feelings a little while to catch up. But she did, and she's still here.
13. Field Music – You Get Better Another band I missed this year, despite having a ticket, for reasons above. New album, Flat White Moon, is one of their best, mixing pop, prog & Prince-like funk with their usual elan. Also one of the nicest bands on the planet. They do indeed get better.
14. Wau Wau Collectif – Riddim Rek Ya Niouy Mom Exuberant world music from a CD I was recently introduced to by our friend Tim. I know nothing about this band, other than that they're from Senegal and make exciting sounds.
15. John Murry – Oscar Wilde (came here to make fun of you). When I went to see John & his band at the Old Coal Store last month I didn't know it would be my last gig of the year, but it was definitely the one I'd been looking forward to most, their first Nottingham show since an instore at Rough Trade five years ago. This was one of the highlights. Despite critical acclaim and a big Guardian interview earlier this year, John's superb new album The Stars are God's Bullet Holes has yet to break big. But his work has a Warren Zevon meets Tom Waits level of musicality and sardonic wit with a grunge level that recalls Dinosaur Jr's best numbers. They're all in this song. Originally recorded for a digital EP with strings, but the new electric version is in a different league. Excellent.
16. Sault – Alcohol This year's album from the anonymous collective, Nine, is as interesting as last year's two and this number felt like the right one to follow John (not on Spotify, so I've added the title track of Lonelady's great new album Former Things, which I heard too late to make the cut, to the playlist. That's it for a couple of days, but I'll be back and done for New Year. Stay safe and try to have a good one.
17. Curtis Harding – Can't Hide It A cracking retro soul tune with a good guitar riff. Confession, we did discover Curtis via Later with Jools Holland, always on series record and usually skipped through at speed. A keeper.
18. Aimee Mann – Home By Now One of the things that has helped keep me sane this year is Tom Ewing's excellent people's pop polls on Twitter, which I usually nominate in, often comment on and always vote in. It's a way of both discovering music and discussing it with equally obsessive peers. Tom's been doing it since the first lockdown, with the first one a poll of all UK number ones (Donna Summer's 'I Feel Love' came out top) and there's a full list of all the other poll winners here. January's poll is for the best song of 2021 so I nominated four songs from this CD. Only my top choice got through to the nominations list and I hope it introduces a lot of people to this micro-masterpiece, which is from the excellent Queens of the Summer Hotel an unmade musical based on the memoir Girl, Interrupted. I love this song. It's a masterclass in construction, orchestration, compression and storytelling, with a killer hook and a marvellous vocal performance. Aimee at her best. Did I tell you about the the time that I interviewed Aimee for the Sheffield Star thirteen years ago? it's still in the archive. She kindly recorded a little message for that year's disc, our 20th, which appeared on the CD that went out to friends that year. I asked Bob Dylan to do the same for our 30th disc, but he didn't get back to me…
19. Tindersticks – A Man Needs a Maid The most controversial track on the CD, because of the song rather than the singer. Indeed, on one of the numerous podcasts accompanying her new album, Aimee Mann spoke to Jim DeRogatis about this song, saying how it bemused her, yet chose this 'bizarre', 'deeply sexist' song'. 'Come on, Neil, learn how to fold a shirt'. I came to 'Harvest' late, after After the Goldrush and the ditch trilogy. Indeed, I only gave this song much thought when, chatting up an older woman, also travelling solo, on a ferry from Naxos to Athens (we ended up sharing a cheap hotel, but not, alas, a room) aged nineteen, I mentioned my love of Neil Young and she started to criticise this song. I defended it, saying that there was something else going on beyond the crassness of the title. About to embark on a literature degree, I was aware that 'maid' had a double meaning. I was also vaguely aware that the lines about falling in love with an actress who was playing a role that the narrator could understand referred to Neil's relationship with Oscar nominated actor Carrie Snodgrass, with whom he had a child, Zeke. I was never that keen on the bombastic orchestration, which Tindersticks drop, while keeping the song's essential delicacy and weirdness. There are two ways to look at the song, I feel now. On the one hand, the lyric's half baked and clumsy, deserving all the criticism it gets. On the other, the way the words are used is beguiling and allusive, with haunting qualities that Tindersticks' Stuart Staples fully explores. Songs don't have to make sense in the same way that a poem does: the music is always more important than the words and the band's take on the delicate tune is terrific, Interestingly, their new album, Distractions, also has an excellent cover of a Dory Previn song from the same era 'The Lady with the Braid'. Although their new, more electro sound, sometimes plays hell with my tinnitus, it's a great record with lots of fine original songs, too. Very sad to see that next year's 30th anniversary tour only has two UK dates (both in the south). Although the band formed in Nottingham (feels like I used to see Stuart Staples hanging out in the singles branch of Selectadisc most times I went in) I've only seen them play here twice.
20. Courtney Barnett – Write a List of Things To Look Forward To Over the years, many of our friends have joined in exchanging best of year CDs. Indeed a couple did two or even three CD sets. But all have fallen by the wayside, save one. So, take a bow my youngest brother Rich. This year, poor sod, his house was burgled while wrapped up in putting together his and Al's CD during the early hours. Nevertheless he managed to get it done and mailed out. This track is the only one that appears on both our CDs, which goes to show what excellent taste we both have.
21. The War on Drugs – Rings Around My Father's Eyes It's a toss up as to which is my favourite US band at the moment: The National and The War on Drugs. Each have had missteps since becoming massive and I'm not keen on the preponderance of keyboards on WoD's new album, most notable on the title track, with its girly chorus and overt Dylan references. The influence of mid-60s Dylan on the band has always been obvious, and I've seen them cover 'Tangled Up in Blue' live. Many albums dribble out but I Don't Live Here Anymore closes with its best two songs. The one we've chosen hit me hard as we were driving home from father's-law's funeral. Jim was 89 and had a good death, surrounded by family in hospital, which doesn't stop him being a huge loss to our family. My own father, 89 next weekend, has also been having a lot of old age related health issues. This song's mournful then, but it hits home hard. On the album it's followed by the uplifting 'Occasional Rain'. Here we give it the coda of a brief piano piece by the great Abdullah Ibrahim (who we were lucky to see live once, at the Sage in Gateshead), a fleeting glimpse of a great number from the 80s, from his solo piano album Solitude. The title speaks for itself. RIP, Jim.
22. Abdullah Ibrahim – Blues for a Hip King
All of the songs bar one also appear on this Spotify playlist but streaming sucks and damages the environment. CDs are the least damaging, best sounding medium and pay the artists best. Please buy them and go see live music when it's possible.