That's not a skirt, that's a sawn-off shotgun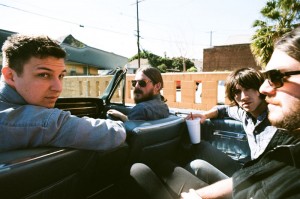 The third Arctic Monkeys album, 'Humbug', was a disappointment, and the gigs accompanying them were too. Unless, perhaps, you were stood at the very front. The band seemed unable to adapt to playing in arenas. The set was badly structured, with too many plodding rockers. Sheffield's finest seemed determined to eliminate a large part of the audience they'd built up. After seeing this brilliant gig in 2007, I'd dragged my partner along to see them at Nottingham Arena. She was severely underwhelmed, as was I.
So why am I going to see them again, in my hometown, in a huge tent, a week tonight? Because it's a big Sheffield event, sure, but also because their new album Suck It And See, out on Monday, is brilliant. There's one song reminiscent of the previous album, 'Brick By Brick', that I could do without, and first single 'Don't Sit Down Cause I've Moved Your Chair' is classic Monkeys without breaking new ground, but the majority of the album builds on the more melodic style that Alex Turner developed for the soundtrack of fine film 'Submarine' (indeed, one song appears on both the Submarine EP and the new album). And you know what, they're terrific. Great pop songs with cutting, memorable lyrics. It's one of those rare albums where the best songs sit towards the end, with each track better than the last. To prove my point, here are tracks number ten and eleven (of twelve). It's out on Monday. Get it. Here's hoping that it gets to number one (where Bone & Cane still is, at the time of writing, amazingly) and that the shows next week are a triumph.
The Arctic Monkeys – Love Is A Laserquest
The Arctic Monkeys – Suck It And See