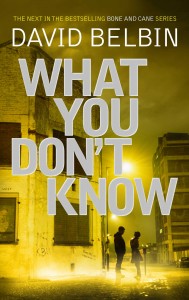 Above is the cover of the second Bone & Cane novel, What You Don't Know, which was published as a Kindle exclusive on Christmas day, and is only 99p during the '12 days of Kindle' promotion. Other eBook editions follow in February, with the trade paperback out in early May. I hope you enjoy it (and it you do, please leave a brief review – they made a huge difference to the sales of Bone & Cane). And have an excellent holiday. Below you'll find my christmas gift to you. Right click and 'save as' each song to download.
Every year since 1988 we've made a best of year music compilation to give to friends. For the last few years I've been putting it online. This year, as CDs fade out (but vinyl makes a comeback!), I've made an effort not to burn as many, but ask friends to download what they want here instead (if you're anxious for a cd copy, get in touch). All files will be up until the end of the first week of January. I'll be posting one song a day until the 31st of December. What to expect? Well, it's been a bad year for pop, but a very good year for singer-songwriters. There were loads of good songs I had to leave off, from young acts like Laura Marling to oldsters like Nick Lowe. The comp kicks off with one of the great singer-songwriters, one who still knows how to do pop.
1. Paul Simon – The Afterlife Simon's new album, So Beautiful Or So What is his best since Graceland and I took my dad, who's only a little older than him, to see him at Nottingham's Royal Concert Hall this year. He was blown away by the songs and the incredible musicianship. As were we all.
2. Foster The People – Pumped Up Kicks Late post today as we're just back from a trip to London where we saw Jez Butterworth's magnificent 'Jerusalem' with old friends. What a play! Our hosts' 17 year old daughter was very impressed that this song was on our best of year comp. And, indeed, it feels like a celebration of drugs and partying that could easily have been played at one of the parties in Rooster's wood, where a fifty something gypsy entertains village teens with speed, spliff and booze, arguing that this has always been the way of the woods and it's the society that wants to turf him out that's being illogical and hypocritical (though, as Marcello points out in the comments below, the lyrics are rather darker than this. Which makes them fit the play even better.) Fantastic play. See if if you possibly can.
Foster The People – Pumped Up Kicks
3. Fountains Of Wayne – The Summer Place While the lyrics of the previous song might be indecipherable without a crib, FOW songs are nearly always short stories, perfectly formed. I was listening to a discussion on Radio Four over the weekend about how songs used to nearly always tell stories, yet now rarely do, and there's some truth in that. FOW may owe more to Elvis Costello than Cole Porter, though the strongest influence on their catchy, literate power-pop is probably Chris Difford of Squeeze. New album (and first for an indy label) 'Sky Full Of Holes' doesn't have quite as many catchy songs as its two predecessors, but with songs like this one and the title track, it's still way ahead of the competion.
Fountains Of Wayne – The Summer Place
4. Fleet Foxes – Helplessness Blues Like the Fountains of Wayne, this is out of time. The Fleet Foxes are so last year, aren't they? They felt kind of over when I saw them for the second time in 2009. And this record is so retro, so fey, with lyrics about pastoral scenes which are odd coming from Americans in their 20's. I thought such things when this song started getting played on the radio earlier this year, yet I fell for it, hard. Maybe for the same reasons that I enjoyed Crosby and Nash on their latest tour – beautiful, old fashioned songs performed with obvious sincerity. I'm too old to be cynical about stuff this good.
Fleet Foxes – Helplessness Blues
5. Lana Del Ray – Video Games I posted this song back in August, since when it has become ubiquitous, a top ten hit that was even played on Coronation Street this week, so it's the nearest thing to a mainstream pop hit on this year's cd. Familiarity might have dulled its appeal but doesn't prevent it from being a haunting debut, a brilliantly constructed ear-worm. Will the album be anywhere near as good?
6. Cornershop & The Double O Groove Of, featuring Bubbley Kaur – Topknot Cornershop are one of my favourite bands, but I've never seen them live. This despite their coming from Leicester, a nearby city I visit several times a year. They're not interested in touring, or promotion of any kind, really. So this album, which features a hitherto unknown Punjabi folk singer on all of the lead vocals and a mix of mostly Asian musical styles with the odd trace of pop sensibility, is unlikely to find them many new followers. Which is mad, because it's brilliant. As with the FOW, I don't know how they keep going but I'm very glad that they do.
7. P J Harvey – The Last Living Rose A dutiful music fanatic and Guardian reader, I've been downloading the albums in the Guardian's top ten that I haven't already heard (half of them I had, of course. Beyonce's 4, which they have at no 4, wouldn't make my top 40, and I love Beyonce). Katy B I like, if not enough to put on this compilation, but Rustie doesn't do it for me and the jury's out on Tune Yards, The Weeknd and Metronomy, all of whom had passed me by until this week. The free Frankie Ocean mixtape, however (their no 3) is fantastic. Anyway, since she doesn't feature elsewhere in their top 50, I suspect that. later today, PJ's Mercury Prize winning 'Let England Shake' will be their album of the year. It's certainly one of mine, though it's an album to admire more than love – probably her best since 'To Bring You My Love' and, having seen her several times, I'm frustrated that she didn't tour it. It's an album that will last, with themes that resonate and some cracking songs (though it goes off a bit on side 2, vinyl lovers).
PJ Harvey – The Last Living Rose
8. Cowboy Junkies – Flirted With You All My Life The Junkies put out two or three albums in their Demons series, this year, one of them devoted to the songs of their friend, the wheelchair bound Vic Chesnutt, who took his own life on Christmas day, 2009 – an act predicted by this song. Chesnutt's original version is hard to take after the fact, but this arrangement imbues it with a haunting dignity and ambiguity. A bitter pill, but, to me, a devastatingly powerful one.

Cowboy Junkies – Flirted With You All My Life
9. James Blake – Limit To Your Love The James Blake album creeps up on you. It's sort of dubstep, but he's absorbed an eclectic set of 70's influences, possibly from his father, and – heavy vocal processing aside – John Martyn comparions aren't out of order. I'm not sure if the songs are great but they certainly make great late night chill out music. Oh, and by the way, my favourite track from John Martyn's final album is still available on this page.
James Blake – Limit To Your Love
10. Ry Cooder – No Banker Left Behind Is it a sad reflection on the state of political songwriting that the song about the crisis that threatens to bring down capitalism is by a 6o something American and sounds like it was written in the 1920's? Let's say instead that it's a tribute to the songwriting skills of Ry, a longtime hero of mine, who has just made his best album in nigh on thirty years. Hey, look! Sean from Said The Gramaphone has given us his best 100 songs of the year, all for download. And, because he's a man of great taste, about half the artists on my top 21 are in his top 100. Respect.
Ry Cooder – No Banker Left Behind
11. Ryan Adams – Lucky Now After years of spreading himself thin, Ryan marries, sobers up and makes a quietly impressive, short, acoustic album called 'Ashes & Fire'. This is one of the best tracks.
12. The Arctic Monkeys – Suck It And See I've posted this song before and written about the Monkeys three times this year (1 2 3) so there's no need to add much about this, the cracking title track of their splendid fourth album, except that I'm very glad they played it in Nottingham a few weeks ago. It was one of the highlights of the show.
The Arctic Monkeys – Suck It And See
13. Glen Campbell – Ghost On The Canvas Glen Campbell recently retired from the music business due to worsening Alzheimer's. His final album doesn't include the great Jimmy Webb song song I featured earlier this year (you can get it as an mp3 album bonus track, but it's a poor, annoying arrangement). This, the title track, is by Paul Westerberg and there are songs by Teddy Thompson and others, with many poignant moments, making it one of Campbell's most consistent, enjoyable albums. His singing and guitar playing are still up there: rich, unique and magical. I'm glad that he ended his career with such dignity.
Glen Campbell – Ghost On The Canvas
14. Tony Bennett and Amy Winehouse – Body And Soul The last of the great crooners carries on regardless, in his 85th year, despite decades of cocaine addiction and a prodigious cannabis habit. I saw him play the Royal Concert Hall a few years ago and he was terrific. Alcohol is, of course, far more dangerous than most banned drugs. I saw Amy Winehouse at Rock City on her final tour – she was making up for a cancelled gig and could already have filled the arena had she chosen. A great artist and a great show. And, as has been said ad nauseam, a great waste.
Tony Bennett – Body And Soul (With Amy Winehouse)
15. Tinariwen – Tamiditin Tan Ufrawan 'Tassili' is another great Tinarirwen album, full of their unique, haunting, hypnotic desert blues. No post tomorrow, back on Boxing Day. Merry Christmas!
Tinariwen – Tamiditin Tan Ufrawan
16. J Mascis – Not Enough Evidently Dinosaur Jr had to be bullied into making an acoustic album, where the quality of his songs shine through. It's fifteen years since I've seen him the grunge Neil Young live and almost as many since I've bought one of his albums, but Several Shades Of Why reinvigorated my interest in him. It's full of languid, catchy, world weary ballads like this one.
17. Gillian Welch – The Way It Goes 'Though there was a time that you and I were friends'. Kind of a bleak seasonal message about the way things end, but not the end of the compilation. The Harrow & The Harvest is a stark, timeless, beautiful album, their first in eight years and best since Time, The Revelator. Annoyed that I still haven't had the chance to see them live.
Gillian Welch – The Way It Goes
18. Bon Iver – Calgary Shortly after Bon Iver's eponymous second album came out, a music critic of my acquaintance tweeted words to the effect that it 'proves one Bon Iver album is all you need'. That was my initial impression, too: a pleasant, laid back album, with a lot of highly processed vocals. After a while, though, I started playing it late at night, and songs started to stand out, with tracks like this one turning into earworms. A less showy, less personal set than For Emma, my favourite cd two years ago, but a very satisfying one.
19. Tom Waits – Hell Broke Luce A little known fact about Baron Luce, best known for resigning over the invasion of the Falklands, is that he is the uncle of the actress Miranda Hart. And now Tom Waits has written a concept album about the old Tory, Bad As Me, his best in many years. This song's what is next after Luce's resignation is one of the year's great rock'n'roll moments.
20. The Pierces – I Put Your Records On The funny thing about The Pierces show at the Rescue Rooms this year was that it wasn't sold out, despite their album being number four in the album chart that week. Their new audience was more Radio Two than Rescue Rooms, so Mike Td (reviewing it) and I had no problem getting to the front. One of the two gorgeous sisters used to go out with a Stroke (can't remember which, in either case). This beguiling song is about what it's like when your ex writes songs about you on their new record but uses his new girlfriend's name. It was, wisely, saved for the final encore. It's the best thing on their more mainstream, Coldplay produced (but nevertheless very enjoyable) album, a tart ballad with lyrics reminiscent of 'Superstar'. One song to to go, folks! Have a good new year's eve.
The Pierces – I Put Your Records On
21. R.E.M. – We All Go Back To Where We Belong For fifteen years. R.E.M. were the best band in the world and I'm glad that they kept going for another fifteen years. While the records got patchier, they were always great live. I wrote about what the band meant to me back when they announced that they had disbanded. Their final album, Collapse Into Now, felt a bit forced, but this last song, released on their farewell hits collection, is a gorgeous piece of summery pop with a healing message that stays just the right side of sacharine. It's a goodbye song.
'We shall not cease from exploration
And the end of all our exploring
Will be to arrive where we started
And know the place for the first time'
T.S.Eliot – 'Little Gidding'
R.E.M. – We All Go Back To Where We Belong
And that's the end of this year's epic sleeve notes. A happy new year to all of my readers.