Glastonbury Diary 2009 Day 2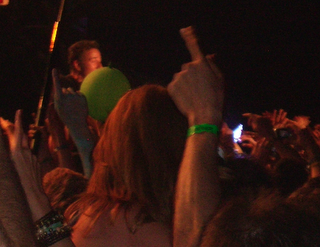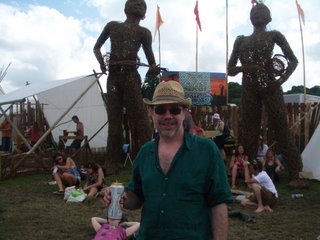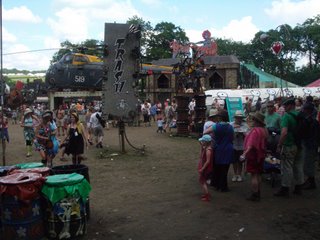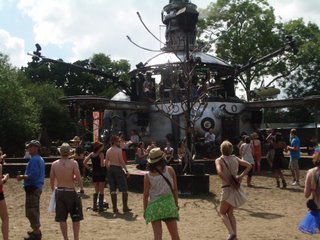 Slow start to the day. Pyclet and banana for breakfast, then to the Pyramid stage to see the brilliant desert blues boogie of Tinariwen, a Malian band I've seen three times before. It's quiet at the front, so we discover that there's a dividing, safety wall to hold in the first thousand or so people (what, at a Bruce show, is called 'the pit', or at Beyonce 'the golden circle'). You can only access it from the front sides. This information will come in handy later. Tinariwen are as good as ever, perfectly suited to coming round on a sunny afternoon. My siblings go and crash on the grass to listen, but I stay near the very front, swaying slightly to the hypnotic, buzzy rhythms. Their new album is out this week, but they're too cool to mention this.
Then it's off for an explore. We head to the green fields (that's me near the entrance, second photo down) where Fran wants a massage, so we separate into pairs. Rich and I look at all the bits of the site we haven't been to so for (except the distant Park stage, which I save for Sunday). These are places like Arcadia, Trash City and Shangri La that only come alive at night. But we have our bearings now. It's a fascinating area to walk round. We'll see if we have the energy to return later.
I quite fancy the Gaslight Anthem, who the others go off to see (but they leave before Bruce makes a special guest appearance – oops!). I sidle through the crowds leaving Dizzee Rascal to get a great spot dead centre to see Crosby, Stills and Nash. Would have been nice to see them with Neil Young, but I've not seen Nash or Crosby before and their set was very enjoyable. I saw Stephen Stills last year but there was only a two song crossover (no 'Suite: Judy Blue Eyes' which was a shame). The Cros was in good form, even getting me to enjoy old chestnut 'Almost Cut My Hair'. Not sure why they needed to do cover versions when they missed out so much of their classic back catalogue. They did the Dead's 'Uncle John's Band' (itself a kind of CSN tribute) but it didn't work until about halfway through and followed it with 'Ruby Tuesday', which made no sense at all.
I'd arranged to meet the others nice and early to get a good spot for Bruce but had a bit of spare time, so wandered across by the Other Stage, where, serendipitously, I caught half an hour of Maximo Park. They irritated me at Rock City last month, with muddy sound and bombastic gestures that undermined the fragile beauty of their best songs. But here the sound was superb and Paul Smith was in rather more humble, win the crowd over by explaining the songs mode, which suited him better. I enjoyed 'Our Velocity' and 'Books From Boxes' amongst others, and was sorry I couldn't stay for 'Apply Some Pressure', but Bruce beckoned.
I first saw Bruce in '81, on 'The River' tour (twice). This would be my ninth time but I haven't seen a decent E Street band gig in twenty years (I can't count the '99 reunion tour, where we had crap seats at the NEC). We got to the front almost as soon as Kasabian left the stage. You can tell how close we were by the photo at the very top, which shows Bruce during one of his crowd invasions, a few feet away from us. But I'm getting ahead of myself. He delighted us by opening with an acoustic performance of Joe Strummer's classic song about Glasto, 'Coma Girl' (I nearly named a book after that song, tho' in the end opted for 'Coma'). Inexplicably, the BBC didn't show this (except for the bit where he said 'for Joe' at the end, before launching into 'Badlands'). After that, what can I tell you? If you're interested enough, you'll have seen nearly 90 minutes of the 2.5 hour set on the TV. There were a couple of songs I could have lived without ('Outlaw Pete', the Poguesish 'American Land') and I was sorry we didn't get 'Jungleland' or 'The Wrestler' from the new album. But it was a classic Bruce show, loaded with big hits (half the tracks on the latest greatest comp were played) and crowd pleasing gestures, like running across the moat and performing on the barriers, once getting into the crowd (as above). 'Promised Land', 'The Rising' and 'Tom Joad' were amongst the highlights. We were a bit cramped but had space to dance, except when one over excited young man pushed his way in. Soon he tried to crowd surf while Bruce was in the throng, and was swiftly ejected. Our view got better as the crowd rearranged itself too. Fran's a Bruce fanatic and it was her first Bruce gig in ten years. It was great to see the show with her and Rich (Chris doesn't like Bruce and left after the first number, listening to the rest from the bar). A classic family event (Paul, who got me tickets for our first Bruce show, at Manchester Apollo 28 years ago, and runs this music discussion group should really have been there too).
Afterwards, we had a pint. At one, we set off to Trash City, Shangri La and Arcadia. This involved walking very slowly with vast crowds of people on a long (often one way) route. It's not unlike the ritual evening promenade in France or Italy, except that people are concentrating on not stepping in puddles or falling down ditches so that they don't look at each other too much (a constant of the whole weekend was making sure that I had either my brother, sister or Chris in sight – only lost each other once, but I'll come to that). Oddly, there are only one or two bars in this whole area, so, although we were out until half four in the morning, it was a very sober experience. The device in the final photo above fired jets of flame throughout a set by one of Chris's favourite bands, Evil Nine. In one of many exotic inside areas we watched a weird Christian Bale movie with subtitles and a trip hop soundtrack. We enjoyed the carnival, but didn't bump into Michael Eavis, who also explored the area for the first time at night, and told the NME he stayed out until four. And on the way back to the tent, buying tea as dawn broke, Fran bumped into several work colleagues who, it turned out, were in the same field as us. Small world.