Harrogate Old Peculier Crime Writing Festival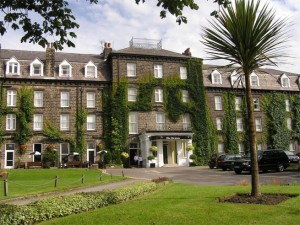 It's fifteen years since I last attended a Crime festival. Why? I was spoiled, in that, for several years we had Shots On The Page here in Nottingham – in 1995, we had Bouchercon, too, a rare honour. In 1997, I MCed a huge launch for the anthology I'd edited, City Of Crime, in a Council House ballroom packed with crime writers. Hard to follow that.
I stopped writing YA crime novels soon afterwards. The market had changed, thanks to Harry Potter, and I was ready for a change, too. But last year I published my first crime novel for adults, Bone and Cane, and this year Mark Billingham was kind enough to invite me to host a table at the Theakston's Old Peculier crime writing festival. In the biz, this is generally referred to as 'Harrogate' because of the town where it takes place, usually in the Old Swan Hotel, where Agatha Christie hid out when her marriage was falling apart.
I'd heard that the main action took place in or outside the bar (ie to the left of the picture above). Couldn't be more true. Within minutes of arrival, I'd bumped into Ian Rankin and old pal Melanie McGrath, then found myself talking through the range of British beers on offer with Harlan Coben, having a chat with Pam McIlroy from Nottingham, before catching up with John Harvey, who introduced me to Megan Abbot, whose wonderful The End Of Everything we'd both just read on the train there. In all, I met far too many writers to name, but the ones I saw most of were Megan, Michael Malone, HJ Hampson, Jason Webster and, of course, my agent, the redoubtable crime writer, Al Guthrie.
Missed the panel about eBooks, which had everybody talking, but was in time for the American writers panel, with Ryan David John, Megan Abbot, Chris Mooney and Gillian Flynn, whose Gone Girl I plan to check out. Enjoyed Ian Rankin and Peter Robinson in a very well choreographed late night conversation. Nice to hear Ian talk about his friendship with the late, great Jackie Leven.
On a sunny saturday afternoon, A Donkey In The Grand National was an intelligent discussion of the old saw about whether crime novels can be as good as 'literary' novels with an outstanding panel: John Harvey, Val McDermid, Laura Lippman and the one writer new to me, Simon Lelic, whose The Child Who I've just started reading.
The mystery dinner event, ably hosted by Ann Cleaves, went well (hi to everybody who was at my table) and was over in time for Harlan Coben in conversation with Laura Lippman. Harlan said that you need three things to become a successful writer: inspiration, perspiration and desperation. Desperation was the most important – you had to think that there was absolutely nothing else you were good for. That rang true with me.
A drink later, and I found myself in a team for the huge late night quiz – half book bloggers and half Five Leaves authors, the others being Michael Malone and Russel D McLean, who I'd not met before and turned out to be a fountain of knowledge, as did Sarah, our de facto team leader. It was great fun and we were surprised – nay, delighted – when the final scores appeared on the screen, to find that we'd come second, losing by just one point.
The quiz, like the whole festival programme, was organised by Mark Billingham, who was also omnipresent outside the bar, provided great music and seemed to be having a ball. Hats off to him.