But I Know This City (of Literature)!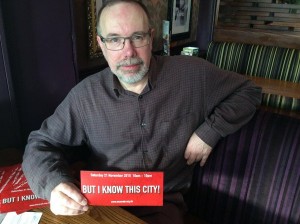 This is the first of two very busy weekends of literature. When we launched Nottingham's UNESCO City of Literature  bid, a year ago this month, it was impossible to imagine the amount of literary activity that the bid would help generate. Indeed, when we submitted the bid, in July, none of the things I'm going to this week were even mentioned in the vast array of activities we featured: this afternoon's Asian Poetry Festival, with Kavya Rang, the first Nottingham Poetry Festival, Book Off at Rough Trade and yesterday's fantastic event, organised by Andy Barrett's Excavate company for the Being Human 15 festival, But I Know This City. All were organised after the bid went in.
I have a big article about BS Johnson in the current issue of Leftlion and wrote a long post about him and Barry Cole here in 2009. Been trying to help playwright Andy Barrett set this up since he had the idea a couple of years ago. Last year, he couldn't get enough people interested, but Andy is an indefatigable, inventive bod and managed to raise the funding and enthusiasm to set up the reading across 26 venues in the city this weekend. (It was preceded by a visit from Johnson's biographer, Jonathan Coe, whose new novel Number 11, I highly recommend).
BSJ's Nottingham-set book-in-a-box, The Unfortunates, has 27 sections, of which only the start and end are fixed, so the readings started and ended in the lounge at Broadway, with the other 25 venues chosen to be within walkable distance and, in many cases, to have some connection with the story, which is a memoir about Johnson's friendship with Tony Tillinghast, his friend who died of cancer in 1965. The title, which I'm pleased to have helped Andy come up with, is taken from the opening section, where Johnson gets off a train to report on a football match and realises that he has come to the city where his friend lived. The book is bound in sections of varying length to be read in a random order to replicate the random flow of recollection. So the ability to navigate the story in any order of the visitor's choosing fits perfectly with the nature of the book. You can see a map of where the readers were here.
There were at least two readers in all of the venues and I got to perform with my partner Sue Dymoke and old friend Michael Eaton. Here they are: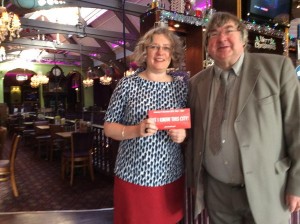 We got to be in the magnificent Yates's Wine Lodge, haunt of our student days, where BSJ set a memorable poem and a section of The Unfortunates which is a vivid description of the place in 1969. It hasn't changed that much and a few of our visitors, like us, remembered the trio who used to play 'Old Time' music a few feet from the booth we occupied in the Balcony Bar. The staff at Yates's were very friendly and helpful. The first two hours (the event ran from 10AM until 10PM) were very slow. Indeed, Simon, our first visitor, didn't arrive until nearly 11.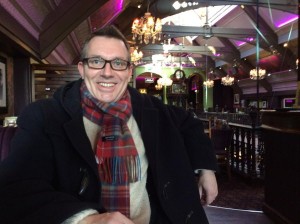 Simon apart, our early visitors were alternate readers from other spots, like The Bell Inn, The Malt Cross and Five Leaves Bookshop. And, from then on, things built up steadily, until, by lunchtime, we had a constant stream of visitors, too many to keep count of. Some single, some in pairs, others in bigger groups. We fitted them all in. Mostly, we were able to alternate, but we each had one long period when we were on our own, repeatedly reading a 7 minute section, which was surprisingly tiring.
We met loads of nice, cool people, and also, over the day, managed to see several other readers. Bitter-sweet for me, this, as, less than a month ago, I lost my oldest and closest friend to cancer, in circumstances that closely mimicked Tony Tillinghast's early death. So I avoided some of the more graphic sections. There were lovely readings at Nottingham Playhouse and in The Bell Inn, almost opposite us. A particularly memorable one (the bit just before he goes to Yates's) took place in one of the Mayor's rooms at the Council House, pictured here. That's the Queen looking down on BSJ, watched by a group including my friend, neighbour and Dawn of the Unread originator, James Walker (with hood).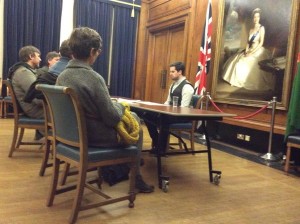 Yates's got a little loud as the evening went on, with each of us having to lean in further and further to make ourselves heard. At around half eight, the DJ turned up the music and we decided to quit. One last couple found us as we were taking down the posters, so I read to them in an alcove full of glasses waiting to be cleared. I'm wearing my black mac, just like BSJ in the book.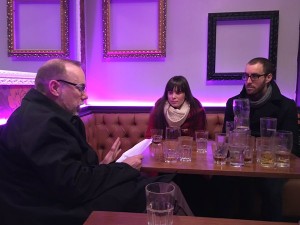 From there, we went to three more readings. A lovely, memorised one in a corner of the snug in The Bell, then a couple of failed attempts. Gareth, freezing his nuts off in an Alfa Romeo in a Sneinton car park, had just given up when we got there, while Jez and Shona were leaving City Arts when we arrived, but five of us were able to accompany Tony Challis back to Bookwise for his last reading there (and I picked up some graphic novels). Finally, back to Broadway for the penultimate reading of the last section, in a beautifully dressed lounge. Here's Tony Challis, and, in the circular chair, my friends Rory and Libby, at that reading.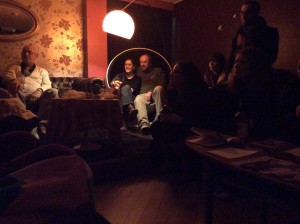 A dozen people managed to do all 27 readings. There was one who'd missed us at Yates's, and Sue read to him in the foyer at Broadway. Then, much drinking was done until, by eleven, I was as shattered as I've been for a long time, and we got the bus home. I met loads of great people and had a very interesting, convivial day. Observing Nottingham through an entire Saturday was fascinating in itself and Yates's remains one of our most significant and entertaining watering holes, just as it was when BSJ knew it. What a tribute to Johnson. What a wonderful piece of Psychogeography. And what another amazing example of what makes Nottingham – regardless of the result of our UNESCO cultural cities bid – a true city of literature. Well done, Andy!