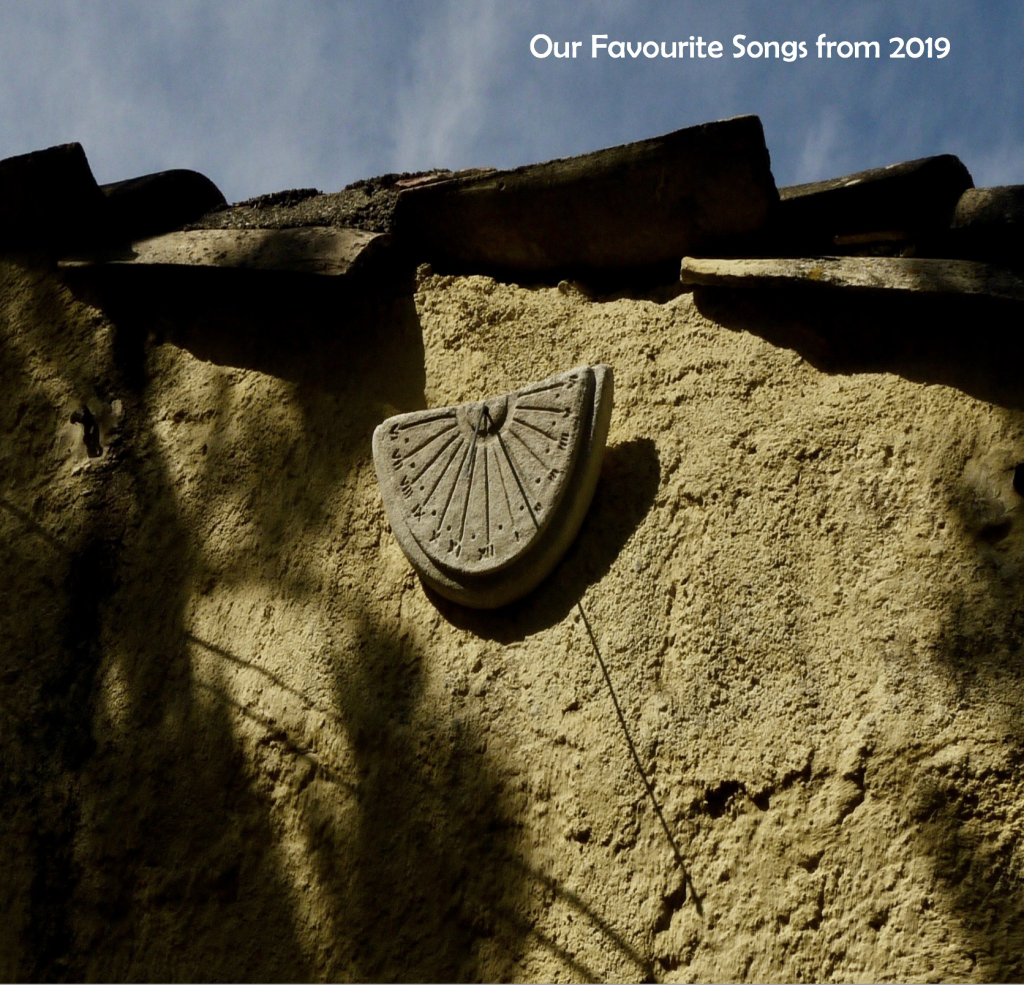 Every year since 1989, my partner Sue and I have sent a compilation of our favourite music released in the previous year to friends near and far. Since 2001 they've been on CD (before that: cassette, 8 track and eh… wire recording). And every year since 2005, in the run up to new year, I've written near daily sleeve notes to accompany the CD, with MP3s of the songs for those who don't receive it. I know that some friends save up the CD and won't read this until they've heard it. Fine. I start posting them this afternoon. Hey ho, let's go. Listen to each song in the little players below each entry.
Hot Chip – Melody of Love You have to start with a banger, and this year's Hot Chip album, A Bath Full of Ecstasy, is one of their best. They have a unique, Wyattish, soul-disco sound that's simple and joyous but there's also a melancholy that acknowledges the extreme anxiety of the times we live in. Had evening teaching so didn't catch them at Rock City this year. Could see them headlining one of the two big Green Man stages in 2020 (hint, hint).
Cornershop – No Rock Save in Roll It's been over seven years since Cornershop's last album and England is a Garden isn't due until spring, but I couldn't resist including this advance track (what used to be called a single), which I bought here. Loved this band for decades but never seen them live. Please, guys, this time, can we have a tour and can you play Nottingham? This is a banger in the same mode as Who Fingered Rock'n'Roll (on classic Judy Sucks A Lemon For Breakfast), one that lifts the pace of the compilation and puts a smile on my face every time I hear it. And there's a General Election with potentially apocalyptic results tomorrow so we need smiles. Please vote tactically to stop the Tories. Which mostly means vote Labour. I'll be voting twice for Nadia Whittome in Nottingham East (not cheating, that's the prerogative of the Tories & their page 48, which the opposition parties seem to be ignoring. I have a mate's proxy to cast).
Better Oblivion Community Center – Dylan Thomas I've voted twice and nearly finished writing a Stanley Middleton centenary lecture I'm giving on Saturday (after which, I'll be officially Stanned out), so have time to post. Here's a cheerful tune to help you through the day. TBH, I'm not a big fan of either Conor Oberst or Dylan Thomas, but when you throw Phoebe Bridgers into the mix and come up with a song as catchy as this, what's not to like?
Beirut – Family Curse A song about a curse seems kind of appropriate on this cursed date (I'm writing this on Friday 13th – the day that the Fasicsts swept to power in the UK). I saw Beirut at my first Green Man in 2014, enjoyed it hugely and was looking forward to seeing them again in August at Rock City, but they cancelled for some reason. I won't hold it against them but, on this dismal day, I don't have much else to say about them either.
Craig Finn – A Bathtub in the Kitchen There's a new Hold Steady album and it's great, so you'd think I'd choose something from that, but their frontman Craig Finn's third solo album, 'I Need a New War' is so good, I had to select my favourite track from it instead. I have the previous two solo albums and saw Craig play a solo instore at Rough Trade three or so years ago. However it was seeing him at the Bodega with his other band, the Uptown Controllers, that really brought home to me what a great body of solo songs he has. And lovely to see him up close in such a small space. The solo songs, even more than the HS ones, are really well formed, intelligent short stories. Only Willy Vlautin, that I can think of, is writing this kind of thing, and Finn captures a particular time and place in a memorable, interestingly ambivalent song.
Fontaines DC – Boys in the Better Land Their debut album is Rough Trade's album of the year and, having seen them play nearly all of it in a rammed lunchtime gig at the Nottingham store, I can see why. It's a joyous, raucous thing that speaks for young Dublin (and I was pleased to see it feature in Animals, one of many great films I saw this year). Not sure what my album of the year would be… at the moment, my most played is Matana Roberts' Coin Coin Chapter 4: Memphis which I discovered thanks to Sean Michaels' brilliant blog Said the Gramophone which has featured in this blog numerous times over the years. Looking forward to reading his new novel. I don't do those best of year lists any more, not since my oldest friend Mike, who I used to share them with on New Year's Eve, died, four years ago. My most played album of the year, though, has been the artists featured on track 17. Wait for it…
Gruff Rhys – Pang! Although Gruff wasn't formally at Green Man this year, he did perform on stage with Yo La Tengo (I didn't realise this until Rob pointed it out the following day. Rob also found himself standing next to Gruff, watching a new Welsh band while accompanied by the next act on the CD, shortly after she'd come off stage, which shows admirable lack of ego, or something like that). All the songs are this album are in Welsh so I've no idea what the lyrics mean and this is, unusually, not the Super Furry Animals' frontman's only appearance on the CD. Wait and see.
Aldous Harding – The Barrel TBH, I hadn't heard of Aldous Harding before she was announced for Green Man this year, but was fully acquainted with her last two albums by the time I saw her on Saturday afternoon. I think the newer Designer has the edge on Party but they're both great. A very theatrical performer, it's hard to know who to compare her. Take a look at the video to this song. As with the last one, I have no idea what this song's about, but I love it.
Lana Del Rey – Next Best American Record I last included a Lana song when Video Games came out in 2011. 'Will the album be as good?' I asked and, actually, it was good, but not as good as her latest Norman Fucking Rockwell, which is packed with interesting, memorable songs, of which this is my favourite, though it comes dangerously close to my six minute upper length limit. Of course, the big question is, what song do you follow it with. It has to be American. It has to be great. It has to be…
Postscript. I see that today (20th) The Guardian has made NFR their album of the year and it's worth following the link for a detailed look at what makes it her best record. It includes some Joni Mitchell references I'd missed and a discussion of why this song was missed off the album. This album's also number two in The Independent Follow the link to find their number one, which has already featured on this CD.
Bruce Springsteen – Western Stars The boss, with an album he held back for years, channeling Roy Orbison and Glen Campbell. The album's a real, sunny treat, and this track made a magnificent soundtrack yesterday as we drove to Leicester University for the last time, collecting Sue's office library on her last day there before she starts her new job at NTU in January. Sweet.
Bon Iver – Hey Ma This song lodged itself in my brain when I was driving to Green Man and has stayed there ever since. That yearning, heartbroken quality which introduced him in For Emma, Forever Ago back in early 2008 is still there. I liked his album with Big Red Machine last year and this year's I,I is one of his stronger offering. I do wish, though, that this song hadn't got the line about working in a coal mine. I'm from a mining family (Sheffield grandfather) and it doesn't feel authentic to me, more like a lazy cliche. But I'm a picky sod, as Sue often points out.
Jenny Lewis – Wasted Youth At first, this song threw me: I wasted my youth on a puppy? What was all that about. But no, the word is poppy and Jenny Lewis's mum was a heroin addict. The former Rilo Kiley singer's new pop meets soul album On the Line is even better than its predecessor, Voyager. The pal to whom I insisted we arrive early for her supporting The National last week became an instant convert. That was the second time I've seen her this year, after a storming set at the Rescue Rooms (The National were bloody good too, making me even more sorry I'd not managed to cram them onto the CD). As a bonus, I didn't have room to include anything from Michael's Chapman fine new LP on the CD, North, but here's a song that links rather neatly with Lewis. Make up your own mind about the sentiment.
Broken Social Scene – Boyfriends There's a track on The National album (Where is my Head?) that's very reminiscent of BSS & I nearly put it on here. But why not stick with the original? This year's EP Let's Try the After Vol 1 finds them in as exciting form as ever, the only disappointment being that, for no given reason, they failed to show up at Green Man as advertised. The punctum of this song, as my friend Marcello would call it, is the 'but they're not' of the chorus, specifically the word 'not'. Another glorious, raucous mess of rock'n'roll.
Africa Express ft Gruss Rhys & Otim Alpha – Taranau Sue usually selects the African music (a track or two most years) but I happened upon this duet in Ugandan and Welsh (yes, that boy Rhys again) from the new Africa Express album, and it's marvellous. See you what you think.
Whitney – Valleys (My Love) My sister Fran just messaged me to say that there's no point in sending CDs anymore as she no longer owns a CD player (I offered to give her one but she wasn't interested). She insisted on my giving her a Spotify playlist. I do have a Spotify free account but have never made a playlist before. Turns out it's easy (spoiler, you'll find out the last few tracks). I caught the end of Whitney at Green Man and liked them so much that I had to review them at the Rescue Rooms last month. Couldn't find anyone to go with but met some of my students there. They were great.
Michael Stipe – Your Capricious Soul Regular readers may recall that R.E.M. were my favourite band from 1984 until they disbanded in 2008. Peter Buck's been making lo-fi releases since then (we're seeing him with Luke Haines in March), but Michael Stipe hasn't. This digital only single (in aid of Extinction Rebellion – and who can argue with that) is his first release in twelve years, though I first heard a live version a couple of years ago. And it's very good indeed
Vampire Weekend – This Life Don't do an album of the year list any more but if we had a most played album of the year list, then Father of the Bride would easily top it. They might have lost a key member, but it's as full of invention and infectious songs as ever, and this is probably the catchiest. My most played albums of the three weeks since I completed the CD, by the way, have been the astonishing late resurgance of The Who, Who, Comet is Coming's adventurous, exciting Trust In The Lifeforce Of The Deep Mystery (about to investigate its December successor, The Afterlife and a reissue of one of St Etienne's best, and most obscure albums The Misadventures of which, when bought from them, came with a signed card and an excellent Christmas single, which I'm tempted to post here. Oh, go on then…
Tindersticks – Pinky in the Daylight A band almost as hard to see as Cornershop, though I have managed it twice (one year, I had a tough choice between them and Bruce Springsteen at Glastonbury – Bruce won). This gorgeous song is, in part, a song about Ithaca. It has a lovely video. Tindersticks trivia. I often used to see singer Stuart Staples in the Selectadisc singles shop on Market St where he occasionally worked in the late 80s/early 90s. He's married to the sister of Clive from Gaffa. One song to go. Oh and, if anyone has a spare ticket for the Murder Capital at the Rescue Rooms, please get in touch. Got into them too late and it's sold out.
The Delines – Let's Be Us Again Seeing The Delines at Nottingham's fine new venue the Metronome was an expensive night. Not so much the cost of the ticket with a tour only CD and single, which set me back just over forty quid. No, it was the gig overrunning by 15 minutes meaning that I overstayed my three hour parking slot, which cost me a sixty quid fine. Still, I was less bothered by than by missing the first part of this song by going for a pee. Still, I saw most of it from the side of the stage, and it's a corker, as is the album that it's from The Imperial. The album tells a story and Amy Boone sings it beautifully. Willy Vlautin is the nearest thing songwriting has to Raymond Carver and he's a bloody good novelist, too. When I got him to sing my copy of his latest The Free at a Delines Rough Trade instore early in the year, I told him I'd finished reading it that morning. 'You poor bastard' he said, and it's true that his work tends towards the bleak, which I have less appetite for as I grow older. But when it's done well enough… I'm currently reading Ray Robinson's Portico prize shortlisted The Mating Habits of Stags which is similarly spare and doom-ridden, but also bloody brilliant. It's the way you tell them. That's it for another year. All the best to all our readers (and listeners) from me and Sue. Be kind to each other.