Forty Years of the Royal Concert Hall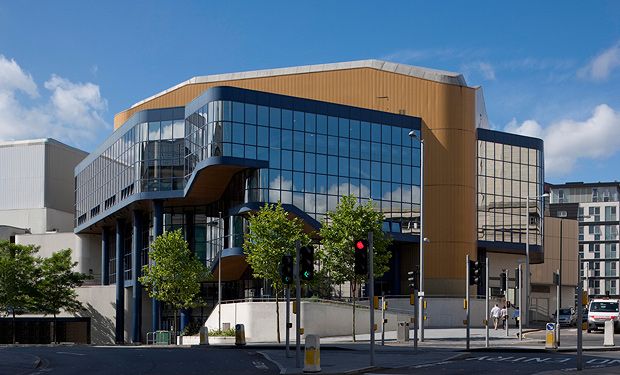 Thanks everybody who came to Metronome on Wednesday night for the launch of Don't Mention the Night. Especial thanks to John Holmes, for interviewing me (you can read his autobiography here) and all the members of Gaffa, whose classic line-up reunited for the occasion. Here they are playing 'Man with a Motive' and below is a video of them performing the opening track of their recent album 'Beaks and Bones for Buttons'. It's an apt choice, as this week marks the release of a five CD version of 'Revolver', the album where parents decided the Beatles had gone weird. That was when my parents stopped buying them (we lived near Liverpool when I was growing up) and Wayne, Gaffa vocalist and lyricist, a few years my senior, started getting seriously interested in them. To understand the references in Wayne's (incomplete, I wasn't fast enough with my phone) intro, you'll have to buy the book. Signed copies (along with Gaffa's latest album) are available at Five Leaves Bookshop. (I listened to the two discs of work-in-progress yesterday, by the way. Two early demos of 'Yellow Submarine' are… wow.
You wait four years, then you have two books out in the same year. Not only that, but two big events in two days. On Friday lunchtime I was part of a panel at Nottingham's Royal Concert Hall, celebrating forty years since the venue opened (there's a section on the history of Nottingham's music venues at the start of the Gaffa chapter in DMTN by the way). I must have seen well over a hundred shows in that time and I've written about loads of them here, often in reviews written (pre-pandemic) for the Nottingham Post. I was there as a gig-goer, and learned a lot about the venue's history and acoustics (great for orchestras, but requiring skilled sound engineers for amplified music, as evidenced in my experience by terrible sounding shows with Pets Shop Boys & Hall and Oates) from my fellow panel members. I also learned about two shows by huge names that I would have loved to see, but which never took place. I'll come to them later.
I rattled through my twenty favourite shows from forty years, pointing out that I was unemployed when the venue opened, so missed Elton John (my first gig there was the Style Council, a couple of years later) and only became a regular in the second half of the eighties. Here's that top 20.
The Smiths, October 1986 . 'Queen is Dead' tour. This one felt something like Beatlemania.
R.E.M. May 1989 'Green' tour. My third (of fifteen) R.E.M. gigs and probably the best. I spent much of it in the middle of the second row jumping up and down directly in front of the security guy in the front row.
10,000 Maniacs Nov '89, Blind Man's Zoo tour. First time I saw both them and the amazing support, Indigo Girls.
Ornette Coleman, 1992. Over two hours of loud, wild, free jazz saw most of the audience leave, but those of who stayed were battered into submission and, perhaps, some kind of understanding. Awesome.
k d lang – Ingenue tour, 1993. Our friend Kevin, having had to leave The Smiths early because of the intense crowd, braved a return to the concert hall, only to be surrounded by two thousand screaming lesbians. He left early again, this time never to return (with the exception of prog-rock shows anyway). Still probably the best of the three times I've seen her there.
David Byrne – Sep 1994 (again, hard to pick but this was probably the best of his three shows here, white suits, great dancing, front row seats. Neil also mentioned his superb 2011 show).
Ry Cooder and David Lindley, 1995. I'd seen Cooder solo before but never with a band, and what a band. My dear friend, the late Mike Russell, and I stumped up £25 for seats, which seemed a fortune at the time. But it was worth it. We were both big Lindley fans. He was also on top form.
James Taylor, February 1998. A fan since 1970, despite the derision of many schoolfriends, yet this was the first time I got to see him. There were a couple of tours where you could see Taylor in a good concert hall, rather than a soulless arena. It was a great show, with a near perfect setlist.
Blondie, November 1998. This was their return to live performance, before they started doing arenas, and we were at the front. A magical night.
Tony Bennett, 1999. By now, I'd settled into buying the same seats every time (middle of the sixth row), from which we watched Bennett, on top form, give an intimate masterclass in the great American songbook, including an a-cappella 'Fly Me to the Moon'. I tried to persuade my parents to come and they declined, then regretted it.
Elvis Costello – The act I've seen most often (thirty plus times. I've only seen Gaffa more, and Richard Thompson around the same number of times, but none of RT's best shows were at the Concert Hall). My favourite (it's a tough choice) would be the 1999 show where he and Steve Nieve were touring the 'Painted From Memory' album, co-written with Burt Bacharach. A marvellous show, with many more ballads than you would normally get in a Costello show
Brian Wilson – June 2002 (complete Pet Sounds). I'd seen his comeback show at the Royal Festival Hall with Mike Russell and the most star-studded audience going, but Brian was on better form at this one. As I told his wife Marilyn, who was sat next to us in the middle of the sixth row. She said she'd pass it on.
Andy Williams – July 4th, 2007. The night Andy retired and a surprisingly great one. I wrote about it here.
Smokey Robinson – 2007 (with Marv Taplin on guitar). American's national poet. This would probably be in my top two. A wonderful night, which I couldn't resist blogging about at the time.
Lou Reed, Berlin show, Jun 2008. Front row seats to see Lou perform his best album (and encore with 'Rock'n'Roll). Absolutely brilliant.
Paul Simon, June 2011 (So Beautiful or So What tour). I took my dad, a longtime Simon fan, to this one, which he loved. We also went to this together, a rare jazz gig at the Royal Concert Hall. All of the star acts, sadly, are no longer with us.
Burt Bacharach, July 2015. 'A pure joy'. The poster for this is in our downstairs loo. My review.
ABC/Kid Creole – November, 2017. My partner Sue and I were both at Kid Creole's only previous Nottingham appearance – at Rock City, 35 years earlier – though we didn't meet until the following year. This would have to be my favourite support act, 45 minutes of tight hits, followed by one of many memorable ABC gigs I've seen in the venue. Review.
The Kanneh Mason family – June, 2021. This was a socially distanced gig, delayed from Valentine's Day due to another lockdown: a beautiful, joyous occasion where each member of the family performed solo as well as their performing together. One of only a handful of classical concerts I've been to, though we have just booked for the Ukrainian National Symphony Orchestra in a year's time.
Nick Mason's Saucerful of Secrets April 2022. Glad I went to see this revival show a second time, as the setlist had expanded to include a terrific 'Echoes'. The first gig I ever went to was Pink Floyd's Meddle tour at Liverpool Empire: my fourteenth birthday treat, back in February 1972. That night, the first set was 'Eclipse', which later became 'Dark Side of the Moon'. The second half began with 'One of These Days' and concluded with 'Echoes.' 'Saucerful of Secrets' was the encore. Earlier this year, I went to see this show with my brother, Paul. The second half began with 'One of These Days' and concluded with 'Echoes.' 'Saucerful of Secrets' was the encore. Fifty years of gigs, eh? It was pretty bloody special.
We also talked about comedy at the venue (my favourite by a long chalk, Bill Bailey) and were asked what artists we'd love to have seen at the venue who had never played there. I mentioned Neil Young and Sigur Row, who are finally doing a gig there next month (after being due to play in 2012). Neil mentioned Bob Dylan, who had a gig pencilled in just before the pandemic (Bob's now playing the Arena this week, and I'm going, but oh how I would have liked to see him play in a dedicated music venue, for only the third time in sixteen or so shows). But then he threw a real curve ball. Turns out that Prince, when he rescheduled the Piano and a Microphone tour in 2016, had pencilled in a show at the Concert Hall, one that wasn't on the original, pulled schedule. But then he took that fatal overdose…
Thanks to David Longford for inviting me to participate. It was a blast. As was recalling all these shows on a rainy afternoon. So many I had to miss out. You can read about a few of them here. Happy gig going.