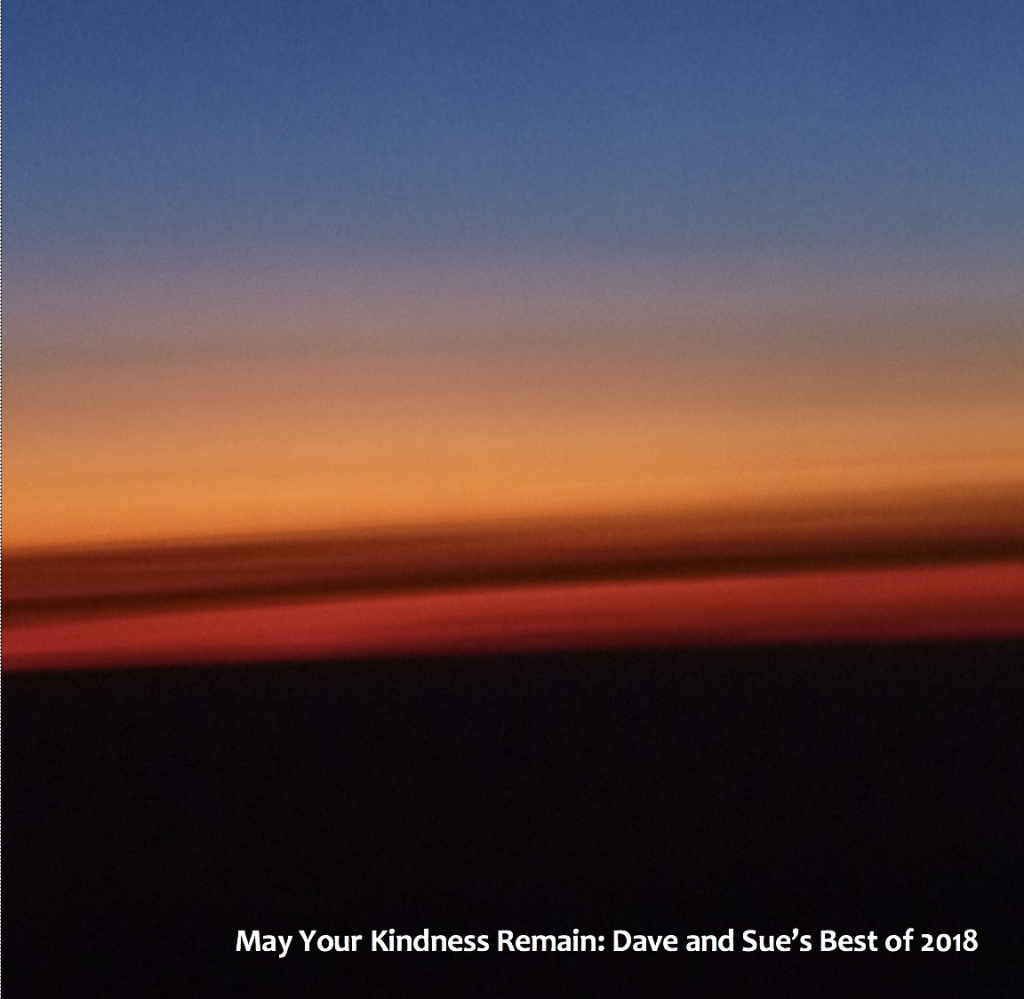 It's that time of year again. This is the thirtieth year in which I've made a best of the year compilation (on cd since 2000) to send out to friends instead of a card, and, for half that time, I've also written some online sleeve notes, updating approximately daily from today until New Year's Eve. I haven't posted this year's out yet, so if you're one of our regular recipients and don't want spoilers, look away. It's been a good year. I could have easily filled two cds worth of great stuff (I know somebody who sends out three) but selection and sequencing is all. I've broken a couple of my self-imposed rules this year. I'll explain that and discuss what I couldn't find space for at the appropriate juncture. But right now, it's on with the show..
Anna Calvi – Don't Beat the Girl Out of My Boy I saw Anna Calvi for the fourth time this year, second time I've seen her at Green Man and, while I always enjoy her, I didn't rush, arriving at the front of the main stage (you can do that at GM) halfway through her set, just in time for this song, which is timely and catchy as hell. She was in great form and this number – which Sue insisted I move to the opening track – takes her to a new level.
Rolling Blackouts CF – Talking Straight The CF stands for Coastal Fever. Nearly made a pilgrimage to Leeds to see this Australian jingle-jangle band, whose first full album, Hope Downs, soundtracked many open top journeys in our MG this long hot summer (on cassette, with bonus tracks from their EPs). But then I saw they were on at Green Man, where they filled the tent, and were great fun. Nothing else in their repertoire quite as catchy as this, mind.
Ry Cooder – Straight Street I've been a huge Ry Cooder fan for over 40 years, since I first saw him (twice) at the Cambridge Folk Festival. He's one of the only artists I still collect on vinyl (the others are War on Drugs and Arctic Monkeys). Sadly, I didn't get to see the only UK show on his recent tour, but I've heard recordings and he's in fine form, as this track from Prodigal Son demonstrates. Cooder's deep love of Americana of all kinds blends folk, blue and soul to the point where definitions are meaningless. I wasn't going to put this track after the last one – bit cheesy I know – but what the hell. Some copies of the disc cut this off a few seconds early due to my trying to be clever with fades. If yours does, sorry: hear the ending below.
Robyn – Honey Here's an interview with Robyn that explains the long gap between Honey and 2010's brilliant Body Talk. The first act on the CD that I've never seen live. We plan to rectify that in Amsterdam next year. Hard to pick between this and opener Missing U. Title track is so seductive, catchy and danceable tho'. Robyn is the best pop singer in the world, period. This is the best pop album of the year (though one artist coming up runs it close).
David Byrne – Everybody's Coming To My House In a year of great gigs, David Byrne at Nottingham Arena was the most remarkable, for reasons that Sean at the Post describes well. This song, reminiscent of Talking Heads at their most elated, was the get the party started bit of the show and led into a transcendent double shot of my favourite Talking Heads song, This Must Be The Place, followed by Once in a Lifetime. Wonderful.
Arctic Monkeys – Four Out of Five Hard to choose which song to use from this album, which divided some fans, but felt like a step forward to me, packed with great songs and a more cohesive whole that some of their earlier efforts. In the end it came down to this or The Ultracheese. Didn't get to see this Monkeys tour. You can't go to everything, as Sue often reminds me.
Kurt Vile – Loading Zones We got the idea for a best of year compilation from our old friend, John Harvey, who began doing an annual cassette sometime in the 80s, continuing well into the 90s. Our first BOY was a side of a cassette for him in 1988, which we broadened out for friends the following year. I organised a bunch of birthday tributes to John on the UNESCO City of Lit site. Here's mine. And here's Sue's. And here's Kurt Vile.
Phoebe Bridgers – Motion Sickness Rules are made to be broken. This came out last year, but nobody I know heard it until this year. I first heard Bridgers when we were driving to Green Man. Henry Ward had made a playlist of all the acts & it sent us to the Walled Garden (the smallest stage) to see her band play a terrific set (include a timely Gillian Welch cover). Bought her album at the Rough Trade store straight after, and it's been my most played album of the year, packed with earworms. This acerbic song is, she says, about a brief fling she had with Ryan Adams, the guy who was playing in a band when she was born and sings in an English accent. Never thought of Ryan's singing accent as being English, but then I saw a bunch of English acts at the Cosmic American party last week, and all but one (exception: Peter Bruntnell, whose forthcoming album may feature on next year's compilation) they all sang in US accents. Compared to them, Ryan sounds very English. He jumped the shark some years back, but Bridgers is on the way up. Check out the debut EP from trio boygenius (with her, Julien Baker and Lucy Dacus) as well. Surrender to the sound indeed.
Courtney Barnett – Charity Wasn't so taken by Barnett's 2015 debut as many people but loved her duo album with Kurt Vile. Tell Me How You Really Feel raises her game with catchy, grungy tunes and strong lyrics.
Kacey Musgraves – Slow Burn Until Robyn returned from the wilderness, this was the pop album of the year, Musgrave's pure country voice combined with a fine set of pop songs. She played all of it at the concert hall earlier this year and, while the friend I took missed the country side that is rapidly fading from her act, she was clearly a superstar in the making. This song was, evidently, inspired by microdosing on LSD. Which is like saying a drinking song was inspired by a half of bitter shandy. To each their own.
Paul Simon – How the Heart Approaches What It Yearns You had me at the title, a friend said yesterday. Time to break another rule, as I don't usually include rerecordings of songs by the original artist, but I'm making an exception for Paul Simon's final album, of which this is the title song (In the Blue Light) since his music has been such a large part of my life for so long – one of the first 7″ singles I remember buying was 'Bridge Over Troubled Water'. And this jazzy rerecording of what seemed a minor song on a minor LP (the One Trick Pony OST) reclaims and reinvigorates the song, showing it to be one of his best. It was also, incidentally, the number that proved most efficacious in road testing first a new CD player and amplifier and then the new speakers I then realised we needed. Yes, it sounds fantastic on our new system.
Richard Thompson – Trying Easy to tell which RT figured was the strongest song on his new album, 13 Rivers, because he saved it for the RCH encore (my review). This number has the feel of the 80's Thompson band, which I saw a lot (who am I kidding, I've seen every incarnation an awful lot in the last 41 years, probably 30 times). The break-up of his second marriage seems to have inspired this edgy set. Enough guitar to remind you that he's one of our greatest players, too.
Franz Ferdinand – Lois Lane Another band I reviewed this year, and they were in corking form. Even Sue, who finds Rock City hard to take these days, had a ball. This is the stand-out track from the new album and one of the highlights of the show, saving its middle eight for the conclusion of the song, which is risky, but works when the middle eight is as good as this one.
Dirty Projectors – What is the Time? Wonderful wonky funk. Thanks to Mike A, for pointing out that I labelled this as being by the Hidden Projectors on the cover. Next year I promise to put on a track by the Dirty Cameras, recombining two of my favourite bands. Finally got to see this one at Green Man this year, and they were wonderful. This track was Sue's earworm from the new CD. The album Lamp Lit Prose is fantastic.
Young Fathers – In My View Sticking with the funk, here's another band who get better and better. Winning the Mercury with their debut, 'Dead', tends to obscure how strong that album's successors have been and Cocoa Sugar is a tight, tuneful joy on which this is, for us, the stand-out.
The Good, The Bad and The Queen – Merrie Land Damon Albarn with Paul Simenon from The Clash and Tony Allen, the classy drummer whose jazz band we saw the Howard Assembly Room in Leeds earlier this year. 'If you're leaving can you please say goodbye' begins the languorously lovely title track of the band's second album. Could be a theme emerging…
Elvis Costello & The Impostors – I Let The Sun Go Down The new Elvis, 'Look Now' is an absolute corker. This may not be the most obvious track from a pop and soul dominated album, being more reminiscent of early 80s Elvis (quite possibly inspired by a US tour playing Imperial Bedroom songs), but that's my favourite Elvis period – if pushed – and this song, while ostensibly about the end of Empire, is clearly about something else, too. 'John Bull got caught with his pants down again'. Outstanding stuff.
Janelle Monae – Americans There are bangers, in current parlance, and then there are absolute bangers. Monae's Dirty Computer is terrific, one of the year's very best albums and this is the best track on it. On Friday night, I DJed at a seven by seven singles night at The Bay Horse in Pitsmore. Wish I'd had this track on a 7″. Maybe HMV could have sold me a copy…
Catrin Finch and Seckou Keita – Listen to the Grass Grow This one's Sue's choice, but I'm also a big fan of 'Soar' and loved the gig we saw them do at new Nottingham venue, Metronome, a few weeks back. A breather before the last track and the point where I usually explain that Sue has a veto over track order and selection. This year, she changed the opener and closer (originally Monae) and vetoed Simon Felice's The Projector (too depressing, evidently, but it's a great album – despite or perhaps even because it's so suffused with sadness). In years gone by, when we had a working CD recorder, so making a CD was more akin to making a mixtape than a Spotify playlist, I used to burn a second best of CD, just for us. 2018's might have included: Christine & the Queens, Suede, Sleaford Mods, Field Music, Griff Rhys, Ezra Furman, Rosanne Cash, Cat Power, John Hiatt, The Breeders, Rod Picott, Joan as Policewoman, Calexico, Charles Lloyd, Cowboy Junkies, Me'Shell Ndegeocello, boygenuius, Ariana Grande, Lump + (only excluded because, like Paul Simon, they were rerecording old songs) The Jayhawks and Will Oldham/Bonnie 'Prince' Billy.
Courtney Marie Andrews – May Your Kindness Remain Originally this and Monae were reversed, but this conclusion has a message you can't argue with and a delivery that's southern country soul at its belting best. Sorry to miss Andrews' Cosmic American Music show at the Rescue Rooms but I was on my way back from Green Man, where I'd seen her on the main stage the day before. A great performer, with something of Janis Joplin, and a terrific, timeless album in what has been an excellent year for music, both live and recorded. Here's hoping that music, at least, keeps delivering in 2019. And, while it's hard to feel kind towards the liars dragging our civilisation down, may our kindness remain. We're gonna need it.