Saturday, January 27, 2007
Holiday Reading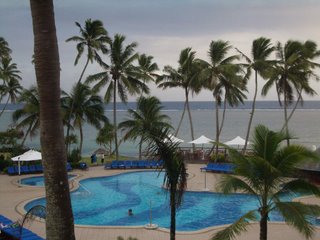 This year's holiday reading post is rather earlier than usual as we've just (a jetlagged week ago) returned from a long break timed to celebrate the end of my research leave and the beginning of Sue's (I had a very productive period, thanks very much).
David Peace - The Damned United
Not read Peace's earlier novels but the word of mouth on this was so good I had to check it out: a cleverly constructed, engrossing account of Brian Clough's 44 days as manager of Leeds United combined with flashbacks of his managerial career up to then. You don't need to be a football fan to enjoy this. The Clough voice convinces, allowing you to love him and understand what a nightmare he could be to work with.
Kate Grenville - The Secret River
Wasn't sure I was going to like this at first, as the opening section felt rather like a historical novel aimed at children, which I wasn't in the mood for. However, once the story gets to Sydney, where it explores how a convict gradually becomes a rich man and, in particular, his changing relationship with aborigines he encounters, this becomes a strong, intelligent read, particularly if you happen to have just been to Sydney (hello Nicola and Pola, thanks again for everything).
Barney Hoskins - Hotel California
Wasn't sure how much I had to learn from this account of LA singer songwriters from '67-76 and was most tempted by the bonus section on Judee Sill, but this turned out to be a compulsive read, with loads of original interviews and material I hadn't seen before. Teen prodigy Jackson Browne impresses, giving up spliff as everybody else is getting started, the better to concentrate on his songwriting, then sleeping with just about every female star I fantasised about as a teenager. Essential reading for musos of a certain age.
Jan Potocki - The Manuscript Found In Saragossa
A thousand page quest novel that anticipates David Mitchell's 'Cloud Atlas' by more than two centuries, cutting between stories within stories within stories, awash with sex, ghosts and disputes about Islam, this felt remarkably contemporary and made for great concentrated beach and plane reading (and quite a bit of it was read by the swimming pool pictured from our balcony on Fiji). I got through it in four days - you certainly need to read it quite quickly to keep all the plotlines in your head, but for an early 'experimental' novel it is immensely readable, unlike say, Danielewski's recent 'Only Revolutions'. I cottoned onto this, a masterpiece often compared to 1001 Nights, thanks to a review in the TLS and put it on my Amazon wishlist, thanks to which it became a surprise christmas present. Fine translation by Ian Maclean. Jan Potocki killed himself in 1815. 'The most credible story is that he blew his brains out with a silver bullet, which was modelled from the knob of his sugar bowl and first blessed by the castle chaplain.'
Henning Mankell - Faceless Killers
I've heard mixed reports about Mankell and thought it was time to check him out. This is a good plane read, a bleak crime novel in much the same vein as the rather less prolific Icelander Arnaldur Indridason. I saw in Waterstones yesterday that the first eight are now available, with numbers on the spine (I kind of wish we'd done this back when I was writing the twelve book 'Beat' sequence). I'll be back for more, but not in a huge hurry.
Graham Marks - Tokyo
I don't usually read young adult fiction on holiday, but Graham writes a cracking thriller and, as we were visiting the city of the title on our way home, this was irresistable. It didn't disappoint, giving a great sense of aspects of Tokyo in a well plotted, fast moving story. While we were there, we passed this on to our friend Jan Dodd, who's busy updating the 'Rough Guide to Tokyo', so expect to read about it in the 'Books' section of the next edition.
Christopher Priest - The Prestige
Not read Priest before, but had to check this out after seeing Christopher Nolan's brilliant movie, to see how much of the plot he'd got from the book. It's a good read, but it has to be said that Nolan took the ideas from the novel and significantly improved them, changing the plot considerably. See the movie, then read the book.
Daniel Woodrell - Winter's Bone
Over on pulp.net, Woodrell is mentioned as being unknown here, which I find odd, as I think he's one of the best writers working in the U.S. today (he started out as a crime novelist and is best known perhaps for the 'country noir' 'Give us A Kiss' or the western 'Woe To Live On' which Ang Lee adapted into a fine movie called 'Ride With The Devil'). This is a short, spare, bleak novel about a sixteen year old girl whose speed producing father has disappeared before a court date, leaving the family home at the mercy of the bailiffs. I meant to dump my cheap proof copy when I'd read it, but it's a novel so good I had to hang onto it, overweight baggage and all. If Woodrell is a best kept secret over here, it's a crying shame.