Sunday, December 09, 2007
2007 - the sleevenotes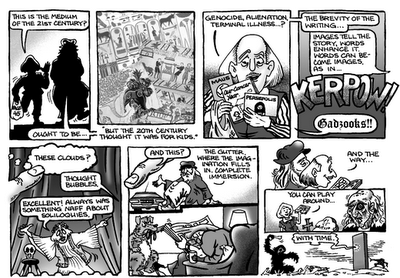 I've had some problems with ftp servers recently or I'd have written about graphic novels, my friend
Brick
(
John Clark
) and today's Nottingham visit by Posy Simmonds (as lovely a person as expected) and Bryan Talbot (whose 'Alice In Sunderland' is fantastic). Above are a couple of panels from the second page of a two page spread that John and I have done for the third issue of Tripod Magazine, just out, a literary mag that covers Derby, Leicester and Nottingham. You can hear the Tripod podcast and get info on how to obtain the magazine
here
. The story is called 'If Shakespeare were alive today' and the plot concerns Shakespeare and Da Vinci being transported to the near future where they're forced to work on, respectively, soap operas and weapons systems. But both quit, meet up in a comic shop and, having discussed which is the best art form around, decide to collaborate on a graphic novel. The artwork is, of course, by John. You can blame the story and most of the words on me. And now, on with this year's pantomine,
This is the twentieth time I've done a best of year compilation and it's the third time I've put sleeve notes up here. I'll write up a track a day until new year's day. If you're one of the friends who might receive one of these compilations, you may want to look away until your copy arrives (the first ones go off to Canada and Australia tomorrow, in time for last posting dates). To my mind, the first time you hear a compilation it's best not to know what's coming next.
A fair bit of time goes into the selection and sequencing of the CD and every year, there are things I hate to leave out. On the whole, I've tended to skip artists who have appeared on many previous best ofs (sorry - Wilco, Lucinda Williams and Steve Earle. Yes, Joni, I know it was your comeback, but it really wasn't up to scratch). A couple of big hits got squeezed off at the last minute to fit on bigger priorities (at one point, the compilation began with 'Umbrella' and sure, it was the song of the year, unless you count 'Rehab' which kicked off last year's cd, but I could do with a rest before I hear it again). At least a quarter of the songs are on here because Sue insisted on them, which isn't to say that I wouldn't have chosen the same tracks, such as:
1 Orchestra Baobob - Cabral
A magnificent, swinging start from one of the world's most long-lived dance bands. Still gutted that we didn't get to see them live on their short tour. They did finally add a gig within striking distance (just) but we already had a ticket to see the act at track 6, who didn't disappoint.
2 Maximo Park - Books From Boxes
'Our Earthly Pleasures' is one of the albums of the year and it starts with a three song set of incredibly strong songs, of which this feels the most apposite (and catchy). I've had to empty my university office and our dining room with its two alcoves full of shelves this year, then put everything back again (Sue will explain how come we've had to throw out book after book to Oxfam/the garage/attic but still have expanded room for poetry). This one's for Carol.
3 Of Montreal - Suffer For Fashion
A band I discovered this year via a dodgy download. I think I was curious about the album title 'O Hissing Fauna, You Are The Destroyer' which sounds, frankly, mad. This is catchy, manic pop music - T.Rex meets the Flaming Lips. And live, as Jo and I discovered at The Social, they're wild, occasionally wacky and utterly absorbing. I have no idea what any of their lyrics are about, but the words sound good too.
4 The White Stripes - You Don't Know What Love Is (you just do what you're told)
Nothing obscure about the lyrics of this one, a big, crunchy piece of blues pop with the wit that, along with Jack White's inimitable voice, lifts this pair above their seemingly endless queue of aspirant imitators. And, talking of the blues...
5 Jackie Leven - Blues Run The Game
I first heard this song a couple of years ago, when Bert Jansch played it from a few feet in front of me at The Maze. What a great song, I thought, but when I heard Bert's 60's recording, it didn't have the same quality. Sometimes a number needs to find its time and this year I've heard no less than five versions of this song, four of which were new to me. The 1965 original, by
Jackson C Frank
is very good, if a little mannered in places. Then there's a better version of the home recording bootleg by Nick Drake (on 'Family Tree') which is of only passing interest. A version by Frank's erstwhile girlfriend, Sandy Denny, appears on the 'Live At The BBC' box set, and it's better than the first three mentioned (I love Sandy's voice) but, as with Frank's original, it sounds like a young person trying to come over old and wise. The audience recording I have of the Jayhawk's Gary Louris playing it solo (as an encore, set closer) is very good, and I wouldn't mind hearing the 60's Simon and Garfunkel version (Paul Simon produced Frank's first album, which includes his recording of the song). But all of the above pale next to Jackie Leven's version of the song, which he's been playing in concert this year (it appears on an album by 'Sir Vincent Lone', though the version on our CD is from a BBC6 session).
Jackie's one of the most expressive singers in the country and I've been following his work since seeing him play with Doll by Doll back in 1979. He's had some tough times, including a brutal attack that nearly cost him his voice and led to heroin addiction. The vocal in this wry, tender song is that of somebody who's earned its world weary attitude. The solo performance (with just a little percussion - Jackie banging the guitar body) meshes perfectly with the song's simplicity. It's not just the song that's haunted me all year, it's this version. Jackie tours constantly, usually playing small venues, and if you get the chance to see him, go. He's one of the best singers and songwriters we have (check out his new song about another of my heroes, Kevin Coyne, 'Here Come the Urban Ravens' on 'Oh What A Blow That Phantom Dealt Me') and also one of the funniest raconteurs around. I'd say a national treasure, only he's very Scottish and might object. A man to be treasured.
6 Vieux Farka Toure featuring Ali Farka Toure - Tabara
While the group from track one were in Warwick we were grooving to the son of the late Ali Farka Toure, playing numbers from his outstanding self titled debut album at the Leicester Phoenix. This track features father and son playing together.
7 Kevin Ayers and Bridget St John - Baby Come Home
Thirty odd years after their last duet, Bridget joins Kevin on his fine comeback album, 'The Unfairground'. I've written loads more about Bridget below (just scroll down to the end of this post) so I won't go on more, except to say that this warm, gentle, folky number is, for me, the album's stand out track.
8 Robert Wyatt - A Beautiful War
I was discussing Robert Wyatt's album, 'Comicopera' with my brother Rich last night. The gist of what he was saying was, 'yes, it's a slightly better than average Robert Wyatt album but so what?'. The gist of what I was saying was that I find it more varied and interesting than Robert's other recentish albums which have, anyway, been of a consistently high standard. It's crept up on me. I like the way that it's in three suites, and I've got it on three sided vinyl so that I can listen to a suite at a time. Sweet.
9 Spoon - Don't Make Me A Target
One of the highlights of this year's Leicester Summer Sundae festival was at last getting to see Spoon. Five minutes before they were on, I was one of a dozen people standing at the front of the De Montfort Hall, thinking 'maybe nobody's heard of them'. One song into their set, the place was rammed and a fantastic 45 minutes followed. 'Ga Ga Ga Ga Ga', their new album, is full of tight, funky, edgy pop songs, often built on a single riff, that get stuck under your skin.
10 LCD Soundsystem/Franz Ferdinand - All My Friends
Now that all of the best of year lists are floating around, it looks like LCD's 'Sound of Silver' is the consensus album of the year. It's a good album, though there's nothing quite as wonderful as 'Losing My Edge'. It doesn't send me into raptures. This song is a potential single of the year though - the album's best track rerecorded with Alex Kapranos from Franz Ferdinand on vocals in what I think was a 7" only release. Magic.
11 Ryan Adams - Two
This was the year when Ryan quit drugs, stopped acting the prima donna on tour and released one well-balanced, shortish album rather than three (one a double). I saw him play two great gigs in Nottingham in the space of ten months. And 'Easy Tiger' is my favourite Ryan Adam since 'Heartbreaker'. 'Two' was a single and is a gorgeous ballad that got under my skin from the very first play.
12 Vampire Weekend - Cape Cod Kwassa Kwassa
As did this one, not out yet (from a CDR), but here thanks to the excellent music site
Said The Gramophone
where my buddy Sean currently has his favourite fifty songs of the year available for download (for a short time only, many thanks, Sean). I don't know much about this group except that a) they're very young and b) they're playing New York my first night there in January. I'm sorely tempted, jet lag, conference and all (damn, just checked and it's already sold out). I wanna hear lots of hip New Yorkers singing 'feels so natural, Peter Gabriel too'. Since this song isn't out yet, I won't go into the finer details of teenage sex and being influenced by your parents' record collections but take my word for it, even if you don't go over to STG and download it, you're going to be hearing a lot of this band, and soon (read what Marcello has to say about the song
here
).
13 Tinariwen - Assouf
Desert blues at its finest from another of the live bands of the year, from the superb (and suberbly titled) 'Water Is Life - Aman Iman' album.
14 Arctic Monkeys - Fluorescent Adolescent
Single of the year. 'You used to get it in your fishnets, now you only get it in your nightdress'. Alex has since admitted that his girlfriend helped him with the lyrics. Good job all round.
15 Richard Thompson - Poppy Red
Richard releases so many good albums that it would be easy to miss him off this year, but Sue's a big fan too. She saw him play a great outdoor solo show this summer while I was seeing a poor Prince one. Plus this song reminds me our walk at Yorkshire Sculpture Park with Richard and Alison earlier this year where we encountered a magnificent field of poppies (click on the archive for August). Oh, and, while think about it, no Dylan this year, but the double album accompanying the movie 'I'm Not There' is full of wonderful stuff, best of all the long unreleased title track, one of Dylan's masterpieces. And the movie is exhilarating, wonderful, though you probably have to be a bit of a Dylan freak to feel so strongly about it.
16 John Fogerty - Broken Down Cowboy
I've been a massive fan of Fogerty since Creedence Clearwater Revival's 1970 hit, 'Bad Moon Rising' and it disappoints me that he hasn't made a good album since 1985's 'Centrefield'. The odd good track, but you could fit his thirty year solo career onto a one CD best of, until now. 'Revival' is a good listen all the way through, with several highlights, best of which is this achingly tender ballad, which recalls the Creedence of 'Have You Ever Seen The Rain?'
17 The Hold Steady - Stuck Between Stations
Bar band of the year. At first, hearing their Springsteen meets Petty with grungier lyrics power pop I found them a bit calculated, then the hooks got me and fell hard, downloading their earlier albums and looking forward to seeing them at Summer Sundae. Unfortunately, they cancelled, and I was in Greece for their Nottingham gig. Next time.
18 The Arcade Fire - Ocean Of Noise
I saw the Arcade Fire on their first UK gig after the release of 'Funeral' and they were fantastic. Hard to believe that so many people could fit on one small stage. I thought then that they'd make the leap to arenas well and so it proved this Halloween, when they performed a fantastic show in Nottingham. The only disappointment (apart from the idiot who threw a glass at Win, though in the end that only served to increase the intensity further) was that they didn't play this track, a brooding number that's one of several highlights on a rich, diverse album that, at times, saw them compared to our next artist.
19 Bruce Springsteen - Long Walk Home
I first heard 'Magic' as an advance MP3 copy and on little speaker it sounds fine, full of catchy Bruce-lite numbers that recall former glories without overwhelming them. On hi-fi with big speakers, though, the released album is muddy, over compressed. The most adventurous new song, the lovely 'Girls In Their Summer Clothes' (about a middle aged man being ignored by beautiful young women on a summer night - now how come I relate to that?) didn't fit right on the cd when we put it on an early draft, so we went with the one that most sums up classic Bruce style and themes. Showing the kids on the two tracks before how it's done, and that he can still do it.
20 Mavis Staples - Turn Me Around
Ry Cooder produced the fantastic album this is on,
We'll Never Turn Back
, which I find far more exhilarating that his last two solo albums. It's a terrific selection of souled up folk songs, many to do with civil rights. 'We Shall Overcome' apart, none feels over familiar and, taking on the boss head-to-head, she outstrips Bruce on a couple of the same songs he toured with the Seeger Sessions band last year. Mavis revealed this year that she and Bob Dylan were on-off lovers for some time in the sixties and
We'll Never Turn Back
makes a lot of sense of tat. I loved the Staple Singers stuff, and her album with Prince, but this is the album that seals her legend.
21 Ibrahim Ferrer, Omara Portuondo, Roberto Fonseca - Quizás, Quizás
And here we are at New Year's Eve. Just back from the post depot, where I paid £1.24 to get a handmade, unstamped christmas card in a rather tasteful musical notation envelope. Christmas guests gone, I've been immersed in reading. At the weekend I finished Lloyd Jones' excellent 'Mister Pip' then devoured the final Philip Roth Zuckerman novel, 'Exit Ghost' which I've been saving up since publication. It didn't disappoint me. At first. There are, it has to be said, a couple of playscript sections that seem to belong to Roth's self indulgent 'divorce from Clare Bloom' period and the ending is underwhelming, but never mind. The novel sent me back to reread the first of the five Zuckerman books (or eight, if you include the ones where Z plays a lesser part). I loved 'The Ghost Writer' when it first came out but haven't read it since. Do the two books, written 27 years apart, hang together? So far, so good. I Hope this last track on the cd, an elegaic number from Ibrahim Ferrer's wonderful final album 'Mi Sueno' provides a satisfying ending, or, at least, tempts the listener to go back to the beginning of the disc, start all over again.
Happy New Year.