Thursday, July 19, 2007
'Heroes' and 'The Wire'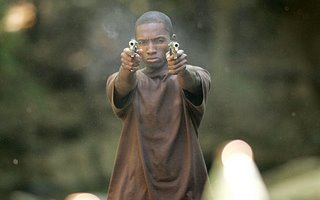 I don't tend to write about telly here. That's not because of snobbery on my part. I suspect I watch as much TV as the next Sky+ user. Usually it's less in the summer because we're sitting outside until it gets dark, but not this rain soaked year. No, I don't write about the TV I watch because my tastes tend to be pretty well reflected in the broadsheet type media that I read, and what's the point of writing 'me too, me too' when there are so many more obscure things to bring to people's attention?
However, I was at the end of year party with some of my MA students last night and realised that none of them had even heard of 'The Wire', the fourth series of which just finished on FX. And the only one who was aware of 'Heroes' (Sci-fi channel and, from next week, BBC2) knew about it because I kept banging on about the show in our tutorials about his sci-fi novel.
So, this week, instead of raving about the great Rescue Rooms gig I just saw by The National (just get their album 'Alligator' - trust me on this) or the great novel I'm reading ('Then We Came To The End' by Joshua Ferris, first novel I'm come across written in the first person plural ie 'we' voice, and, so far, it works really well), I'm going to talk about my favourite TV shows.
I grew up on Marvel and DC superheroes. Nine or so years ago, a well known editor asked me what, in the wake of 'Love Lessons', I wanted to write next. Come on, he said, what would I
really, really
like to do? I talked about exploring the concept of superheroes and at once, his eyes went blank. I soon changed the subject and never wrote about people with super powers. I didn't have an angle. The only superhero I'd invented was the short-lived
Poohboy
(written by me, artist, I'm ashamed to say, forgotten), the only issue of which was confiscated by my primary school form teacher at Our Lady Of Pity School in Greasby when I was 9 or 10. On that evidence, I doubt my secret abilities to come up with anything half as exciting as Ted Kring's high concept, multi-character, utterly engrossing story of people with secret superpowers who come together to prevent an apocalyptic attack on New York, while being pursued by a super powered serial killer.
If this premise sounds absurd, skip a couple of paragraphs. 'Heroes' is high class science fiction that wipes the floor with every superhero movie I've seen. The complex storyline is kept clear throughout, with shocks and twists aplenty. The telling owes more to graphic novels than it does to, say, 'Buffy The Vampire Slayer' (Although Clare, the one teen character, is a bit Buffyesque) and has little to do with the costumed superheroes you might remember from your youth (OK, one of the guys can fly, but that's about it).
I have two episodes of 'Heroes' left to watch and I'm saving them up. It starts on BBC2 next week and evidently the Beeb have bought exclusive rights to the second season, so I'll have a long wait to see it, but I don't mind, because the Beeb are showing it in widescreen and I'm fed up of the cropped 6:9 satellite TV image. This is a sci-fi series with stories better than anything you'll see at the movies, and it cries out for the best picture possible.
If 'Heroes' stands up to the best graphic novels (think 'Watchmen') then
The Wire
could be the great realist novel of our age, up there with Philip Roth in the last century or Dickens in the one before. It's the third
David Simon
crime series set in Baltimore (after the wonderful 'Homicide: Life On The Streets' and the mini series 'The Corner', which led directly to the first series of 'The Wire'). But 'crime' hardly covers it. I love 'The Shield' and 'The Sopranos' but 'The Wire' is deeper work. There have been four series so far, each of twelve or thirteen episodes. The effect of each series is cumulative - it isn't until the fourth or fifth episode that you're utterly hooked. Unfortunately, the first series is the hardest to get into, not because nearly all of the characters are black (although racism may be partly to blame for the series not showing on a bigger station) but because a lot of the street dialogue is, to English ears, very hard to follow. But stick with it, go with the flow and you'll get whats going on.
The first series concentrates on drug dealers, the second - determinedly more mainstream - on cops, corruption and the docks, the third on drugs and politics, the fourth on education. Evidently the fifth and final season will be largely about the mass media. The series has acting of the finest calibre, but none from anyone you've heard of (there's one guy from 'Queer As Folk' and another from 'Homicide' - that's it). The writing is epic in tone, uncompromisingly dark and complicated. Miss an episode and you're screwed. It deals with the most pressing contemporary issues, and it's fantastic television. 'Heroes' is terrific escapism, but 'The Wire' is social realism at its peak and, while that's not terribly fashionable or commercial these days, it's the kind of art I think is most worthwhile. We watched the final double episode on Saturday night without a break and were still talking about it on Sunday morning. How many shows can you say that about? We're living in a golden age of TV drama, and 'The Wire' is that age's most essential viewing.
'The Wire' reruns begin on Monday at 10PM on FX (Sky channel 165, Virgin 179) The first three series are available as dvd box sets.
'Heroes' starts with a double episode on BBC2 next Wednesday at 9PM on BBC2.
Monday, July 09, 2007
Smokey Robinson at the Royal Concert Hall
I've got this cotton shirt that only comes out once or twice a year, for parties where there is bound to be dancing to really good music and very special gigs. I bought it at a shop called 'Culture Vulture' on Hockley about twenty years ago (and it still fits!). A "CHARLIE Boo Boo" short sleeved cotton shirt covered with insignias for early rock'n'roll legends, from Fats Domino to Clyde McPhatter to the Big Bopper and the Diamonds, Buddy Knox, Eddie Cochran, The Crickets and loads more in a fetching orange, red and blue. The Miracles should be on there - they formed in 1955, so they're of the right era, but they didn't have their first hit until 1960, so they're not. The shirt cost me £25, in a sale, which seemed like a fortune at the time but has proved to be a good investment. One night I wore it to a party and someone tried to buy the shirt off my back, said I could name my price. It's that good a shirt.

Last night, I wore this shirt, and no-one noticed it. Because there, in front of our very own eyes but still hard to credit, was Smokey Robinson, who I've been listening to since I was ten years old (when I thought he was a woman). He's possibly the best soul singer, certainly the best soul writer of all time. When I heard that he was playing his first UK tour (ever - how strange is that?), I calculated how much I was willing to pay and how far I was willing to travel. Then I heard he was playing Nottingham's Royal Concert Hall, for about the same as it costs to see Bob Dylan in an arena (that's the Bob who referred to Smokey as 'America's Greatest Living Poet' back in the '60s, when many were keen to give Dylan that crown).

Before Smokey comes on, a blind old black guy wanders onto the stage and finds himself a stool. It looks like Marv Taplin, but it can't be, surely he's been dead for years? Then the band and string section arrive, and Smokey's preceded on stage by two go go dancers (one white, one black, both reminiscent of Pan's People - readers of a certain age will remember how this rather literal dance troupe used to interpret the songs of absent stars on 'Top of the Pops'). Smokey walks on, wearing a shiny purple dress coat that is terribly kitsch and therefore befitting a soul legend. Of course he opens with 'Going To A Go Go'. Before we know what's hit us, he's into 'I Second That Emotion' and 'You Really Got A Hold On Me (a song I first heard done by The Beatles) and it's clear that, at 67, his voice is as strong as ever. He slows it down for an utterly sublime 'Ooh Baby Baby' which draws a standing ovation. 'I should have opened with that one!' he says, then sings two songs he wrote for The Temptations, 'The Way You Do The Thing You Do' and 'My Girl.'

I could go on and on but I've already written about three gigs this last week, so suffice to say that he plays 'Tears Of A Clown' and 'Just To See Her' and 'Cruising' (I felt like I was on a cruise ship for the sing along with that, but never mind), enough hits to satisfy the casual fan and enough relatively obscure material to excite the stalwarts. His upper face may be frozen from plastic surgery but his smile is genuine, his outfits are appropriately retro, he works his arse off, playing the crowd like a pro. He introduces the band, the backing singers, the go go dancers, the local orchestra and his pianist/conductor. But only at the very end of the show does he acknowledge the blind, black guy who ambled onto the stage before it began. Smokey stays in the shadows, as the guy's stool is moved to centre stage and, picked out by a spotlight, the guitarist vamps on the opening to 'The Tracks Of My Tears'. It really is former Miracle Marv Taplin, who played guitar and wrote the music for several of Smokey's hits. Two legends for the price of one.

Thursday, July 05, 2007
Andy Williams says goodbye in Nottingham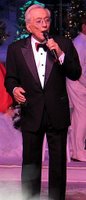 I wasn't sure about telling friends I was going to see this show, never mind blogging about it, as you don't get much more cheesy than Andy Williams. I was the plus one of my friend Mike, who was reviewing it for the local paper, and we were both there for much the same reason, to connect with our childhoods. The Andy Williams Show was regular Belbin family evening TV viewing and his 'It's So Easy' album was played a lot. And there's a connection to earlier in the week too, in that I saw REM play Williams' signature song, 'Moon River' the first time I saw them, at Rock City 23 years ago.
The show is something of a revelation. At 79, his voice is a little warbly at first, as he ploughs into 'Call Me', dressed in immaculate tux (he looks identical to the picture left), backed by a superb nine piece band and no less than four singers (who are only really needed for one song, which I'll come to). But when he goes into a medley including most of 'Can't Get Used To Losing You' and 'Love Story', his voice is fine, and I'm dragged back to the late sixties. There are a handful of ill advised cover versions from his new album thrown in throughout the shot (the less said about the other Williams' 'She's The One' the better, and I hope to hear Smokey Robinson play a better version of 'Just To See Her' on Sunday) but by the time he concludes the first half with 'Moon River', we're having a pur-reet-y good time, as Larry David would say.
The second half finds Andy in classic easy garb, embroidered black cowboy shirt and big spangly belt, doing his bossa nova routine. Then suddenly he's charging through a bunch of hits you've forgotten and seemed old hat at the time (well, I always liked 'Can't Help Falling In Love' but happened to have the Elvis original rather than Andy's UK hit - that said, it it was Andy's version I heard first). In tonight's context, they sound rather good: 'Solitaire', 'Home Loving Man', 'Happy Heart' and the aforementioned 'It's So Easy' which took me back to West Kirby and the smell of my dad's second Jag. The classic moment, though, and the one that drew me to write about this somewhat guilty pleasure was when the fantastic band began to play Jimmy Webb's "MacArthur Park', one of the most intricate, loopy wonderful pop classics ever recorded (by an actor, the late Richard Harris). The arrangement, which Williams energetically conducts, and the performance are stunning - it's a song perfectly suited to his voice and he owns it. The backing singers earn their keep with the full choral version. To hear Andy Williams belt out 'and someone left the cake out in the rain' would have been worth a night out on it own. A jaw dropping version. After that, it seems to be over, with the band introductions, but then it's back to really smelly cheese for a couple of new cover songs, before he pulls the show back with a terrific 'Theme From The Godfather'.
Finally, no big deal, he says how great it is to finish the tour in Nottingham. Then he adds what he's evidently resisted saying before, that this has been his last tour. He sings a few notes of farewell and he's gone, to a raucous standing ovation. A class act. I'm glad I caught him while I could.
Tuesday, July 03, 2007
Two Nights In Dublin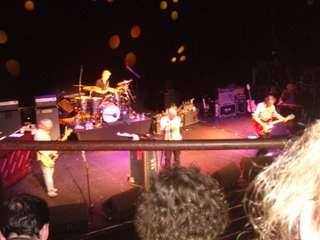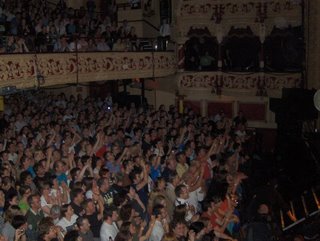 Just back from Dublin where Sue and I watched the first two nights in the Olympia (you can see us in the picture David Bell took left if you use a magnifying glass - we're fourth and fifth from the right in the third row of the balcony on the first night - the other picture is one Sue took of the band). Terrific little theatre, where we met up with the UK's biggest REM fan, Henry, and his son George before and after the show. Despite the 'rehearsal' nature, it was exciting stuff. The band's new material is nothing like 'Around The Sun', but often harks back to the glam rock end of 'Monster' and 'New Adventures In Hi-Fi'. The new song setlist was the same both nights, and it was interesting to see which songs stuck and which felt like filler. By the second night, when we were standing, we reckoned about two thirds of them were well up to scratch. 'Until The Day Is Done' felt like an album closer. (Michael worried he may have nicked the title - on the second night someone called out 'Nick Drake' twice, but that song, of course, goes "when the day is done"). The closing number of the main set, 'Horse To Water' sounds like a classic. In total, the songs sounded more typically REM than the last couple of albums, the REM of twelve years ago, or twenty five years ago.
This observation is perhaps reinforced by the choice of music played before the shows, bubblegum psychedelia like 'Circles' and the back catalogue songs ('chestnuts') they chose to perform. Although the words 'This Is Not A Show' appeared beforehand (flashed on and off first night, permanently the second), they threw in several oldies in the first set and encore. Main set first night: "Letter Never Sent," "Maps and Legends", "Second Guessing", "1,000,000" (first time I'd heard them do this since '84) and "Little America" (all pre-'85 songs) a top selection, enjoyed especially by my neighbour Jared, who had first seen them in 95 (hi, Jerad and Maura) - Michael said hi to Bono, The Edge and a huge bunch of people over from Athens. The encore was "These Days", "New Test Leper (odd tempo, didn't quite work), "Electrolite" and "I"m Gonna DJ" (an old "new" song, they finished every night of the last tour with it, sounds more like a B side than an album track but fits with the new stuff and any song with the line 'I'm collecting vinyl' in it has me on side).
Second night we got "Drive", "I've Been High" (both of these rather wonky, especially the latter) in the main set, together with a superb threesome of "Wolves, Lower," "Sitting Still" (where I scared my standing neighbours by leaping about) and "Disturbance At The Heron House" (great, never heard this done live before). Especially nice to hear "Sitting Still" as I'd just been reading J.Niimi's thoughtful, absorbing little book in the "33 1/3" series about the album it's from, "Murmur". The previous week, the Seven Ages Of Rock series credited the band and that album with creating 'alternative' rock. So it was great to hear REM playing songs that still sounded alternative, rather than crowd pleasing hits or AOR, a direction that a few of their more recent songs have crept into.
Were they playing such really old songs because they fitted their current mood or because they know they're their best songs or because it was easy for Michael to remember the lyrics (and improvise when he didn't)? Dunno. Michael talked about his lyric writing process both nights, in a demystifying but not quite convincing way (second night he claimed to have suddenly remembered, thru listening to the old songs, that the words didn't have to rhyme). He also made changes to at least one lyric, borrowing a pen on the second night to do so. "Second Guessing" had an intro both nights about how he used Peter, Bill's and Mike's name to self mythologise the group. He was reading lyrics from his computer (a black macbook like the one I use, but with a stencil saying 'IMPEACH' incorporating the illuminated mac logo). Two absorbing, entertaining not-shows - my only complaint would be that, at less than ninety minutes, they were too short.
We did some other stuff in Dublin too, the highlight a visit to Francis Bacon's fascinatingly chaotic studio at the Hugh Lane Gallery. Oh, and I got to stand in front of Bloom's front door from 'Ulysses', and drink a lot of Guinness, and look at the inventive ways Dublin pubs get around the smoking ban. And it didn't rain. Much.