Sunday, October 28, 2007
Reasons To Be Cheerful - 1, 2, 3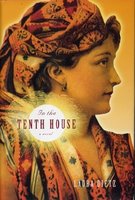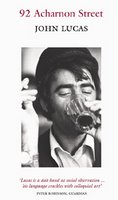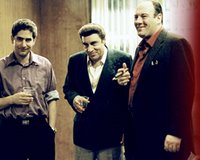 I was meant to be on gardening duty until the Liverpool game this Sunday afternoon but foul weather has intervened, which means I'm about to curl up with the second half of John Lucas's
92 Acharnon St
, a beautifully written, hugely entertaining account of the author's love affair with Greece. From finding that his new flat is on a street full of brothels, to ludicrous encounters with bureaucracy (especially in Greek universities) and numerous encounters with Greek poets, this is a terrific, often very funny read. I've been rationing myself, so haven't got to the sections about the island of Aegina, where we've been lucky enough to stay a couple of times. But soon.
While I hope that Liverpool give a good account of themselves against Arsenal, the whole of the day is a run-up to the last episode of
The Sopranos
. Can anything top the train set assassination series in last week's show? The last seven episodes have been slightly uneven compared to earlier seasons that made this my favourite television series. This time, I was relieved to get past the crucial plot point about Christopher that was revealed in a short story by Jay McInerney before the series even started showing here. The Guardian took some stick for not posting spoiler alerts before the story but I think the blame belongs firmly with McInerney. Why does a writer need to throw in a crucial plot point from the final story arc in an eighty hour epic? The way McInerney used it barely counts as characterisation. Would he have thrown in a crucial late plot twist from a major book by one of his peers, or even a classic? I doubt it very much. Giving a major spoiler that way speaks of a contempt for popular culture which I find risible. As a writer, McInerney is not in the same league as David Chase, or David Simon, who came up with
The Wire
. I think I smell sour grapes. Maybe he should stick to writing about wine.
A good launch earlier this week for the Crime Express series, three pocket size long crime stories (that is, long short stories rather than novellas) by Stephen Booth, Rod Duncan and John Harvey, which I've edited for
Five Leaves
that are already drawing great reviews. If you only check out one, try
The Mentalist
by Rod Duncan, currently the least known of the first three authors. It's a fast moving story about a clairvoyant that packs in so much plot it could be a novella. Its subject matter takes me to my third reason to be cheerful for the day, my bedtime read, which is Laura Dietz's first novel,
In The Tenth House
, a Victorian tale of seances, psychology and scams. It's wonderfully written and thoroughly absorbing so, like
92 Acharnon Street
, I'm doing my best to make it last. And, OK, she is a graduate of the creative writing MA I run (new web pages up any day now) but she was before my time so I really don't have to be nice about her unless I mean it. The novel's been really well reviewed in the US (where she's from) but virtually ignored in the UK (where she lives). Strange.