Sunday, November 25, 2007
The Return of Bridget St John (part 2)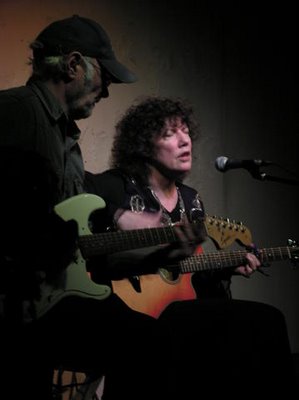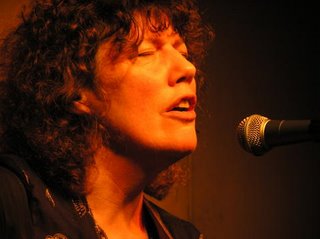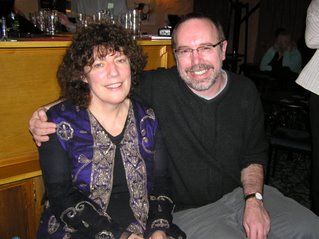 For the second time this year, a four hour plus journey to a gig with my brother, Paul (for Prince, the delay was motorway traffic, this time it was overcrowded, delayed Friday evening trains), but with a much happier result at the end. My pal Henry and his son George had saved us good seats in the small Greenfield Station folk club (a big room upstairs in the pub) for Bridget St John's first tour in more than thirty years.
I helped out at Bridget's penultimate UK gig in 1976, when I was an 18 year old in his first month at university. Bridget played a benefit for Liquorice Magazine at Nottingham's Victoria Centre, where she was second on the bill, followed by Kevin Coyne and John Martyn. I hung around with her a little before the show and, until a few years ago, I had a tape of the gig (where, despite always being a shy performer, she coped with a big, boisterous crowd, not all of whom knew her songs) which I listened to countless times before the chrome tape it was on began to disintegrate. When she appeared on a new single, earlier this year (scroll down a few posts), I wrote 'Who knows, maybe she'll even tour again,' but I thought it was a pipe dream. Just after the Nottingham benefit, Bridget moved to New York, where she failed to get a music career going but loved the place and had a daughter, who's now grown up.
Bridget gigs occasionally but had played only one UK concert in the last thirty years, a one off at Bush Hall that I couldn't make, until this tour - a workingman's club in London and a handful of folk clubs up north. The gigs were arranged by her old friend Michael Chapman, who I've met a couple of times but never seen play. This was a pilgrimage that had to be made, even though it meant missing my students' graduation ceremony (none of them seemed to mind - I made it to the party afterwards). Despite being by a station, there were no rail connections to be made, so my brother picked me up in Wakefield and we drove back to his home near Pontefract afterwards.
We made it to Greenfield (between Oldham and bleak Saddleworth Moor) with minutes to spare before Michael's fine, at times poignant, at others very funny, opening set, which Bridget sneaked in to watch. From a distance, she looked exactly like the thirty year old I met all those years ago. Up close, talking after the set, the only thing that had changed about her was that her soft London vowels have an American accent blended in. She was as self effacing as ever and perhaps less shy, though it's hard for me to tell, as I was a little starstruck, as you can probably tell from the photo of us together. She hopes to be back next year, she told me and there's a chance we'll get her to Nottingham.
The gig was wonderful. Bridget is in rich voice and the crowd were warm and intense. She began with her reworking of Dylan's 'Just Like A Woman', which might seem like an absurdly brave, potentially cliched thing to do until you hear it, a breathy, vulnerable interpretation that, by taking it into the first person removes all the condescension from the song. Then there was the first song she wrote on moving to New York, 'Lay Your Blanket Next To Mine' which reminded me of all the sensitive, sensual, allusive, qualities I admire in her work. There were other cover including: Devendra Banhart's 'The Body Breaks' and John Martyn's 'Back To Stay'. She played one of my favourites, 'Bumper to Bumper', A French song and 'the first song I wrote that I'd admit to', 'Lizard Long Tongue Boy'.
Bridget told several stories and explained that she'd played Japan earlier this year and found the audience requesting songs from her first album so had relearnt some of them, including the title track, 'Ask Me No Questions'. Michael Chapman joined her on electric guitar for a wonderful version of this and of Buffy St Marie's 'Lazarus' (which she'd dedicated to Henry's son George the previous night). Henry got his request for the encore, a cover of 'Catch A Falling Star' which she often used to encore with in the 70's (he's just emailed me to say that, at last night's final show, near Glasgow, he persuaded her to play Nick Drake's 'One Of These Things First' - Bridget played several gigs with Nick). We chatted with Bridget afterward and drove home buzzing with excitement at the wonderful, intimate show we'd just seen. 36 hours later, I'm still buzzing. There are reports on the shows from Henry and my brother on the Yahoo newsgroup that Paul runs, 'Whatevershebringswesing'. Thanks to Henry for taking both the photos above and, next year, watch out for Bridget St John - for me, a more exciting comeback than Led Zeppelin's.