Sunday, November 30, 2008
2008 - the sleevenotes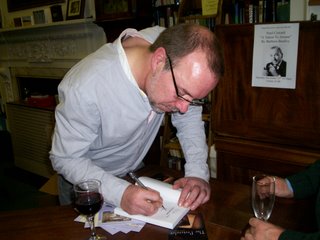 The best of year CD sleeve notes come a little earlier this year. If you want to read about my new novel
The Pretender
, scroll down. The picture to the left is from the launch at the wonderful Bromley House Library in Nottingham, which was a terrific evening, with family and friends going back more than thirty years, including former tutors from both my spells as a university student and many former students from my current spell as a creative writing tutor (thanks to Aly for the photo). And now, on with the show. This is the 21st of our annual favourite music of the year compilations for family and friends. Sleevenotes updated daily until done.
1. MGMT - Time To Pretend
I don't do a singles of the year list any more. I still buy singles, when I can find them, on 7", but cd singles are a waste of time. Most of mine are in the attic. If I did do a list, either this or number 16 would be number one. This is an exhilaratingly catchy, sarcastic song about the rock star life, one which most people who hear it would think is a celebration (cf Springsteen's 'Born In The USA' ). They were great at Rock City last month too.
2. Band of Horses - Is There A Ghost
Their album (Cease To Begin) came out in the US last year. The songs quickly became earworms when I listened to them while going round MOMA in New York at the end of January this year. Listening to appropriate music while going round art galleries alone is one of my great pleasures in life and this is haunting, ethereal country pop, easily the equal of the more heavily touted, more folky Fleet Foxes. And they were great live at the Leadmill in the summer, too.
3. Goldfrapp - A & E
I'm not entirely convinced by the bucolic, pastoral side that Goldfrapp have moved into on their fourth album. 'The Seventh Tree', but you have to applaud the way they reinvent themselves with each album. This song is dreamy and gorgeous, possibly the best thing they've done to date.
4. Sigur Ros - Vid Spilum Endalaust
The only trouble with doing a best of year cd early is that not all of the albums are out yet. Mark Olson and Gary Louris (ex Jayhawks) have a new album out today (Dec 1, as I write) which is bound to have some great stuff on it, while I've listened to the new Kanye West twice this weekend, and it's clearly the soul album of the year. Indeed,as there's a spare 2.45 on the CD I was trying to work out if I could shave a few seconds here and there and cram an extra song on. But no, it would spoil the flow. And I'm already annoyed I couldn't fit in Portishead's 'Hunter' at track 11. This is Sigur Ros singing a beautiful, happy song in what I assumed was a made up language but turns out to be their native tongue, Icelandic. What more could you want?
5. Black Kids - I'm Not Gonna Teach Your Girlfriend How To Dance With You
There's an endearingly shambolic feel to the Black Kids' hit. It's kind of danceable in a The Go! Team meet The Specials way. Rumours persist that there might be a full Specials reunion next year. I never saw them, and I'd be up for that*. The lyric of this one could have been inspired by their 'What I Like Most About You Is Your Girlfriend', my copy of which I've just put on. It comes in a gatefold sleeve which advertises that it contains a free single - but free single there is none. Anyone know what it should have been? * Three hours after I wrote this, the reunion tour dates were announced (on sale December 11th, no Jerry Dammers, mind) including April 23rd at Sheffield Academy. Result.
6. Vampire Weekend - Oxford Comma
I saw this lot at Sheffield Academy a few weeks ago and I hope the sound is better when the Specials play. The band weren't quite ready for such a big venue. A year before, they were playing a room above a pub in Nottingham, but I didn't hear them until December (on the wonderful
Said The Gramophone
which can now also be found in the great amalgamated music blog
MBV
) and immediately added a track to last year's cd. This is a great song about, amongst other things, punctuation. The cocaine line confuses me though - is the narrator telling his friend off for holding some of his coke back or for boasting about how much coke he'd taken? It's not a useful ambiguity. And was it just me or, when this song was played on daytime radio, did 'coke' become a mumbled word more akin to 'coal'? Been quite a while since we had a song about coal in the charts, not since 'Ghost Town' or thereabouts.
7. Tindersticks - The Hungry Saw
One of the regular recipients of this disc is my old friend David Almond, who got his on Saturday, when we went to see the final night of the brilliant opera of his novel,
Skellig
, at The Sage (what a venue!). He emailed yesterday to say that this was his favourite track on the CD and he'd already ordered the album. This is the title track. It's rare that bands reunite and immediately fall back into the same groove as before (cf the dire Verve reunion). In Tindersticks case, it's half the old band, and a more condensed, not quite as dense sound. This album has been growing on me all year and, along with the track 20 album, has become a favourite late night listen.  Tindersticks are a Nottingham band and I often used to see singer Stuart Staples in the singles branch of Selectadisc on Market St in the years before their first album. He was the moody bugger in black always stood in the corner.
8. Drive-By Truckers - Daddy Needs A Drink
Sadly, the DBTs didn't play this gorgeous country lament when I saw them for the first time earlier this year. But they did play 'Let There Be Rock', my favourite song from their masterpiece, 'Southern Rock Opera', so all is forgiven.
9. R.E.M. - Horse To Water
This slot was the most controversial in the rough drafts of the cd, being occupied by TV on the Radio (who start to wear thin after a few plays), Robyn's ballad version of 'Be MIne!' (turned out to be from 2006, and you have to have
standards
), before I realised that my favourite band put out a new album, their best for ages, earlier in the year, and I'd forgotten to include a track. This was the highlight of the new songs at the
two Dublin Olympia shows that we saw last year
. An angry, oblique song that could be about politics, or a relationship. 'Accelerate' is a good REM album, with at least five great tracks, though, to be honest, I haven't played it a great deal. It's also, like this song, refreshingly short.
10. Antony & The Johnsons - Another World
Damn, I've just noticed a typo on the cover. I was so keen to get the right spelling on Antony that I failed to notice I'd missed the 's' off 'Johnsons'. Oh well. This is the title track from an excellent EP that whets the appetite for Antony's third album. Until this week I would have said it was the EP of the year, there not being much competition, but on Monday Glasvegas released their fantastic Christmas EP, 'A Snowflake Fell And It Felt Like A Kiss'. You can get it free with a copy of their album. 'Another World' is a song about transcendence and you can get it, along with 49 more of Sean Michaels' songs of the year (including many acts mentioned here) over at my favourite MP3 blog,
Said The Gramophone
.
11. Estelle (feat. Kanye West) - American Boy
Kanye makes it onto the CD, albeit not with a track from his dazzling new album. Evidently, until yesterday, this was the best selling download single ever. It reminds me of my trip to New York
back in January
and is a stonking, sexy soul tune - a living in the moment song to counterbalance its ethereal predecessor.
12. Randy Newman - Losing You
I'm not alone in thinking this is the best track on Randy's slightly over-praised new album. It's also appeared on two magazine best of year cds this week. The only other ballad on the album is an old song (from his 'Faust' musical). 'Harps And Angels' is very good, but most of the comedic songs aren't designed for repeated listening. Whereas this song - evidently about how he'll never get over splitting up with his first wife - is moving and thought provoking. On Desert Island Discs, Newman talked about his second wife asking him not to play 'I Miss You' (same subject, previous album) in concert when she was in the audience. So we can guess how she feels about this one.
13. The Pretenders - Love's A Mystery
Always been fond of The Pretenders and, given the band name, they have to be on the cd this year.This is one of the jauntier pop songs on their excellent new album, 'Break Up The Concrete' which has yet to see a UK release. Maybe they're holding it back until there's a tour to tie in with... hope so, as I've never seen them (unless you count seeing Chrissie H with others at the Landmine Free World benefit). I wanted to choose a ballad - only Aimee Mann can rival Chrissie for that anguished, grown up girl group sound - but Sue insisted on something more upbeat and she has the power of veto...
14. The Fleet Foxes - He Doesn't Know Why
The album took a while to register with me as it's beautiful but low key and, to a large extent, I've been there before. This is the Cosmic Rough Riders in their less poppy phase, but because the FFs are pretty college boys from Seattle rather than ugly scruffs from Scotland, they've been feted like nobody's business. Live, the band are endearing stoners, and the songs are meatier. CSN&Y's grandchildren harbour a mild obsession with dead auntie, Judee Sill, which also endears them to me.
15. Jackie Leven - His Arms Are Full Of Broken Things
Jackie released this song, from his 'Troubador Heart" album under the pseudonym 'Sir Vincent Lone'. I like pseudonyms. As he explained at Derby's Flowerpot last month, Jackie was forced to use his as his main record company will only let him put out one album a year and he's in a prolific writing phase. This song is based on a poem by
Charlotte Mew
and is, broadly speaking, a complaint against God, a subject that suits Jackie's hard edged but lyrical style. The guy's a treasure, yet there were less than forty people at the Derby gig. Shocking.
16. Glasvegas - Daddy's Gone
Friends are divided over the 'station ident' that precedes this song (one for, one against so far) but I was dead chuffed to get it. Glasvegas are the new band of the year and, like many people, I resisted hearing them because of all the hype. But then I saw this on 7" and thought 'might as well check it out'. And you know what? It's sensationally good. Glaswegian Phil Spector with great guitars and a passionate lyric that reminds me of Scottish crime noirs by Al Guthrie et al. The next Nottingham gig sold out before I could find someone to go with but I managed to blag my way in to a small show in Sheffield, which was terrific, if terribly short. I've just arranged to take my godson to see them on the NME tour in February. Their christmas EP, as mentioned above, has had mixed reviews, but I think it's wonderful, a gloriously miserable christmas classic: 'Fuck You It's Over' and the title track are up there with the best of their album, which is also stonking.
17. The Hold Steady - Stay Positive
Title track of the band's fourth, and best album. I resisted THS at first, hearing popped up Springsteen with shades of Meatloaf. But then the hooks kick in and the lyrics start to intrigue. Having missed them three times (two cancellations, one holiday), I went to see them twice this week. They didn't disappoint, playing substantially different sets two nights apart. Craig Finn is an infectious front man, acting out the songs like Marlon Brando on speed. One thing that makes the HS particularly interesting is that each of their four albums build a narrative, with recurring themes and characters plus mysterious events (in the most extreme of the stories two people get crucified). Each night, then, the band is telling the same story, but with the scenes differing and/or rearranged. They always conclude - this time at least - with the same exhilarating anthem, addressed to the crowd, in which 'we write our own movies' and 'you're the projector'. Massive nights, indeed. See them if you can, and read Mike A's fine interview with Craig
here
. There's a good piece by Craig about the band's history
here
.
18. Laura Marling - Tap At My Window
A late addition this, as the precocious 18 year old's album had come my way but left little impression until I went to see her at the Rescue Rooms a few weeks ago. Mike needed a plus one and, having written
a book
about a young female singer/songwriter recently, I thought I may as well check her. And she was terrific, great songs, assured performance, fine band. A bit like a mature Beth Orton, if that makes any sense (I'm still jet lagged from Cuba, where we had a terrific time, thank you very much).
19. John Hiatt - Same Old Man
A jaunty love song to his wife, this is Hiatt back to his best, in the same vein as his 1988 album, 'Slow Turning', which Sue and John Harvey once based a poetry pamphlet on. I think the song 'Drive South' was the one that made it onto our first best of year comp that year, but I may be wrong. If I could just remember where I put that box of tapes...
20. Bon Iver - Re: Stacks
I first heard about Iver's 'To Emma, Forever Ago' in Laura Barton's
Guardian column back in February
and immediately downloaded it, played it a couple of times then bought it on import and copied it for loads of friends, most of whom fell for it just as heavily. When it was released in the autumn, it got the rave reviews it deserved and I won't go on here about what makes it such a transcendent, haunting album (Barton wrote about the story behind it
here
). As one friend pointed out, it's a hard one to choose a track from. I finally went with the final track (with the thirty seconds of silence and closing door edited out). This is so far ahead my album of the year that it's not worth thinking about the competition.
21. Aimee Mann - Lullaby
My fourth entry today and my final entry of the year finds me slightly less jetlagged, having just finished the best albums of the year list that tradition dictates I'll be sharing later tonight. Several of the albums featured on the list didn't make it onto the cd, including TV on the Radio, Portishead, Eef Barzelay, Lyle Lovett, Hot Chip and Kanye West. I could do two cds I suppose, but that would be cheating. Aimee's 'Smilers' album was a slow burner for me, at first sounding good but nothing special, then the songs creeping up on me one at a time until I realised that it ranks with her best work. This song isn't on it, though, at least not unless you download the whole album off iTunes (go on, do it) where it's a bonus track. This is one of her best songs: a typically wry, ambiguous lyric with a country pop lilt. And that's it. I'll be back soon with what I read on my holidays but, in the meantime, a happy new year to all of my readers.
Friday, November 28, 2008
Crime Express - the best yet
Friday, November 14, 2008
Time To Pretend
Friday, November 07, 2008
The Books In My Life