Tuesday, February 27, 2007
Julia Casterton RIP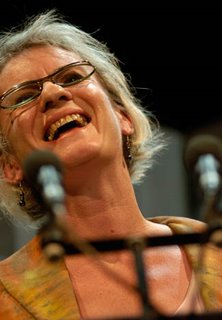 The poet Julia Casterton died on Saturday, after a short illness, as a result of a long standing blood disorder. Julia was a fine poet, a remarkable tutor of Creative Writing and a lovely woman. She wrote the landmark 'Creative Writing: A Practical Guide', still one of the best books on the subject. I first met her in 1990, when I discovered that she had been largely responsible for the acceptance of my first published story in Ambit Magazine, fighting for its controversial content the previous year. She remained an editor at Ambit and was always a generous teacher and editor. Perhaps these were reasons why her only full length collection was long coming. 'The Doves Of Finisterre' is a powerful, intelligent, wide ranging book, one where every poem counts, and it won the Jerwood Prize for a first collection. I renewed my acquaintance with Julia when she became the external examiner on the Creative Writing M.A. course that I run. Despite frequent illness, she was a feisty, optimistic woman, an original thinker, often to be seen in leather jacket and shades. She had more than a touch of the rock star about her. Julia was a tough but constructive critic, always very supportive of the course, and she became a friend. She enjoyed coming back to Nottingham, her home town, where her father and one of her younger sisters still live. Julia was only 54 and will be greatly missed by her family and many friends.
Guardian obituary
,
Nottingham Evening Post obituary
,
London writers' tributes
,
Baroque in Hackney
Saturday, February 24, 2007
Nottingham Writers' Studio
This weekend marks the launch of the Nottingham Writers' Studio
website
and to mark it, there's a big piece in the
Nottingham Evening Post
featuring an interview with Jon McGregor, who founded the studio, Michael Eaton, Nicola Monaghan and yours truly. (If you buy the paper, I think there's a photo of the four of us, but, as I type, it's not on the street yet). Erik Petersen does a good job of describing the studio's purpose and history, so I won't bang on about it here, except to say that, if you're a writer in the Nottingham area and need a place to work and/or to meet other writers, you ought to check out the studio on Heathcote Street, which has social events on the first Thursday evening of every month and discussions about craft on the third Thursday evening of every month. I spend so much of my time around nascent writers that I wasn't sure at first whether I'd make use of my membership, but it's a great place to meet new people and plot the takeover of the world, or whatever other plots take your fancy... details of how to join can be found at the new
website
.
Friday, February 16, 2007
Homecoming
Jarvis Cocker's first Sheffield gig for five years was my first visit to 'The Plug', a club complex reminiscent of Rock City, had it been built 25 years later without a balcony. The place was rammed and we didn't bother trying to get a drink, but had a terrific view. The big change, now that Jarvis is solo, is that he gives his repartee full range (last time I saw him in Sheffield, with Pulp ten years ago, the old City Hall acoustics meant nobody could hear the jokes). So, although he only had the (patchy) new album to play, the set was stretched out with a load of humour, ranging from the early 'be nice, me mam's here' to a bunch of local references that I won't try to get right. (Jarvis may not have lived in the city for 20 years, but I haven't lived there since I was two). I'll leave that to
Quinny's
review in the Star, which you can read
here
. There were times when Jarvis reminded me of another plain speaking (even more) local hero, Ray Gosling, with his passion to make the local universal and impatience with hypocrisy and gobshites. Most of the songs from the 'Jarvis' album sounded stronger live (although I would have liked to hear the only song he missed out, the one he wrote for Nancy Sinatra, 'Baby's Coming Back To Me'). Oh, and he encored with a terrific 'Running The World' (currently streaming on my
myspace page
and concluded with a song by a famous Sheffield band - no, not that one, it was a great version of the Human League's 'Being Boiled'. Welcome back, Jarvis, and thanks for the birthday present tickets, Mike, much appreciated.