Tuesday, January 22, 2008
No Country For Old Men
So much for writing weekly entries. What with passing a significant birthday, the accompanying hangover, a paper, a novel and an article to deliver, forty short stories to mark - all by next Monday - and an impending trip to New York (on Tuesday), this is going to be a rushed entry. I've heard the Vampire Weekend album, out next week, and it's wonderful - barely half an hour long and all the better for it. My not seeing them in New York a week tomorrow looks like being compensated by my meeting up with one of my favourite crime writers. More on this and whatever else I get up to at the AWP conference when I return in a couple of weeks' time.

The title of this post is, I hope, ironic rather than despairing. I plan to see the movie of that name tonight. And middle age sure beats the alternative. Saturday night's party was great and I'm very lucky in my friends, who danced a lot and gave me loads of great books, CDs and other groovy gifts, along with some wonderful art made with me in mind - a painting, a poem and a T-shirt - which I'll treasure. And there was no lasting damage, unless you count the fuzzy stayed-up-too-late hangover that I haven't quite dispelled yet. It's like having jetlag in advance.

Now, back to those short stories...

Saturday, January 12, 2008
Whatever Happened To Joe Egan?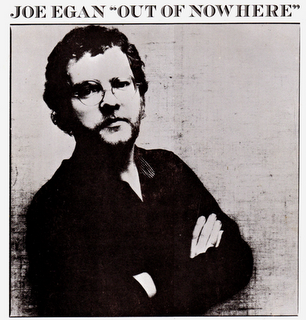 Stealers Wheel's three albums from the 1970's have been remastered and reissued, putting an end to a situation whereby you could only hear their music digitally on a cheap 'best of'. I've been bingeing on them in the car and on the iPod this week and finding that the songs sound just as good now as they did in the mid 70's, when I was a huge fan. Their music had a richness and invention that seemed to put them in the same league as The Beatles. Then they were gone.
But if you're under 45 and have heard of Stealer's Wheel, it's probably because Quentin Tarantino made memorable use of their first and biggest hit 'Stuck In The Middle With You' in 'Reservoir Dogs'. Or if you're a muso, you might be aware that they were the band Gerry Rafferty was in before he went solo and made 'Baker Street'.
Rafferty was good at choosing partners. His first was the soon-to-be comedian Billy Connolly in The Humblebums, who recorded the original version of one of his most gorgeous songs 'Steamboat Row'. In 1971 he made a pretty good solo album, which I used to have, before forming Stealers Wheel with Joe Egan. Their self titled first album from 1971 is a masterpiece. Produced by the legendary Leiber and Stoller (as was the second), it's got 'Stuck In The Middle', Egan's fragile, transcendent 'Gets So Lonely' and 'Another Meaning' and Rafferty's guilty but gorgeous 'Late Again'. The album's other big song (like 'Stuck', a co-composition) is 'You Put Something Better Inside Me' which Rod Stewart recorded at the time but didn't release. If he had, it might now be considered a classic, rather than a half remembered song by a neglected band.
The following year came 'Ferguslie Park', which is even better. That's the album that includes the catchy, cynical 'Star' and includes the utterly compulsive 'Nothing's Gonna Change My Mind'. Both Egan songs, as is the dreamy 'Waltz (you know it makes sense)'. Rafferty's best new song is 'Over My Head'. You get the sense of two fine writers competing with each other, influencing each other and bringing the best out of each other, as in the fine closer 'Everything Will Turn Out Fine.'
The third, post-split album, 'Right Or Wrong' (1975) is less consistent, perhaps because Leiber-Stoller are no longer around (production is by Mentor Williams). All but one of the songs are co-compositions and a couple go into their slightly funky shuffle-rock automode. But the album also contains some of their very best moments. You wouldn't want to be without it. (I'd say 'download these tracks' but none of the albums are on iTunes). There's the brilliant 'Benediction' which always takes me back to a big Catholic church with very formal masses that we used to attend on visits home to Sheffield. The title track is one of their best jaunty numbers while 'This Morning' is another of their transcendent, dope-tinged hymns. 'Home From Home' is a fantastic song - how could a duo this good decide to split up? Presumably they packed it in because they weren't successful enough.
A legal limbo followed. Three years later, Rafferty made 'City To City' which included 'Baker St'. An intermittent solo career followed, plagued by Rafferty's dislike of playing live. I followed the solo stuff for a while but it became clear to me that Egan was the songwriter I really admired, or maybe Egan when he was with Rafferty. I belatedly got my hands on Egan's 'blink and you'll miss it' first solo album from 1979 recently (it's currently available for free download
here
, unfortunately the link for 'Maps' leads to a dud file) and it's pleasant - nice single, great title track - but hardly in the same league as the Stealers Wheel songs. The plangent keyboards that Egan played and which are such a notable part of his dreamier Stealers Wheels songs are sadly absent. Both this and 'Maps' from '81 sank without trace and never appeared on vinyl.
When I started to plan this post I went back to the
Wikepedia page
on Egan and discovered that he had contributed to a '92 Rafferty album, 'A Wing And A Prayer', so I bought it, only to discover that he's but one a bunch of backing vocalists on a dull album.
BlogKihn
has the same wording as Wiki, and concludes that 'as of 2005, Egan lives in Renfrewshire and runs a publishing company from his home'. But I can find no other trace of Joe Egan on the net to confirm that, so the title of this post stands. One of our best songwriters, still only 58, has been missing in action for 27 years. Gerry Rafferty's been pretty quiet for a long time too. A Stealers Wheel reunion, now that would be something to hear. But, in the meantime, they left us with two and a half classic albums. Seek them out.
Friday, January 11, 2008
Have a Vampire Weekend
Weekly Grab-bag: Greene, Wilson, Arvon
Welcome back. Had the place painted. What do you think? The new colours took a while to grow on me, and clashed awfully with the photo to your right. So I've gone for a black and white one instead. But is it too stern, too middle aged? I've got an RSS feed, too. Bookmark it and you'll be able to tell whenever I do a new post (this year, I intend to write a lot more frequently than once a month, circumstances allowing). Thanks for the book recommendations below. Keep them coming. A free CD to the first three posters, all of whose suggestions I'll get round to. Last night I finished my interim read (mostly a reread), Graham Greene's Collected Stories. The less said about his final book, 'The Last Word', the better, but the book finished with a couple of uncollected things I hadn't read before. I'm not sure what the uncompleted novel, 'The Other Side Of The Border' was doing in a book of short stories but it was fascinating to read. You could see Greene starting to hit his stride. He put it aside to write what turned out to be his first masterpiece, 'Brighton Rock'. (Update - a quick bit of research tells me that Greene included the unfinished novel in the original version of his first short story collection, '19 Stories', only to remove it for later editions).
The next novel I'm going to read is
The Hiding Room'
' by Jonathon Wilson, who wrote 'A Palestine Affair', one of my favourite novels of last year. Oh, and while I'm plugging things, the new Arvon Foundation
programme
arrived this morning, full of week-long courses with writers like George Szirtes, Jackie Kay and Allan Guthrie. I get the programme because I've taught one of the courses, but if I wasn't giving university classes that week, I'd be tempted to go on
this course
on how to write graphic novels.
Thursday, January 03, 2008
New Year reading
The marathon sleeve notes to my best of year CD are below. As an experiment, to welcome in the new year, I'm enabling comments on the site in 2008.

With that in mind, here's an interactive start to the year. I need a new novel to read next. I'm currently reading some early Steve Ditko comics, a short book about the Pink Floyd's first album, a draft of a book about Young Adult Fiction and rereading Philip Roth's 'The Ghost Writer' but I'll have finished that tonight and need to start something new by the weekend. My christmas pile includes Graham Greene's collected letters, the Sid Griffin book about Dylan's basement tapes and Philip Davis's biography of Bernard Malamud. At the moment I'm tempted most by the latter for my daytime read, but I'm also going to need another novel to read in bed. The latest Doug Coupland? Another Richard Yates? Some crime writer I haven't tried yet? Is the recent Jonathan Coe worth trying? I'm tempted by 'What Is The What'. Then there's the pile of books I've been meaning to read for ages, at the top of which is Mitchell's 'No. 9 Dream'. I'm open to suggestions...

Compression Obsession
Following my CD of the year marathon, and complaints about the terrible sound on the new Bruce Springsteen album, here's an
article
that explains what's going on with the bad sound on a lot of new recordings. Thanks to
Mike
for the link.