Sunday, March 25, 2007
Free Music Sunday
'Where do you find your new music?' the Radio 2 DJ asked me, when we were off-air. 'MP3 blogs? What are they?'
Taking it easy today, as I was struck down with pleurisy earlier in the week and the antibiotics have yet to really kick in. I dragged myself up to the computer because today's Observer listed a free download of a track by Uffie, a new soul singer I like. The link didn't work (maybe the track had been taken down) but I got several other good tracks from the site it led me to, and it turned out I had the Uffie track already, downloaded elsewhere. Since I'm sitting here, I've decided to update my mp3 blog bookmark folder (many mp3 blogs, like most other blogs, fizzle out after a while).
This is an author site, so I limit the sidebar to stuff about me, rather than links to other sites. Websites where you can get free mp3s are no longer the open secret they once were (record companies tacitly support many of these blogs, with a large wink of the eye). Most of my new music comes from listening, friends, occasionally radio (sadly my favourite show, Jupitus on BBC6, finishes this week) but, most of all, MP3 blogs. I get fed up of trying to explain what these are and which ones to look for so, here it is, a guide to a few of my favourite MP3 blogs. Note that most only keep songs up for a week or so (and they take them down if the artist or record company objects). I'll start with the only two sites that I check every day I'm home.
Said The Gramophone
One of the first, and still the best - Sean and co have guest editors drawn from their favourite bands and artists. They showcase really interesting, wide ranging music. Check out the song by one of my fave bands, The Hidden Cameras which is top of the page as I write.
Fluxblog
Another of the oldest and very best. Matthew Perpetua keeps a close eye on the New York scene and comes up with consistently interesting stuff. Great rare REM track top of the page at the moment.
Benn Loxo Du Taccu
Best world music site bar none.
Funky 16 Corners
Fantastic old soul mixes as one long track or zip files
MP3 at 3PM
For the latest Bob Dylan Theme Time Radio shows - radio highlight of the last year
Honey, Where You Been So Long?
Old, pre-war blues songs. A very classy site
Diddy Wah
Interesting 1977 mix up here at the mo', though I skipped this and went for Hall and Oates' wonderful 'RIch Girl', which I only have on vinyl. I can never understand why they play this song at 'Guilty Pleasures'. I mean, Nina Simone covered it, it's a classic!
My Old Kentucky Blog
Another favourite, for new Americana (providing you define the term widely enough to include quirky pop & rock)
Molars
A recent discovery this, linked from STG. Check out the songs by Illinois
Tuwa's Shanty
One of the most entertaining, consistent, eclectic blogs. Scroll down to March 8 & check out the 'Trouble' tracks
If you visit sites regularly, you'll end up with more MP3s than you'll know what to do with (constant pruning a necessity), especially once you start exploring the other MP3 blogs linked in their sidebars. Oh and then you have to factor in all the albums you'll buy as a result of listening to them. My iPod's up to 10608 songs as I type, but it's OK, I still have nearly 10 gigabytes left to fill...
Feel guilty about all this free music you're getting? Why not give to charity by buying
this book
(see the post below if you don't know why I'm on about it - my copy arrived on Thursday and it looks great. And it's a really good read, too. Well done, Mike). OK, my side's starting to ache a lot. Time to take some painkillers and stretch out downstairs with Peter Temple's 'The Broken Shore', a fine Australian crime novel.
Thursday, March 15, 2007
Shaggy Blog Stories For Comic Relief - Out Now!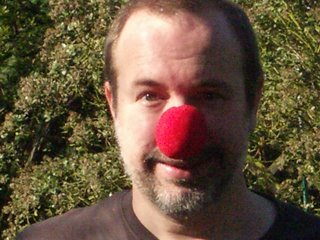 Mike's week-long marathon is at an end and Shaggy Blog Stories is digitally published. You can buy it
here
for a mere £8.96 of which £3.63 goes to Comic Relief (the online publishers, Lulu, have donated all their profit but note you have to add postage). I had trouble coming up with my own contribution to the book (I don't really do 'funny' which was the qualification for inclusion). Then I looked at my handful of deleted posts. Most of these were ones I removed when I wanted to keep entries about a conference I was running high on the site, but the one in the book (I can be found at number 78 of 100)... let's just say that while it's a wry, kind of funny story, it has a definite 'biting the hand that feeds you' element that made me take it down after a few days. But not before a Sunday Times journalist rang me about a story and, before we started discussing it said: 'you won't write about this call on your web-site, will you?'
Anyway, if that doesn't intrigue you enough, the book also includes contributions by, amongst many brilliant others, Girl With A One Track Mind, My Boyfriend Is A Twat, Andrew Collins, Swish Cottage and the Diva himself. (Full list on his site
here
). And it's for a great cause. If you've read this far, you know you really want to click on the link above, but to make giving even easier,
here it is again
. Enjoy! Now I'm off to buy my copy.
Labels: red nose day, shaggy blog stories, troubled diva
Friday, March 09, 2007
Shaggy Blog Stories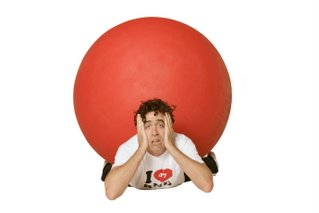 My old mucker Mike, aka
Troubled Diva
, has come up with a splendid idea to raise money for Children In Need, for Red Nose day (a week today in the UK). He's putting together an instant anthology of blog writing, to be called 'Shaggy Blog Stories', which will be published next Friday (proper print published, with a designed cover, via the wonders of digital technology). An appearance in the book is open to all UK bloggers (resident or abroad) and entries (taken from your blog archive) should be briefish (max 1,000 words, though exceptionally, 1,500 - no images or html) and, it being Red Nose Day, funny. If you want to contribute, the deadline is 6pm UK on Wednesday March 14th, but the earlier the better. Full details are
here
and you can post your entry to mikejla@!btopenworld.com (remove the ! after the @). I'll post how to pay for the book on Red Nose Day itself. In the meantime, if anyone can find a single funny entry in my archives, please let me know, or I'm stuffed!
Labels: red nose day, shaggy blog stories, troubled diva