Tuesday, June 30, 2009
Glastonbury Diary 2009 Day 1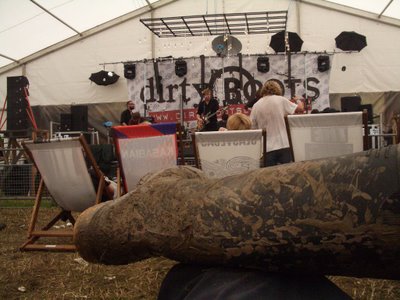 The rain puts paid to our going out early. Fran conjures up tea and bacon sarnies before we head into the festival, through plenty of big puddles, wearing wellies. There are new stages since I was last here - the Queen's Head, which is mostly a disco, and 'Dirty Boots' where bands play every hour but are not listed in the programme. You have to check the blackboard. We head up to the John Peel stage to see Fucked Up (I fancied a bit of Regina Spektor first but was outvoted - it's a longish haul to what used to be the New Bands stage). They make a lot of noise. Their frontman is a very shouty exhibitionist. He entertains the crowd in every possible way, stage-diving, concluding the set from the back of the tent. 'We're the heaviest band at Glastonbury this year!' he announces, which may well be true, unless you count Spinal Tap...
At the Dirty Boots stage I bump into one of my second year students, then grab a deckchair to watch Broken Records. That's my dirty wellington boot you can see in the photo above, indicating the amount of mud onsite. They start off a bit Arcade Fire, then go a bit Waterboys on me (I thought they were Canadian but they turn out to be from Edinburgh). It all comes together into a tuneful, rather joyous noise at the end. All four of us enjoy it, then wander off to kill some time before the Fleet Foxes, who impress everyone. I've seen them before and they seem very nervous in front of such a big crowd, but sing beautifully. They go down a storm (happily, without a storm, it remains dry) and then we go back offsite for a rest. I'd have liked to see Lily Allen, but her set is bound to be on telly, so I settle for hearing her from a distance.
We return in what should have been good time for The Specials but Security choose the most outlandish looking of our number for a complete body search (which he has to endure again the next day - this is not the idealistic free for all Glasto of previous decades) making us late. The Specials have just finished Gangsters when we arrive. They're enjoyable, but it doesn't compare to seeing them at Sheffield Academy on the second night of the reunion tour, which was outstanding. Fran and Chris go off to see The Horrors, who they enjoy, while Rich and I push our way forward to get a good spot for Neil Young. We get up close, although I keep being poked by the bloody portable chairs that so many people carry on their backs (and some insist on setting up in the middle of the crowd).
Neil is Neil. Best sound I've ever heard at a festival. Good setlist, a bit too heavy on hits for a diehard like me. He opens with 'Hey Hey My My' with its line 'the king is dead but not forgotten' which is as close as any of the acts I see gets to paying a tribute to Michael Jackson. He only plays one number off his throwaway new album. He plays too many false conclusions to songs and, by the end of the encore, the Beatles' 'A Day In The Life' has ripped all the strings from his guitar. A dramatic performance, as good as I've seen him give. Rich and I get a pint then head back to the Hymer, where Fran and Chris join us shortly afterwards. We shoot the breeze for a couple of hours. It doesn't rain. Result.
Glastonbury Diary 2009 Day 0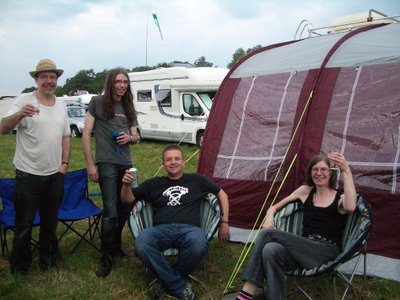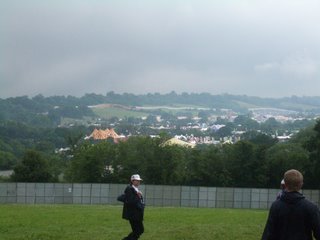 The plan is to set off around eleven but we're on Belbin time (soon to be Glasto time). I'm with sister, Fran (+ her partner, Chris: his first Glasto), and my youngest brother, Rich. They've driven over from Sheffield. The four of us set off at one, following the official route suggested for camper vans (Fran and Chris have just bought a 26 year old Hymer). While waiting, I've read a Twitter friend's account - it took nine hours for him to do the last 25 miles. So we're amazed when, six hours and one pitstop later, we get in to field E11 with no queuing whatsoever. We have a drink, meet the neighbours, put up the awning and tent. And then it starts to rain.
But it stops after a while and we go to have a look at the site. We discover we're a ten minute walk from the festival site. Could be a lot worse. Above you get the picture at dusk. Glastonbury is a constantly evolving city. Basics stay the same - the Pyramid Stage and Other Stage, the vast market area, the Acoustic Stage and Kidz Field, but other things shift, appear, expand or disappear. So it takes a while to orient yourself. Up to four days, for most people. And it's exciting. We get back to the tent at ten to eleven and my partner, Sue, texts me. Michael Jackson has died. If it were just about anybody else I'd think they were trying to start a Glasto rumour (there's always one each year, it comes from being cut off from the real world). But I call her up just as the story is confirmed. Michael was the same age as me and I've been listening to his music for 40 years. His death is a shock but it's not really a surprise - nobody thought he was going to get through those fifty shows.
We go to bed at one. Richard sleeps in the camper van spare bed, so I have the tent to myself. A few vans away, a bunch of posh sounding people are talking loudly. Not irritatingly. They'd probably be good company if I were with them. But I can't get off, and realise I've left my earplugs in the Hymer. I wait for them to get tired. They don't. Then there's a fizzing, electrical sound. What is that? I'm half asleep, but has something caught fire? No, it's light rain, drowning the sound of the party people and soon sending them to bed. I'm grateful, and fall asleep. Waking at five to the noise of a torrential downpour that goes on for hours and hours. The festival kicks off at eleven.
Wednesday, June 17, 2009
BS Johnson and Barry Cole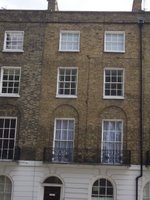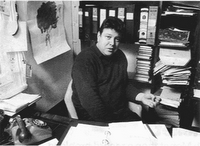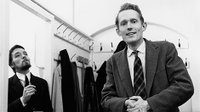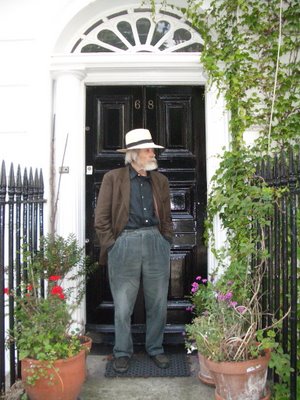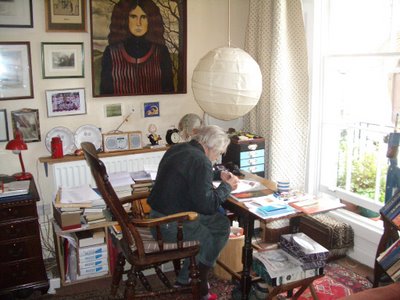 I had a BS Johnson day yesterday. Thanks to
Scott
, I heard that the BFI were showing all of Johnson's films, which I'll write about shortly. I'd arranged to meet a publisher, but this got cancelled, which turned out to be serendipitous, for it gave me time to visit the superb 'Treasures of the British Library' exhibition (Hardy, Austen, Bronte, Shakespeare, Beatles lyrics, the last page of Scott's Antarctic diary and much more), then walk up to Clerkenwell to see poet and novelist Barry Cole.
I've met Barry a few times but this was my first visit to his house. And, while I knew his fine poetry, I'd never read any of his novels, until the
Shoestring reissue
of his second, 'Joseph Winter's Patronage', which I finished on the train journey to London. It's a terrific, absorbing novel, fast moving, multi-viewpoint, beautifully written, about the rage and passions of old age, all the more remarkable given that Barry was only in his early thirties when he wrote it. The novel is dedicated 'To Bryan', the remarkable experimental novelist BS Johnson. For a time, Barry lived in a building (pictured above) in the square where he now lives, which was later occupied by BSJ. Nearby, a few years later, Barry was to find his friend's body, after his suicide, which I won't dwell on here. What I would like to dwell on is Barry's importance as a 60's novelist. Joseph Winter is as good a novel as the best of BSJ's work and I mean to seek out his other three. When I asked him why he stopped writing novels in 1971, he told me that he 'ran out of ideas'. I suspect the subject's more complicated than he was willing to say and BSJ's death had something to do with it, too.
After a tour of the house, with its endless artworks and 5,000 books, we spent a long, pleasant lunch in Exmouth Market, talking about Crime Fiction, poetry and Stanley Middleton, as well as Johnson. The writer Jake Arnott, whose
latest novel
Barry had just enjoyed, stopped by to say hello. Then I caught the bus to the South Bank, where I would again meet Barry and Rita, his lovely wife of 51 years.
I've been waiting for more than 32 years to see 'Fat Man On The Beach', the film BSJ made not long before his death. I remember being told about it by a friend when I arrived at university. The friend embellished the story by saying that it ended by BSJ walking into the sea (which he does) as though killing himself (not really, but Reggie Perrin connections are inevitable) and this was how he did die (it isn't). The film was how I first heard of Johnson, whose work I have read and reread over the years, beginning with 'Aren't You Rather Young To Be Writing Your Memoirs' and 'House Mother Normal', then his suppressed (he thought it too conventional) first novel 'Travelling People' (which Scott is hoping to republish with The Friday Project). Stanley Middleton lent me a couple (including the brilliant 'Trawl') I hadn't tracked down, but it wasn't until this century I got to read the famous, randomly organised, book in a box, 'The Unfortunates', set in Nottingham, where I live.
It was the short film about 'The Unfortunates' which Johnson made for the BBC's 'Release' programme that was the big surprise for me last night. Amazing archive footage of Nottingham in the late 60's and Bill Hoyland (who appears in most of the films) reading from the book, BSJ in Yates' Wine Lodge, watching the same aged trio of musicians that were there when I arrived as a student. Barry found the two hours of films (donated to the BFI by Johnson's widow, Virginia) rather long but I have to say that, from my point of view, the seven films shot by. Strange to see a handsome, raffish young Barry playing a teacher in BSJ's first film, 'You're Human Like The Rest Of Them' (pictured above, with William Hoyland). There was a fascinating 30 minute film about BSJ's namesake Samuel Johnson (who has a table to himself in the British Library exhibition) which showed that BSJ could do smart, articulate arts coverage. That said, he included in it little flash messages like 'All publishers are parasites!' to add humour and some vitriol to the proceedings, which were first shown on ITV on a Sunday lunchtime.
And finally, at last, to 'Fat Man On A Beach', directed by Michael Bakewell. Johnson has put on weight but still looks surprisingly youthful. And he doesn't put on any poses. This is the Johnson I know from the purest voice of the novels and essays, with an added, relaxed wackiness and a lot of bananas (!). Jonathon Coe (who introduced the evening, wrote the notes and is largely responsible for the revival of interest in BSJ) writes about the film at great length in his terrific
biography of BSJ
, so I won't describe FMOTB in great detail here, but it was fascinating and moving and ought to be available on DVD (Scott has tracked down a youtube extract and you can see it on his
blog entry
about the evening). Maybe it will be. Virginia Johnson has also donated all of BSJ's archive to the British Library who are holding a
one day conference about BSJ
with Coe, Zulfikar Ghose and many others on October 12th which, were it not the first day of term, I'd love to attend.
And that's it for this month. Here's a
silly little story
I wrote for Barry's 70th birthday festchrift. I'll be back in two weeks time with what has, in previous years, proved by far the most popular feature on this website, my Glastonbury Diary. This year, with added camper van!